Diverse by Design – NYC Speakers
Plinio Ayala
President and CEO – Per Scholas
Plinio Ayala became President and CEO of Per Scholas in November 2003 after having served as Vice President of Operations with oversight for the bulk of our programs. Today he leads the organization in its national expansion. Plinio previously served as Director of Program Operations at SOBRO, and before that as Chief Program Officer at Jobs for Youth. In 2012, he joined a diverse group of stakeholders with decades of experience in New York City's workforce system to develop a blueprint for the new Mayor, Re-Envisioning the New York City Workforce System. In 2006, he received the Liberty Award from the New York Post for his work, and in 2005 was issued a Citation of Merit by the Bronx Borough President for his leadership in Bronx County. Mr. Ayala has more than 20 years of nonprofit management experience and is deeply committed to the fight against poverty. When not at Per Scholas, Plinio spends time with his three children and wife — and the New York Mets.
Andi Azzolina
Director, Shared Development Services – JetBlue Airways
Andi Azzolina is the Director of Shared Development Services for JetBlue Airways. In this role, Andi is responsible for Software Development, Integration Services, Data Services and Enterprise Architecture. Prior to joining JetBlue, Andi worked for 11 years as the Director of Applications Management at NYU Medical Center. There, she led the development and implementation of more than 100 teaching, research and patient care applications and was responsible for the enterprise employee data warehouse and reporting. Andi has over 20 years of experience in software development, data management, research, reporting and analytics.
Harvey Butler
Global Head of Supplier Diversity – Barclays
Harvey Butler is Global Head of Supplier Diversity at Barclays, responsible for developing and executing the firm's strategy to expand its utilization of diverse suppliers – both small businesses and those majority-owned by ethnic minorities, women and other under-represented segments of society, within the major international geographies it operates. Since joining Barclays in 2013, Harvey has helped the firm structure its approach to engaging diverse suppliers with events such as the Supplier Diversity Day in London, Johannesburg and New York that introduces matchmaking opportunities with sourcing/procurement decision-makers and offers master classes providing banking and finance knowledge-transfer to diverse entrepreneurs. He aims to position Barclays as a global supplier diversity leader within the financial services industry.
Harvey has over twenty year's finance and supplier diversity experience. Prior to joining Barclays, Harvey worked for JPMorgan Chase, Nabisco Foods Group, Eastman Kodak, and most recently, as CEO of Butler Management Group, LLC — a certified minority business, boutique management consulting firm. He is a past board member of the National Minority Supplier Development Council (NMSDC), Women's Business Enterprise National Council (WBENC), US Hispanic Chamber of Commerce Procurement Council and several other regional supplier diversity-related organizations. He is credited with leading the former NMSDC Financial Services Roundtable into one of the largest and most successful industry groups, introducing the first Chief Procurement Officer Summit and Capital Summit in the Supplier Diversity market.
Harvey holds an MBA in Finance, Corporate Accounting and Entrepreneurship from the University of Rochester, a BS from Franklin University in Columbus, Ohio and is a graduate of Brooklyn Technical High School. Harvey is passionate about developing the talent of disadvantaged youth, as evident in the creation of the "Young Inventors Workshop" where he teaches middle and high school students in under-privileged communities how to invent new products and create business plans to bring the ideas to market.
Amy Chapman
Senior Manager, Community Affairs – Capital One
Amy Chapman volunteered sporadically in high school and at Virginia Tech, but her love for community did not truly start until she was placed as a Governor's Fellow in Virginia's Executive Mansion. Amy served as Assistant Mansion Director under two governors and was responsible for the docent volunteer program and special events. Amy worked at the Science Museum of Virginia for three years as the Director of Special Events and Director of Corporate Sponsorship, managing volunteers to lead museum events and solicit business engagement.
After a short stint as Manager of Donor Relations at the American Red Cross, Amy worked as a Business Council Program Manager for the Greater Richmond Chamber and led volunteers in business advocacy and outreach efforts.
Amy joined the Capital One Community Affairs team in 2010 starting with a role in corporate volunteerism, as market manager for the Central Virginia region, and now a Community Relations Consultant for the Card business. In partnership with Central VA executives, Amy leads community engagement in Richmond that delivers business returns to Capital One including associate engagement, corporate reputation and community impact. She also works with Card leadership to develop strategies for community engagement nationally that deliver on business goals.
In 2015, Capital One contributed more than $46 million in philanthropic grants and 367,000 volunteer hours. In Central Virginia, Amy's team lead the investments of more than $2.9 million in grants, 407 nonprofit board leaders, and 6,089 unique volunteers contributing 105,000 volunteer hours.
Amy is currently on the steering committee of the United Way's THRIVE Collaborative. She has previously served on the Middle School Renaissance 2020 advisory committee, the Valentine's History Makers steering committee and was a mentor through Chesterfield Communities in Schools and AMP! Metro Richmond.
While she has loved each stage of her career, she is most proud of being the wife of a patient husband and mother to two wonderfully imperfect children.
Linda Clement-Holmes
Chief Information Officer – Procter & Gamble
Linda Clement-Holmes is Chief Information Officer for P&G. In this expansive role, Linda is responsible for building the capability of the Company's Information Technology (IT) function as well as providing IT governance oversight. Among her many responsibilities, Linda is responsible for the operation of Procter & Gamble's global IT infrastructure, driving enterprise architecture and development of corporate applications, maintaining compliance and effectiveness of information security, leading IT innovation as well as designing and maintaining a best-in- class employee and workplace experience, aimed to help P&G people work simpler, faster, and with greater agility.
Linda is a member of P&G's Global Leadership Council and recently served as the Company's Chief Diversity Officer. Linda joined P&G in 1983 as a systems analyst, going on to become a global "executive of firsts" across several disciplines. She was the first African-American senior vice president in the IT function, and the first female African- American senior vice president, and now president, within P&G. She led the first vision and strategy for P&G's e-mail system, led the partnership with HP to provide core information technology services, and spearheaded delivery of broad business and employee services to Central and Eastern Europe, Middle East and Africa. As Chief Diversity Officer, Linda crafted the first company-wide diversity and inclusion strategy and established P&G's first ever Global Inclusion & Diversity Council, significantly elevating P&G's Diversity Inc. and Working Mother Magazine rankings.
Linda has been widely recognized for her leadership and business acumen. Recent honors include Purdue University's Krannert Business Leadership Award and Purdue Old Master, American Business Awards' Female Executive of the Year, Working Mother's "Working Mothers of the Year," YWCA's Career Woman of Achievement, the First Tees Values award, the Howard University Global Visionary Leadership Award and the Diamond Leadership Award from the IT Senior Management Forum. She has been listed among Computerworld's Premier 100 IT Leaders, Uptown Professional's Top 100 Executives, and Black Enterprise magazine's Top Executives.
Linda is active in community, business, and service organizations, including: Board of Directors, Cincinnati Financial Corporation (Audit Committee); IT Senior Management Forum Board of Directors (Executive Protégé Chair); YWCA of Cincinnati Board of Directors and Executive Committee (Board Secretary), Jack & Jill of America – Cincinnati Chapter (Vice President); and Delta Sigma Theta Sorority.
Linda holds a degree in Industrial Management and Computer Science from Purdue University.
Nedra Dickson
Global Supplier Diversity & Sustainability Lead – Accenture
Nedra Dickson is responsible for leading and promoting Accenture's well-established efforts to maximize procurement opportunities with diverse businesses as suppliers and subcontractors within 16 countries. Nedra has grown Accenture's Diverse Supplier Development Program (DSDP) in four geographies (US, Canada, UKI & South Africa).
She holds several board seats within the Supplier Diversity Community, including:
Board member for Georgia Minority Supplier Diversity Council (GMSDC)
Board member for Greater Women's Business Council (GWBC)
Board member for Supplier Diversity Leadership Council for The Conference Board (TCB)
Supplier Diversity Advisory Council for Houston Minority Supplier Development Council (HMSDC)
In 2014, Nedra was recognized as one of Atlanta, Georgia Top 25 Women in their Female Success Factor Series. In 2015, Nedra was honored in WE magazine – Women Enterprise honors America's Top 100 Leaders in Corporate Supplier Diversity. She has spoken on numerous Supplier Diversity and Sustainability Panels, including:
Guest speaker at UN Women and UN Global Compact Women's Empowerment Principles (WEPs) team, 2015 WEPs Annual Event, Unlimited Potential: Business Partners for Gender Equality
WEConnect International CGI Week of Action with Chelsea Clinton
NYC/NJ Sustainability Symposium
Her experiences range from Technology Support, Delivery Center Implementations, SAP Development, Operations Management, Customer Service and Sourcing and Category Management. She has held technology management roles at Accenture and Martha Stewart Living.
Nedra grew up in Arkansas and holds an MBA from University of Southern California, a BS degree from Florida State University and BA degree from California State University @ Northridge.
Thomas H. Graham
Vice President, Special Projects – Pepco Holdings
Thomas H. Graham is responsible for overseeing special projects for Governmental and External Affairs for Pepco Holdings. Based in Washington, D.C., Pepco Holdings employs more than 4,700 people, owns more than $16.1 billion in assets and generates approximately $4.8 billion in annual revenues. Pepco Holdings serves 2 million customers as the parent company of Pepco, an electric utility serving Washington, D.C. and suburban Maryland; Delmarva Power, an electric and gas utility serving Delaware and the rest of the Delmarva Peninsula; and Atlantic City Electric, an electric utility serving southern New Jersey. Pepco Holdings is a recently acquired subsidiary of Exelon Corporation, one of the nation's leading energy services companies. Exelon is headquartered in Chicago and trades on the NYSE under the ticker EXC.
Professional History
Most recently, Graham was vice president People Strategy and Human Resources for Pepco Holdings Inc. (PHI). He was responsible for developing and implementing enterprise-wide policies and programs encompassing all aspects of human resource management including employment, employee and labor relations, employee benefits, succession planning, compensation, performance accountability, employee training, placement, organizational development, diversity programs, compliance with applicable federal laws, and management and employee assistance.
During his 29-year career, Graham has held several leadership positions that include president, Pepco region; regional vice president; manager strategic accounts; and manager billing services & investigations.
Civic Involvement
Graham currently serves on the board of the Center for Energy Workforce Development (immediate past chair), Maryland Chamber of Commerce (immediate past chair), Prince George's County Economic Development Corporation, Greater Prince George's Business Roundtable and Old Line Bancshares Inc. Other affiliations include Leadership Maryland, Leadership Montgomery, American Association of Blacks in Energy (D.C. chapter president) and Leadership Prince George's (immediate past president).
Education
Graham has a bachelor's degree in business administration from the University of Tampa. In 2005, he completed the Senior Executive Leadership Certificate Program at Georgetown University
Claudia Lee Healy
Vice President, Global Talent Acquisition & Development, HR Operations & Administration – Verizon Communications
Claudia Lee Healy is Vice President – Global Talent Acquisition & Development, HR Operations & Administration at Verizon Communications. This is a role she has held since January 2012. In this role, she is responsible for working closely with the Executive Team to design and manage talent acquisition and development strategy and translate business objectives into programs and solutions that support the enterprise. Healy also leads the Center of Excellence for Human Resources shared services supporting the full employee lifecycle administration from hire to retire including – new hire administration , pre-employment screening, tuition assistance, relocation, immigration, unemployment administration, employee referral program administration among other processes.
Prior to her current role she was VP – HR Business Partner – Verizon Services & Verizon Communications Corporate Staff functions. In this role, she was responsible for managing a team of HR professionals around the globe who focused on proactively providing advice and consulting services to line business executives on the planning, application and management of human capital required to deliver the business unit strategy and operational performance.
Healy joined Verizon in 1997 in the Learning/Workforce Development Function in human resources and later held a variety of positions of increasing responsibility and authority with the company's Wireless division including Executive Director level positions. As Executive Director, south area HR Field Operations, Healy had responsibility for a field organization of 10,000 employees including staffing, employee relations, compensation, performance management, learning and development and culture/employee engagement. In 2002 Healy was appointed VZW Director of Sales Compensation and in 2003 the Executive Director of Sales Compensation & Broadbase Compensation reporting directly to the SVP of HR for Verizon Wireless. This included responsibility for the design, implementation, and administration of the business unit's merit pay plan, short term incentive plan, sales commission plan, employee recognition program and oversight and governance of the area and corporate quota review boards of the wireless business unit. With the Verizon acquisition of MCI in 2006 Healy was appointed to the position of Executive Director HR – employee and labor relations, culture, communications and the Head of the unit's Office of Diversity and Inclusion. In 2009 Healy was appointed VP HR – Business Partner for Verizon Business and Verizon Services Organization, a role she held up to her current position. In this role, Healy supported an enterprise wide client group of 40,000+ including the Corporate staff functions, Verizon Services Organization, the Latin America region and the company's IT operations of 6,000+ employees based in Asia Pacific.
A native of New Jersey, she holds a bachelor's degree in Business Management and a master's degree of business with a minor in Human Resources both from Fairleigh Dickinson University – Madison Campus. Healy became a member of the Seton Hall Leadership Development Program – Executive Advisory Council for the Stillman School of Business in 2011, became a member of the Hackett Leadership Advisory Council in 2012, joined the Corporate Executive Board's Talent Management Customer Advisory Board in 2013, and was selected by Fairleigh Dickinson University's Silberman College of Business to their Top "50" Under "50" in 2015. Healy lives in New Jersey with her husband, Chance, and is a working mother of four.
Brian H. Johnson Ph.D.
Senior Director, Surgical Innovation – Johnson & Johnson
Currently, Brian H. Johnson, Ph.D. leads the technology assessments focused on Strategic Data and Analytics, Surgical Imaging Technology, and Software Enabled Solutions across the Medical Device group. This role represents a transition from the traditional IT organization into the R&D/Marketing organization with in Johnson and Johnson.
Brian joined the group from the GSG Information Technology Group, where he served as GSG Sr. Director R&D, Regulatory, and Clinical IT. He supported a significant portfolio that included PLM, Labs, and Smart connected device capabilities. His support included strategic roadmap development, portfolio/financial management, as well as delivery of many capabilities across the portfolio.
Prior to joining the GSG IT group, Brian led the DePuy –Synthes integration, successfully launching all day 1 activities. Brian also led the DePuy R&D IT group and partnered with R&D to deliver TruMatch, a customized knee replacement solution that has transformed that surgical space.
Brian joined JNJ Pharmaceutical Research Institute in 2001 and held Director Roles for R&D IT in the Pharmaceutical, Consumer, and Devices and Diagnostics sectors. Prior to joining Johnson & Johnson, he worked as consultant in the Pharmaceutical, Small Biotech, Insurance and Financial Services Industries. Brian received his Ph.D. in Chemistry, with a focus on Molecular Biophysics from Princeton University. Brian also holds Bachelor of Science in Chemistry from Worcester Polytechnic Institute.
Wayne Kunow
Global Head of Information Risk Management – Barclays
Wayne Kunow is the Global Head of Information Risk Management for Barclays' Investment Bank since March of 2015. Prior to this, he was the Regional Head of Technology Infrastructure for the Americas at Barclays for the last 10 years. Wayne has also been a leader with citizenship initiatives, leading several philanthropic activities and diversity events. He holds a Master's degree in Computer Science and has over 30 years of experience in both infrastructure and applications development in the financial services industry. Wayne previously worked at Lehman Brothers and Drexel Burnham Lambert before joining Barclays back in 2005.
Ali Marano
Head of Technology for Social Good – JPMorgan Chase & Co.
Ali Marano, heads the Technology for Social Good group at JPMorgan Chase. The focus of her work is to identify, attract, develop and engage a talent pipeline to meet the diversity and innovation needs of the Global Technology organization through the execution of traditional, alternative and social good programs. Ali founded the group in 2010.
Ali's efforts have led to the creation of multiple pipeline programs that are increasing and diversifying the talent pipeline for JPMC's Global Technology organization via early identification, talent acquisition enhancements and exploration of new sources of talent.
The main goals of Technology for Social Good are achieved through key program offerings including Code for Good hackathons, the Force for Good program engaging JPMC technologists on social projects as part of their early career responsibilities and development, alternative pipeline programs and partnerships, as well as youth tech initiatives.
Ali started her career as a documentary filmmaker focused on social issues and then worked as a strategy and management consultant at Accenture. While at Accenture, she became an Executive on loan to a new nonprofit called NPower, which provides technology services to nonprofit organizations. In the fall of 2000, she left Accenture and joined NPower full-time, where she focused on engaging corporations in the work of the nonprofit community. At NPower she co-created an online volunteer matching portal connecting nonprofits' technology needs with skilled volunteers. The solution, The Community Corps, is now actively used within JPMorgan Chase and with other companies across the globe.
Ali holds a B.A. in Spanish and International Business from the University of Buffalo and also studied at the University of Seville in Spain. She is a graduate of the Smith-Tuck Global Leaders Program for Women, the American Express Nonprofit Leadership Academy and the Coro fellowship program Leadership New York. Ali sits on the Board of Directors at Code to Work, a nonprofit focused on helping technology jobseekers with traditional and nontraditional education and training backgrounds get and succeed in career-track jobs at enterprise companies. Ali also sits on the Advisory Boards of Global Nomads Group, NYC Tech Talent Pipeline and the Women in Technology and Entrepreneurship in New York initiative (WITNY). Global Nomads Group fosters dialogue and understanding amongst the world's youth. The NYC Tech Talent Pipeline is an initiative of The White House working with public and private partners to define employer needs develop and test training and education solutions to meet those needs, and scale solutions throughout NYC. WITNY, facilitates, encourages and enables a significant increase in the participation of women in both higher education and entrepreneurship in fields related to technology in the New York market.
Ali lives in Manhattan with her husband and two sons.
Brennon Marcano
Executive Director – Council of Urban Professionals
Brennon Marcano is the Executive Director of the Council of Urban Professionals. He has over 20 years of experience in the private and nonprofit sectors. His leadership experience spans multiple industries, primarily financial services, technology, and media and entertainment.
Prior to joining CUP, Brennon was the Executive Director of Workforce Opportunity Services (WOS), an innovative non-profit that he co-founded. Under his leadership, over a nine-year period, the organization grew to an entity with a budget of over $10 million operating in nine states (19 cities) and internationally in France (under the name SociaLift).
At Prudential, Brennon undertook progressively challenging assignments and held technology leadership roles for over a decade. He was in charge of the firm's IT portfolio management tool used by the Corporate Chief Information Officer for critical decision-making.
He was the Editor In Chief at CLASS (Caribbean Latin American Sights and Sounds) magazine, later known as Black Diaspora magazine.
Brennon sits on the New York City Career and Technology Education Advisory Board, as well as the advisory boards of other local schools, both in New York and New Jersey, including one of Columbia University's Alumni Advisory Board.
Brennon holds a Masters degree in Technology Management from Columbia University and a Bachelor of Arts in Business Journalism from Baruch College. He is a Stephen H. Gayle Memorial Fellow and has received scholarships from Baruch College and Reuters, as well as been featured in CIO Insight magazine as a future leader in technology (April/2007).
Brennon lives in Harlem, New York, where he is very active in the community serving as a baseball coach for the Harlem Little League and a basketball coach at the Harlem YMCA.
Viola Maxwell-Thompson
President – Information Technology Senior Management Forum (ITSMF)
Viola Maxwell-Thompson is President of Information Technology Senior Management Forum (ITSMF), a national organization committed to the continuous professional development of black senior-level executives in the technology industry. Their members, who are CIOs and other senior-level technology executives, are from Fortune 500 companies, the public sector, Academia and privately-owned technology companies.
A nationally recognized thought-leader in business transformation and process re-engineering, Ms. Thompson, who is a former IT management consultant, joined ITSMF as a member in the late 1990s, became Executive Director in 2004 and President in 2015. Ms. Thompson's business acumen and technical know-how—she's fluent in everything from "assembler programming" to tweeting on her iPad—have positioned her to lead ITSMF as it raises its visibility, makes its mark on the technology industry and becomes a Web-page "favorite place" for technology professionals. Ms. Thompson has drawn on her vast experience in program management and career training to transform ITSMF into a professional development organization with the fiscal soundness and infrastructure to prepare the next generation of black technology leaders for the executive suite.
Prior to joining ITSMF, Ms. Thompson was a partner with Ernst & Young LLC's Management Consulting Practice in Chicago and Atlanta, where she specialized in organizational development, process re-engineering and technology deployment. For 17 years, she led diverse teams that blended strategic-problem solving with state-of-the-art technology solutions to enhance operations for Fortune 500 companies in the manufacturing, financial services and consumer products industries. Her expertise in sales and customer-management, combined with her technical proficiency, contributed to her success directing some of Ernst & Young's largest implementation projects. These include an $82 million program to improve the supply chain for the largest printing company in the U.S., featuring package selection and implementation of an integrated Supply Chain, Order Management and Shop Floor Operations.
Ms. Thompson is often featured in the media for her expert insights on a variety of business topics, including diversity and the retention of executives; work-life balance issues; and career management as a female executive of color. She has been quoted in numerous leading industry and consumer publications—CIO Insight, the Chicago Tribune, Black Enterprise Magazine, Diversity Careers Magazine and IT Management Consulting, among others. In 1998, she was nominated for the National Society of Black Engineers' (NSBE) "Golden Touch Award," which recognizes outstanding achievements by black engineers.
Ms. Thompson received her B.A. in Psychology and Education from Lake Forest College in Lake Forest, Illinois. She also holds certifications in Project Management and Systems Methodology.
Carla Ogunrinde
Chairperson – Information Technology Senior Management Forum (ITSMF)
Carla Ogunrinde is President and Founder of Intend Coaching & Consulting, LLC. A practice where executives learn to tend inwards, to harvest the richness of their experiences, and to unleash uncommon leadership. Through coaching, skills training, and energy awareness, they learn how to become conscious leaders with clear intentions to profoundly impact their teams and leave meaningful legacies. As an experienced executive, herself, and certified leadership coach, she works with her clients with humility born of empathy, and curiosity that challenges the status quo.
Carla brings more than 20 years of experience working in information technology, leading global teams for Fortune 100 companies. Most recently, she served as Vice President Technology & Operations at the largest global provider of insurance and prior to that she held several domestic and international executive positions with a major healthcare company. For her work, Carla has been honored with industry leadership awards; among them YWCA Tribute to Women in Industry (TWIN) award.
She describes herself as a perpetual student of the human potential to grow and discover. In support of that belief, she serves as Chairman of the Board, Information Technology Senior Management Forum (ITSMF), a national non-profit organization dedicated to increasing representation of black leaders at senior-levels in technology. She also serves as a Member of the Board of Trustees for the Development School for Youth (DSY), an All Star's national program. The All Stars Project is a national non-profit whose mission is to transform the lives of youth in poor communities. Carla is an inspirational speaker who moves people to action and enthusiastic engagement.
Since establishing Intend Coaching & Consulting in 2012, Carla has worked with clients and teams from nonprofits and Fortune 500 companies. In every endeavor she helps leaders tap into the energy behind purpose, desire, and business strategy to create intentional and sustainable outcomes. She received her Masters Degree in English from Iona College and her professional coaching and Master Practitioner certifications from the Institute for Professional Excellence in Coaching. She and her husband, David, live in NY as empty nesters.
Dr. Randal D. Pinkett
Founder, Chairman and CEO – BCT Partners
Dr. Randal Pinkett has established himself as an entrepreneur, speaker, author and scholar, and as a leading voice for his generation in business and technology. He is the founder, chairman and CEO of his fifth venture, BCT Partners, a multimillion-dollar management consulting and information technology solutions firm headquartered in Newark, NJ.
Dr. Pinkett has received numerous awards for business and technology excellence including the Information Technology Senior Management Forum's Beacon Award, the National Society of Black Engineers' Entrepreneur of the Year Award, and the National Urban League's Business Excellence Award. He has been featured on nationally televised programs such as The Today Show, Live with Kelly and Michael, Nightline and CNN, and he has been recognized by USA TODAY newspaper as one of the top 20 scholars in the country. In 2009, he was named to New Jersey Governor Jon Corzine's official shortlist as a potential running mate for Lieutenant Governor of New Jersey.
Dr. Pinkett has served as a brand ambassador for AMTRAK, Verizon Communications, and Outback Steakhouse, and as a national spokesperson for Autism Speaks, the National Black MBA Association, the MillerCoors Urban Entrepreneurs Series, New Jersey Reads, Junior Achievement of New York, and the Minority Information Technology Consortium. Most notably, Dr. Pinkett was the first and only African-American to receive the prestigious Rhodes Scholarship at Rutgers University. He was also the winner of NBC's hit reality television show, The Apprentice, with Donald Trump. He was selected as one of 18 candidates chosen from among 1 million applicants to compete for the opportunity to run one of Donald Trump's companies.
Dr. Pinkett is a highly sought-after speaker for various corporations, colleges and universities, government agencies and community organizations. He is the author of Campus CEO: The Student Entrepreneur's Guide to Launching a Multimillion-Dollar Business and No-Money Down CEO: How to Start Your Dream Business with Little or No Cash. His latest book, Black Faces in White Places: 10 Game-Changing Strategies to Achieve Success and Find Greatness, presents the strategies African Americans and other emerging majorities use to successfully navigate today's rapidly changing professional landscape. Black Faces in White Places was named one of the "10 Best Books of 2010." Based on the book's "10 Game-Changing Strategies," Dr. Pinkett has launched the "Campaign to Redefine the Game," which represents a call to action for Americans to level the playing field in the 21st century workplace.
Dr. Pinkett is a proud member of Alpha Phi Alpha Fraternity Incorporated, the National Society of Black Engineers (NSBE), the National Black MBA Association (NBMBAA), the Black Data Processing Associates (BDPA), and the Information Technology Senior Management Forum (ITSMF), as well as a member of the board of directors for the New Jersey Public Policy Research Institute (NJPPRI), the Nonprofit Technology Enterprise Network (NTEN) and the National Visionary Leadership Project (NVLP). He is also a proud graduate of Leadership New Jersey and the Rockefeller Foundation's Next Generation Leadership program.
Dr. Pinkett holds five academic degrees including: a Bachelor of Science in Electrical Engineering from Rutgers University, where he competed as a high jumper, long jumper, and captain of the men's track and field team; a Master of Science in Computer Science from the University of Oxford in England; and a Master of Science in Electrical Engineering, MBA, and Ph.D. from Massachusetts Institute of Technology (MIT).
Born in Philadelphia and raised in New Jersey, Dr. Pinkett attends First Baptist Church in Somerset, NJ, where he resides. He is happily married to his wife, Zahara, and they are both proud parents of their daughter and two sons. Dr. Pinkett firmly believes that "to whom much is given, much is expected," so throughout his endeavors he places great emphasis on his desire to give back to the community.
Toacca Rutherford
Chief Development Officer, Consumer Business Banking and Auto IT, JPMorgan Chase & Co.
Toacca Rutherford is the Chief Development Officer (CDO) for Consumer Business Banking and Auto Information Technology at JP Morgan Chase & Co. Toacca and the CDO team will focus on building the developers' community, implementing Agile/Scrum, and enhancing productivity and quality. Most recently, Toacca was the Global Head of General Ledger Technology and Corporate and Investment Bank's Finance Technology platforms leading global application delivery teams. Prior to this, Toacca was the Chief Technology Officer for the Finance Core Processing Platform and has held a variety of technical and managerial roles in Credit, Risk, and Architecture.
Toacca began her career at JPMorgan as a Database Administrator. She was recruited after graduating from Rutgers University with a Bachelor of Science degree in Industrial Engineering.
She is licensed by FINRA with a Series 99 for an Operations Professional. Toacca's professional associations include the JPMC Black Executive Forum, CIB Black Leadership Forum Steering Committee, JPMC Technology Diversity Council, and the Women's Bond Club.
Toacca is passionate about giving back in the firm and her community. She is committed to recruiting and retaining high performing talent, mentoring, and coaching. She is also an active leader in her community through her local church and their women's initiatives establishing activities supporting spiritual growth, breast cancer awareness, and community leadership. Toacca is a Board Member of Horizons National in Newark, New Jersey to develop high-quality enrichment programs for low-income public school children in academics, arts, sports, technology, and culture.
At the center of Toacca's life is her family as she cherishes being a devoted wife, and mother of three daughters.
Sarah Ayres Steinberg
Vice President, Global Philanthropy – JPMorgan Chase & Co.
Sarah Ayres Steinberg joined JPMorgan Chase & Co. in 2015 as Vice President of Global Philanthropy for New Skills at Work, a $250 million global workforce training and demand-driven training initiative. Her work focuses on promoting economic opportunity and prosperity through investments in workforce practice, innovation, and policy. In January 2016, JPMorgan Chase launched New Skills for Youth, a $75 million, five-year global career readiness initiative aimed at investing in high-quality, career-focused education that prepares young people to prosper in the growing global economy.
Prior to joining JPMorgan Chase, Sarah was Senior Economic Policy Analyst at the Center for American Progress, where she led CAP's research on workforce development and expanding apprenticeships. Her research has been cited by The New York Times, The Wall Street Journal, and The Washington Post, among others. She has a bachelor's degree in government and sociology from Dartmouth College.
Karen Sumberg
Diversity Business Partner Lead for Tech – Google
Karen leads Diversity Strategy and Implementation for the Tech Function at Google. Prior to joining Google, Karen was executive vice president at the Center for Talent Innovation and a principal with the CTI's advisory services practice Hewlett Chivée Partners. She coauthored two Harvard Business Review articles, as well as two Harvard Business Review Research Reports including The Athena Factor: Reversing the Brain Drain in Science, Engineering and Technology and The Sponsor Effect. Prior to CTI, Karen worked in publishing and marketing in the U.S. and Australia and she taught English in Japan.
She holds a Bachelor of Arts degree in History from the University of Maryland and an MBA from Fordham University.
Gene Waddy
Chief Executive Officer – DIVERSANT
Gene C. Waddy is a visionary entrepreneur and owner of DIVERSANT LLC, the nation's largest African-American owned IT staffing and solutions firm. In many ways, DIVERSANT is a reflection of Gene's professional expertise, personal drive, and his commitment to helping others. The company has enjoyed dramatic growth, even during the economic downturn, and has developed a reputation for excellence among numerous Fortune 500 companies.
In his local community, Gene coaches minority youth about how they can get involved with technology and use it to advance their careers and lives. Gene is an active member of the Board of Directors of PACE Monmouth. PACE, the Program for Acceleration in Careers of Engineering, is a science and engineering awareness program in which professionals volunteer their time to work with local minority high school students to help prepare them for technical careers. Gene also serves as an active board member with the Marion P. Thomas Charter School in Newark and the New Jersey Tech Council. A member of Alpha Phi Alpha, the country's first African-American fraternity, Gene is very active in many of their community service programs. Gene was named the 2013 Ernst & Young Entrepreneur of the Year New Jersey winner as well as a 2011 NJBiz Executive of the Year Finalist.
The son of two Harlemites, Gene was raised in New Jersey. Gene attended Fairleigh Dickinson University where he earned his B.S. in Mechanical Engineering. A "Jersey Guy" at heart, Gene chose to stay in his home state where he now resides with his wife and children.
Sign up for our Monthly Impact Report
More News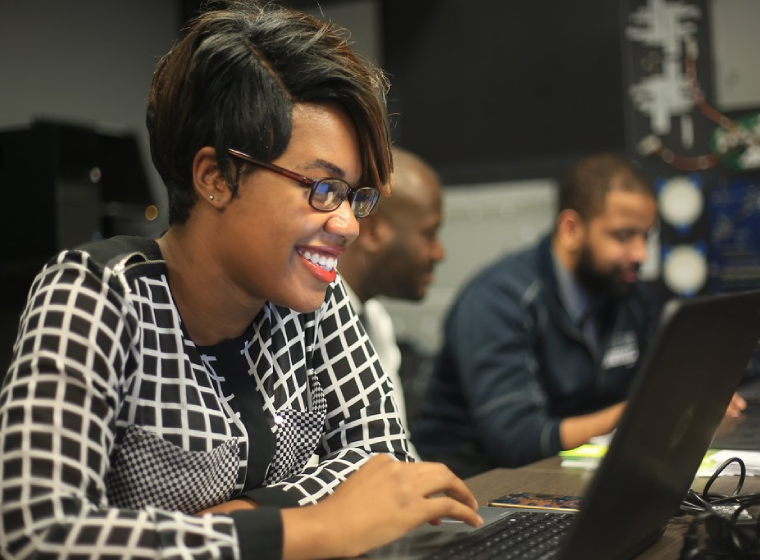 Donate Now
Your support makes a powerful difference in our ability to build a technology talent training solution that creates greater access and equity.