Per Scholas and ITSMF Launch Diverse By Design, Collaboratively Tackles Diversity Issues in the Industry
On Tuesday, June 21, 2016, Per Scholas and the Information Technology Senior Management Forum (ITSMF) hosted Diverse by Design, the first in a conversation series about building diversity and inclusion in the workforce. Nearly 200 guests comprising of C-Suite individuals, employer partners, and representatives from workforce development convened at Google's New York City Headquarters to hear from Fortune 500 thought leaders in technology, finance, energy, and social impact.
Damien Howard opened the event and set the tone for the rest of the afternoon with this quote: "To make a real impact on Diversity and Inclusion you need to be focused and courageous."
Toacca Rutherford, from JPMorgan Chase & Co. followed after and kept the audience engaged with tales of her career. She says "How did I get to this point in my career? Someone embraced diversity." Toacca was also on stage to provide Per Scholas with a $1,175,000 check from our signature partner JPMorgan Chase to support our efforts across the nation.
Guests were treated to the first of two ignite presentations with Randall Pinkett of BCT Partners joining the stage. His riveting presentation touched upon the global impact that diversity can have. According to Randall,"Once you have individuals who care about personal diversity,  organizational diversity becomes easy."
The first panel was introduced by Errika Mallett of ITSMF and focused on Innovation. Moderated by Brennon Marcano, executive director of the Council of Urban Professionals, Amy Chapman, Thomas H. Graham, Brian H. Johnson, Ali Marano, and Karen Sumberg discussed different ways their organizations are tackling the issue of diversity within their industries and the understanding that in order for their companies to continue to succeed, they need to embrace diversity. As Ali Marano stated, "Innovation comes from diverse thinking. Diversity is more than just race or gender. Diverse thinking is shifting how we do business."
During a keynote conversation between Linda Clement-Holmes of Proctor and Gamble, and Carla Ogunrinde of ITSMF, Linda shared with the audience how she was able to get this far in her career. She focused on being honest with herself and ensuring that she stopped trying to be someone she was not. Linda left the audience with key advice such as "You should learn something new every day of your life."
Before the second panel launched, Per Scholas' Kenneth Walker shared his experience making a difference in the industry through his work with young African American men. He encouraged the audience to take small steps in their own lives to make a difference.
Gene Waddy of Diversant rounded out our second Ignite Presentation. He spoke of his youth, of his father's way of inspiring him to become a black engineer and how that not only helped to shape his life, but his son's life to this day. When it comes to diversity within the industry, Gene reminded us that we must take action if we plan on seeing results. He says "The parachute won't open unless you jump."
Our second panel of the evening focused on Solutions and was moderated by Harvey Butler of Barclays. With Andi Azzonlina, JetBlue; Nedra Dickson, Accenture; Claudia Lee Healy, Verizon; Wayne Kunow, Barclays; and Sarah Ayres Steinberg, JPMorgan Chase as panelists, audience members were provided with real action-oriented solutions to the diversity issues that has plagued their respectived organizations and the industry as a whole. Some choice quotes from the panel include:
"Let's demystify IT. There are so many roles, we need to take the time to open students' eyes to the opportunities." – Andi Azzolina, JetBlue
"You have to communicate your successes. You have to make sure people know what's going on." – Nedra Dickson, Accenture
"Approaching the skills gap and diversity gap in a holistic way creates opportunities for incredible success." – Sarah Ayres Steinberg, JPMorgan Chase
"Talent is ubiquitous, opportunity is not." – Harvey Butler, Barclays
Closing remarks between Viola Maxwell-Thompson of ITSMF and Plinio Ayala of Per Scholas brought attention to the fact that action is the next step. To that effort, Plinio officially announced the Diverse by Design National Working Group, a group that have influence and oversight on the direction of the next Diverse by Design conversation, and will be focused on uncovering, distilling, and promoting best solutions that attract more diverse and inclusive talent to all ranks of the tech sector. "They will ensure this important conversation continues," said Plinio.
Thank you to all who attended. As Plinio stated, "We can't achieve a greater level of diversity in the workplace alone, by working in silos, as we've done for so many years. If we work collectively to spark relationships, build partnerships like we have done today, I am hopeful that our tech sector will begin to reflect and celebrate the beautiful diversity that makes up our country."
To learn more about our panelists and speakers, visit our speakers page here.
Sign up for our Monthly Impact Report
More News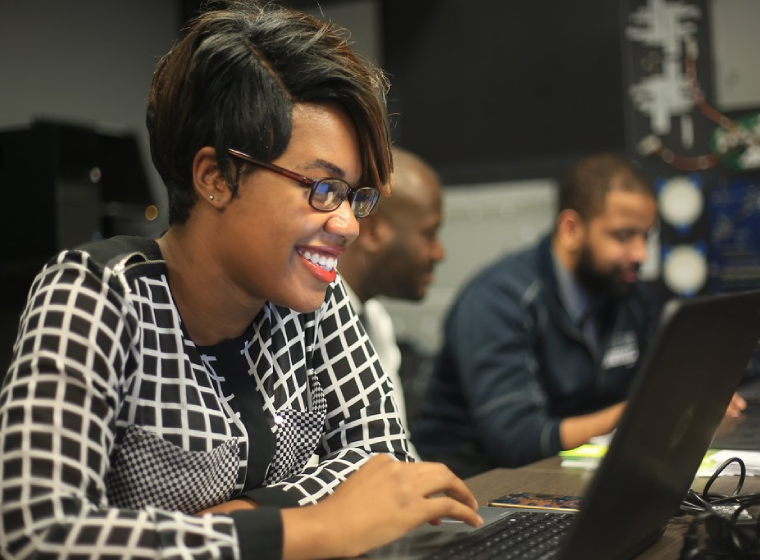 Donate Now
Your support makes a powerful difference in our ability to build a technology talent training solution that creates greater access and equity.