Date and Time
April 22, 2021
12:00pm-12:45PM (ET)
Location
Virtual Event via Zoom Webinar

Register Today for Our Diverse by Design Atlanta Event!
Research has long shown that anywhere from half to upward of 80 percent of jobs are filled through networking. Access to the right networks can make or break careers and launch or sink startups. During this Diverse by Design Atlanta virtual event, super-connector Joey Womack will discuss the topic of relationship building as an equalizer.
---
About our Featured Speaker
Joey Womack
Joey Womack's goal is to positively impact 1 billion people by the year 2039. Part super-connector, part startup coach, he is the Founder/CEO of Goodie Nation, a national support nonprofit that is closing the relationship gap for tech-focused social entrepreneurs and diverse founders, and the Founder/CEO of Amplify 4 Good, a mission-driven agency that uses rapid problem-solving to help large companies, nonprofits, and government agencies create social impact.
Since starting this journey in 2014, Joey is on pace to reach his goal by working with the likes of CARE USA, Google, Hartsfield-Jackson Atlanta International Airport, Ford Motor Company, Coca-Cola, Google For Startups, United Negro College Fund, Coca-Cola Scholars Foundation, Village Capital, and the White House HBCU Initiative. Joey is also the Co-Founder of the Atlanta Black Tech initiative where he serves as the Lead for the Startups and K-12 divisions.
Evident as a Hive Global Leader, Inaugural White House Demo Day Invitee, and Outstanding Atlanta Alumnus, he has been named a 2020-2021 Game Changing Founder of Color by SOCAP, one of Atlanta's 500 most powerful business leaders by Atlanta Magazine, received the Technology Association of Georgia's (TAG) Diversity in Tech Game Changer Award for Community Engagement and Equity Champion Award by Startup Atlanta, named one of the Top 10 social entrepreneurs in Atlanta by Hypepotamus, featured in McDonald's Black Your Story campaign, recognized by PepsiCo as a Champion For Change and Atlanta Magazine as part of the Atlanta 500, and listed by Huffington Post as one of the Top 20 Innovators in the Atlanta Tech Startup Scene. Joey currently serves on the boards for Startup Atlanta, Venture Atlanta, and the Georgia Social Impact Collaborative as well as on advisory boards for SXSW and SOCAP's Spectrum Conference.
A "Rebel with a Cause" at the leading edge of change, Joey was bitten by the entrepreneurial bug in 2002 when he launched digitalguestlist.com as a graduate student at Florida A&M University. He grew the site to 80,000 users, and advertised thousands of events for Fortune 500 companies, agencies, and high-profile promoters during special events including NBA All-Star Weekend, Super Bowl Weekend, and Essence Music Festival. He also used forward-thinking digital marketing strategies to execute events in the Southeast for well-known brands such as Crown Royal & Warner Bros.
Joey received his MBA from Florida A&M University in the Spring of 2003, where he was also initiated into Alpha Phi Alpha, Fraternity, Inc. He has been named one of the Top 40 Under 40 Alumni and received an Outstanding Alumni during FAMU's 125th Anniversary Celebration.
---
About our Moderator
Tracey Palmer
Atlanta Managing Director, Per Scholas
Tracey Palmer, a native of West Virginia, has spent the last 20 years serving in many capacities in both the for profit and non-profit sectors. In that time, she has worked with diverse student populations ranging in size from 200 to nearly 10,000 in roles ranging from instructor to advisor to manager to director, all of which enabled her to mentor countless students to successful matriculation and gainful employment.
Tracey received her start in education through hard work and dedication as a Student Manager at her alma mater, West Virginia State University, and quickly rose through the ranks by securing a role as the Program Coordinator of Student Activities upon graduation. Her career continued to flourish with roles at Bauder College and at American InterContinental University, where she served as the Director of Retention and Student Success and subsequently with Corinthian Colleges. There, Tracey was handpicked by the Campus President to take on the role of Director of Career Services. In those positions, Tracey was able to increase student participation and satisfaction, community service involvement, and student retention as well as serve as chair and co-chair of numerous steering committees on retention, graduation, and change management.
In 2012, as a result of her community outreach and activism, Tracey accepted the position of Membership Specialists/Area Executive for Girl Scouts of Greater Atlanta where she successfully increased membership in her territory to more 2,000 members – exceeding her goals for two consecutive years. In addition, Tracey was effective in assisting three out of four of her volunteer cohorts in finishing in the Top 10 in product sales, which directly correlated to Girl Scouts of Greater Atlanta's annual revenue.
Tracey joined the Year Up Greater Atlanta team in August of 2014 as Program Manager and within her nearly six-year tenure, was promoted on several occasions, the latter being to the Senior Director of Program. In 2018 she most honorably accepted the selection for leadership programs with Bank of America's Neighborhood Builder Program and American Express Emerging Leaders Program.
Tracey attributes her success to a passion for service, an intrinsic knack for motivating teams and students, as well as a focus for building community relationships and collaborations. It is with excitement that Tracey joins the Per Scholas Atlanta team as Managing Director, where she is poised to learn, lead, and engage in workforce growth, visibility, and innovation.
---
Diverse by Design is powered by Per Scholas and ITSMF (IT Senior Management Forum) and generously supported by Chubb, Comcast NBC Universal, Google, JPMC, and TEKsystems.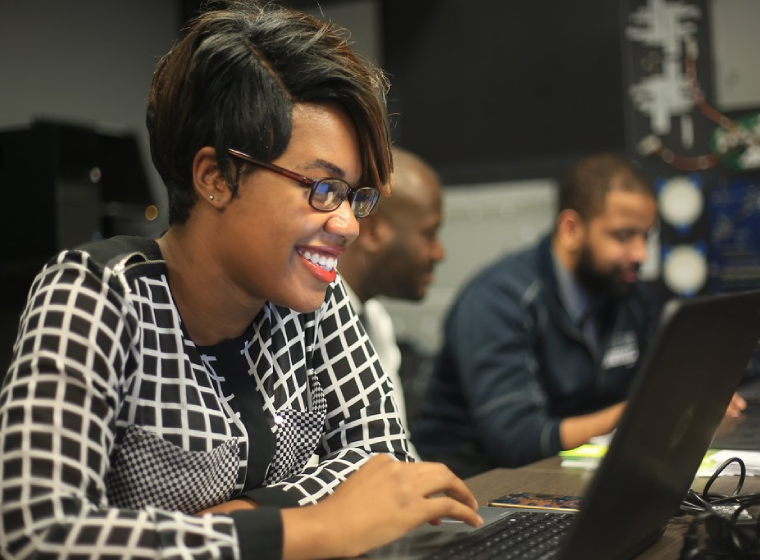 Donate Now
Your support makes a powerful difference in our ability to build a technology talent training solution that creates greater access and equity.