All-Star Women in Tech Panel Comes to Per Scholas
Four accomplished technologists from a federal intelligence agency, NYC government, a leading philanthropic foundation, and the fashion house of Dolce & Gabbana- we could not have asked for more diversity in terms of the companies that were represented at the IT Panel at Per Scholas yesterday. However, there was a more powerful and striking commonality amongst our 4 speakers: they were all women, and all women of color. The 40 female Per Scholas students who attended were inspired, wowed, and simply excited to see strong powerful women make it in IT – and importantly these 4 professionals came from the same communities in many cases as our students.
The advice flowed for 2 hours and if our guest speakers did not have to leave, I am pretty certain they could have held a captive audience for another 2 hours! Hearing about the experiences of being a women in a male dominated industry was honest and a good eye opener for our women in tech students. While the entire session was compelling and chock full of advice here are a few of the reflections that resonated with me include:
1. Be tough, be prepared, and expect to be held under greater scrutiny simply because you are a woman.
2. 75% of being an IT professional is research – know how and from whom to find out new information. Always self study and use every tool and mentor you can.
3. Always keep your hand up – offer to help on anything to advance in your career. Mentors and sponsors will notice you and will help.
4. Find the smartest person in your area of interest and make it your business to meet and learn from them regularly.
5. Network! Network! Network! Get to the point in your career when you don't need to apply for jobs formally, but rather you get tapped for new positions because of your reputation and work ethic.
6. Don't cry. Ever. And if you are so frustrated or upset and you need to – get yourself to a private spot or the bathroom ASAP! (Or "pretend you poked yourself in the eye by accident"!)
Great advice, and advice backed by experience. And why might our students listen and take heed? Because these same guest speakers who are on top of their games professionally, have had their share of personal challenges and growth opportunities. The speakers candidly shared their stories – whether it was about starting out as a secretary, being out of work for years, being homeless for 2 years, or giving up the chance to go to college to care for her children. And they shared and held these experiences with pride – because they never let anything get in their way. They resolved to not accept their realities and to be smart and creative and ambitious to change their path. That is courage and perseverance up close and personal.
For those of us in the room yesterday – we shared in a powerful moment together. Seeing strong, brave, accomplished women guide and share their stories to a new crop of future technologists was one of those moments that no one in the room will forget for years to come. You can view the pictures from the panel by clicking here.
Sign up for our Monthly Impact Report
More News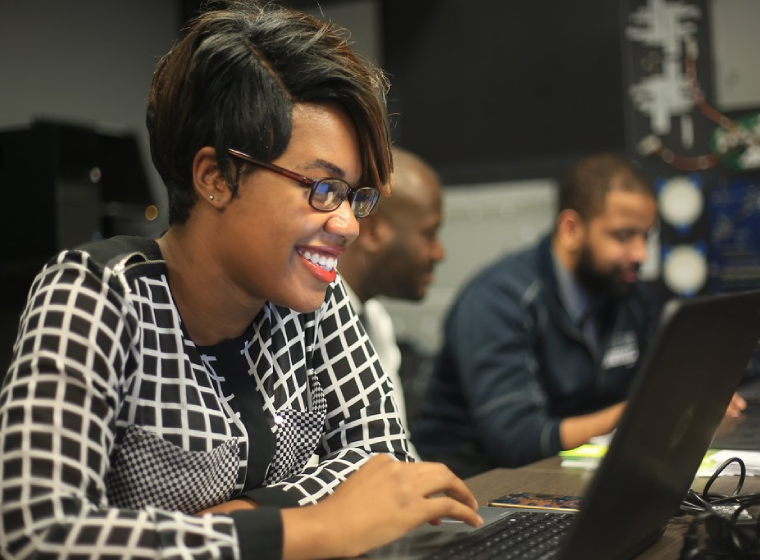 Donate Now
Your support makes a powerful difference in our ability to build a technology talent training solution that creates greater access and equity.