"I have so much confidence now and so much hope." Grad Angelica's new job in IT allows her to provide for her three children
In the evenings, Per Scholas graduate Angelica sits outside her home and watches her children play in her yard. On the weekends, they go swimming, play together, and enjoy spending time together.
To say that Angelica's life has changed dramatically since she graduated Per Scholas is an understatement.
On December 26, 2012, the single mother and her three children were forced to move out of their apartment. They had nowhere to go; they were homeless.
At the time, Angelica was unemployed with little hope for the future. She had spent her career in the healthcare field, but was unemployable because of a back injury. "I felt helpless…hopeless, even," she says.
She moved herself and her children into her grandmother's one-room basement. Although she had a roof over her head, things were looking bleak. She had spent her career in healthcare and all she had to show for it was debt and disappointment.
One day Angelica's father gave her a flyer for Per Scholas. He encouraged her to apply, convincing her that she has always had a knack for technology. Angelica was skeptical; she had no experience in IT. "How can I do this? I didn't even have a laptop. Everything was gone in my life," she says.
After checking out the Per Scholas website, Angelica decided to give it a try. What did she have to lose?
When she walked into Per Scholas, her life was forever changed. "I fell in love with the opportunity and the many doors that were opened to me. Per Scholas was a life changer and a life saver."
While enrolled in the Per Scholas IT Support course, busy was her new norm. And that was a good thing. Every day, she would take her two eldest kids to school, and drop her 14-month old daughter at a family member's house. She would go to school at Per Scholas, take care of her kids at night, and study after they went to bed. Rinse and repeat. "My days were long," she says. "A lot of times I felt overwhelmed. There was so much going on in my life. I was taking on something completely new to me. I had never done anything in technology. There were times that I felt that I wasn't going to do this."
Fortunately, her classmates, instructors, and Per Scholas staff provided a strong community of support. While in training, one of her classmates actually purchased her a laptop so she could do her assignments at home. Her instructor, James Miao, came in on Saturdays to help the class stay on top of the material. Robin Green, Workforce Development Coordinator, put her in touch with places for her and her kids to live. "Everyone kept telling me, ''You are not going to do this alone.' It was like a family."
On top of learning the tech skills necessary to secure a job, the Per Scholas course connects its students with industry professionals from our corporate partners. Volunteers from Per Scholas Signature Partner Nationwide Insurance spoke to her class. She says once she heard from Nationwide, she knew: "That's where I want to work."
Angelica graduated Valedictorian of her class. After graduation, she found work with Garden City Group working in the call center. She also went back for her Net+ certification.
Even though the work at Garden City was good, she didn't want to give up on Nationwide just yet. After graduation, Robin paired her with mentor from Nationwide, Lori King, Assistant Vice President of IT Infrastructure. Angelica met with Lori one morning and they immediately clicked. Lori saw what Angelica saw in herself: a smart and passionate IT professional. Angelica interviewed for a position at Nationwide and started soon after.
She has worked at the company for almost a year as a Contractor and is currently interviewing for a permanent position. At Nationwide, she works with many Per Scholas alums. Her community of support has followed her.
"I have so much confidence now and so much hope. Per Scholas is going to revolutionize our country. It's such a valid and viable program."
Two months after working at Nationwide, Angelica was able to save all her money and start renting a four-bedroom single family home for her and her kids.
"I now get to get out and just enjoy life. It's a much better life for my children. There's so much I can offer my children now after Per Scholas. This is not a temporary thing. I feel like things are just going to get better," she says.
So what's next for Angelica? She hopes to be able to learn more about programming so that she can build technology to help single and working mothers. For someone who has overcome hurdle after hurdle, the sky's the limit.
"Per Scholas was my light at the end of a long, dark tunnel and I am infinitely grateful for the fresh start I got after completing the course."
Sign up for our Monthly Impact Report
More News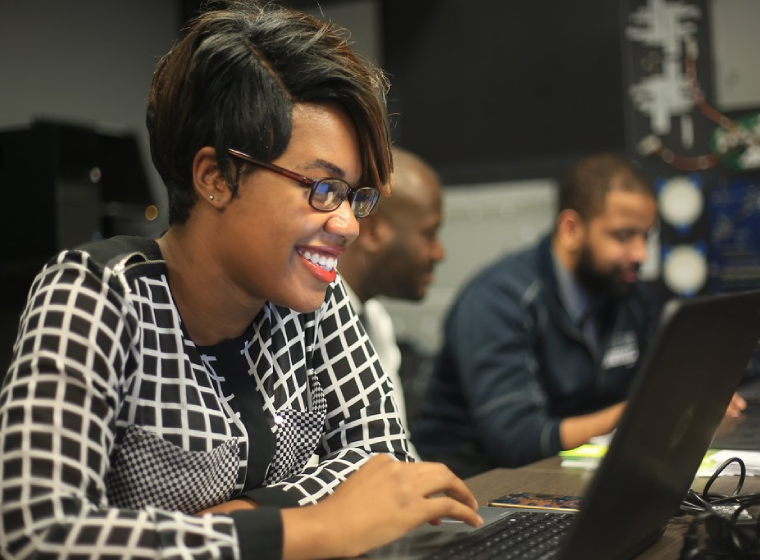 Donate Now
Your support makes a powerful difference in our ability to build a technology talent training solution that creates greater access and equity.