Atlanta is Sixth City to Land Per Scholas IT Job Training
Per Scholas is coming to Atlanta, the sixth city to gain the free high-quality technology education and career development services that effectively prepare local residents who are out of work or in low-wage jobs to enter the region's IT talent pipeline. The opening comes with investment from the W.K. Kellogg Foundation, Arthur M. Blank Foundation, Workday Foundation, and TEKsystems.
Courtney Knight has been appointed as the Managing Director of the Atlanta operation. Knight comes from a background from both the private sector and community development. He was most recently the Managing Director for Invest Atlanta, where he was responsible for the Atlanta Development Authority's neighborhood and community development activities, including administration of the City's ten tax allocation districts. In collaboration with the Blank Foundation, Invest Atlanta was responsible for funding the Westside Works job development and soft skills training facility, where Per Scholas will be located in Atlanta. Knight holds degrees from Stanford Graduate School of Business and Harvard University, and brings significant team management, private sector and public finance experience from across the country.
"Joining Per Scholas and launching in Atlanta provides the perfect opportunity for me to continue my dedication to the City's community and economic development agenda.  I am honored to be in a position that will allow my work to continue being impactful in the greater Atlanta community," shares Knight. He will be responsible for building the team, advisory board, and regional partnerships to set up for long-term growth and deep impact in Atlanta.
Knight will lead the implementation of Per Scholas' core offering, IT Support, a free 8-week course that prepares students to obtain industry-recognized CompTIA A+ certification and secure a computer help desk or technical support role, the first step along an IT career path. In addition, specialized training in software testing, cyber security and other IT job roles will be offered based on market demand. Interested candidates can learn more and apply at perscholas.org/apply.
The IT talent shortage is widely acknowledged as a serious business challenge. Atlanta in particular has seen significant job opportunity growth. According to the Metro Atlanta eXchange for Workforce Solutions (MAX) report, from 2007 to 2013, postings in the Atlanta Metropolitan Statistical Area market for IT professionals with BA degrees increased 68% from 2007 to 2013 and 138% for IT professionals with high school diplomas or associate's degrees.
At the same time, 36% of families in Georgia are considered "working poor," families with one or both parents working but remain at or below the poverty line. Job skill deficits and unstable socioeconomic resources play a huge role in this pressing issue. MAX reported in their December 2014 Forum that lack of skills (hard and soft) and skills that do not match available jobs were identified as the most critical challenges facing job seekers.
Per Scholas aims to directly impact these challenges by providing IT training tailored to the region's job growth areas, along with career development and advancement support to hardworking residents of the area.  Per Scholas looks to partner with the Atlanta business community, other community-based organizations and local government to address the skills gap, income inequality and positive transformation throughout the community.
"When Per Scholas began expanding nationally a few years ago, we did so because we felt it was a disservice not to. No one wants to be poor, no one wants to be unemployed. There are millions of individuals out there who are ready to work and hundreds of thousands of IT jobs that need to be filled," said Plinio Ayala, President and CEO of Per Scholas. "I know our model works—we have proven that. The award from the Kellogg Foundation is an enormous testament to our work and its impact. Courtney Knight is the person to ensure we have a tremendous impact in the communities of Atlanta."
While need and opportunity are key factors to the model, community investment is also required to bring Per Scholas to a new market. The W.K. Kellogg Foundation of Battle Creek, Michigan, awarded Per Scholas $750,000 to advance the national expansion to Atlanta. The Kellogg Foundation is interested in supporting work in the southeast U.S. that contributes to economic mobility. The Arthur M. Blank Foundation awarded Per Scholas $150,000 in support of its opening in Atlanta. Additional investment is being met by the Workday Foundation and TEKsystems.
The Per Scholas training program will ultimately be located at Westside Works, the employment and job training program located in Atlanta's historic Westside community.  Until that facility is constructed, Per Scholas will be launched in a temporary location beginning in the Spring of 2016.
The Atlanta opening joins a network of Per Scholas operations established in Cincinnati and Columbus, OH; Dallas, TX; Bronx, NY; and Silver Spring, Maryland serving the Washington, D.C. region. To date, more than 5,000 women and men have been trained in IT across Per Scholas sites nationally. Historically, 85 percent of participants graduate and 80 percent become employed with starting salaries four times higher than pre-training incomes. These outcomes are above the national average for sector-based workforce development, which on average experiences a 64 percent job placement rate as reported in "Putting Data to Work: Interim Recommendations From the Benchmarking Project" by Public/Private Ventures.
Sign up for our Monthly Impact Report
More News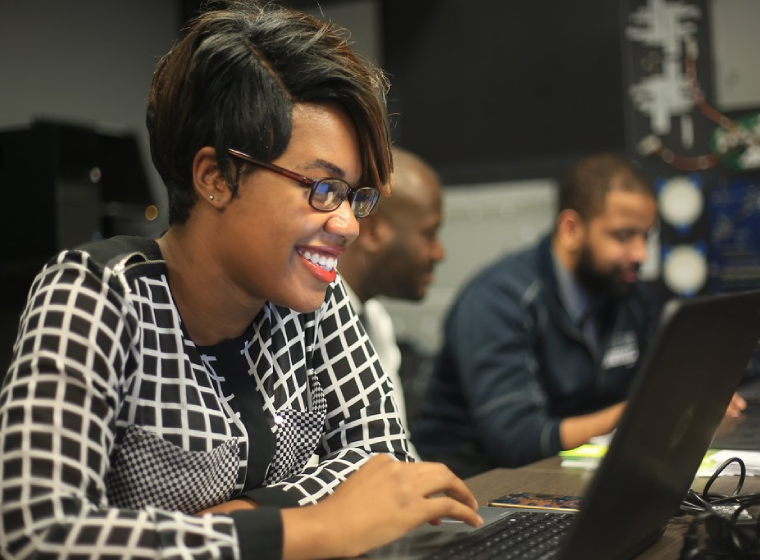 Donate Now
Your support makes a powerful difference in our ability to build a technology talent training solution that creates greater access and equity.