Diverse by Design Dallas Highlights Women in Technology
On Wednesday, October 24, 2018, Per Scholas and the Information Technology Senior Management Forum (ITSMF) hosted Diverse by Design Dallas, the sixth in a conversation series about building diversity and inclusion in the workforce.
Over 100 leaders representing organizations across the tech, finance and nonprofit sectors gathered at the home of Per Scholas' Dallas training site to promote diversity in the workplace. Speakers and panelists shared best practices in uncovering unconscious biases and tactics for C-suite leaders to identify, coach and retain diverse talent across all levels of their organizations.
WELCOME AND OPENING REMARKS
The afternoon kicked off with Per Scholas President and CEO Plinio Ayala, who shared a story about Tara Fuller, a mother who recently graduated from Per Scholas and was able to secure her first job in technology. The narrative captured both the challenges and opportunities for individuals, often overlooked by employers, and their capacity to succeed in the Dallas technology community.
Following Plinio's remarks, Montreece Smith, Board Chair of Per Scholas' Dallas board of advisors who offered remarks on the state of affairs in the Dallas technology community and spoke to her personal experience as a recruiter and hiring manager sourcing women talent in the Dallas Fort Worth region.
Faith Rottmann Johnson, Vice President, of Human Resources, at TEKsystems, a Platinum level sponsor for the event, followed with an Ignite presentation and shared her twenty year history in HR recruiting and strengthening diverse talent pipelines for an IT Consulting firm.
Congresswoman Eddie Bernice Johnson offered attendees a historical perspective on the work she has pioneered in Texas for more than forty years. The Per Scholas Dallas location is centered in her voting district, and the Congresswoman commented on the cross-sector leadership that is critical to strengthen STEM education in primary, middle and high schools. The Congresswoman also called on men as allies for supporting women to advance and succeed in their careers. The Congresswoman ended her remarks by drawing attention to "tech literacy" and how continued education and life long learning needs to be reinforced for people in at-risk industries that may be overtaken by future advancements like automation.
KEYNOTE CONVERSATION
Moderated by Viola Maxwell Thompson, Co-founder, CEO, ITSMF (Right) with Corey Anthony, VP & Chief Diversity Officer at AT&T (Left)
On stage representing one of Diverse by Designs' Platinum level sponsor Corey Anthony of AT&T engaged in a fireside chat with Viola Maxwell-Thompson of ITSMF. During the discussion, Corey stressed the importance of being an effective manager and providing guidance to your team. "There's a big difference between managing work and leading people" said Mr. Anthony who also touched on the sentiments made by congresswoman Johnson and supported the notion that men should be called on as advocates to build opportunities for women in the workplace.
After the fireside discussion, all attendees split into breakout sessions facilitated by thought leaders in different industries including talent development, finance, IT consulting and food service. Each session tackled a different challenge facing women in technology including:
Dismantling the Corporate Boys Club – Franklin Reed, Director of Inclusion and Diversity, TEKsystems
Re-engaging Women in the Workforce: Pipelines Driven by Partnership – Eric Westphal, Senior Director, Global Corporate Affairs, Cognizant
Developing the Brand of "You" in a Corporate Environment –Jyoti Lynch, Chief Information Officer, Jamba Juice
Diverse Teams Perform Better: Making the Business Case for Diversity at Work – Mithra Kosur Venuraju, Senior Manager Software Engineering, Capital One
After the Session concluded Diverse by Design facilitators and attendees reconvened in the main hall for a report back to the entire group.
NETWORKING RECEPTION
The night did not end after the panel. There was a networking portion to the evening that provided guests the opportunity to engage with speakers and other members of the crowd. Several remarks were offered during the networking reception by Rukus Esi, Sr. Director, Software Engineering, Auto Consumer & Refinance Technology, Capital One who spoke to the importance of presenting your best self in all aspects of your life. "Be intentional about building diverse teams and diverse organizations… Bring your whole self to work."
Martin Fogelman, Co-Founder, and CEO of the app Pluto gave demos of his product which is a transparency & analytics platform for companies to leverage data to measure, discuss and improve their D&I efforts.
The night capped off with Ty Bledsoe, AVP of External Affairs at AT&T who announced a national $300K grant to Per Scholas on behalf of AT&T to support new training tracks and future technologists at several Per Scholas sites including Dallas.
Sign up for our Monthly Impact Report
More News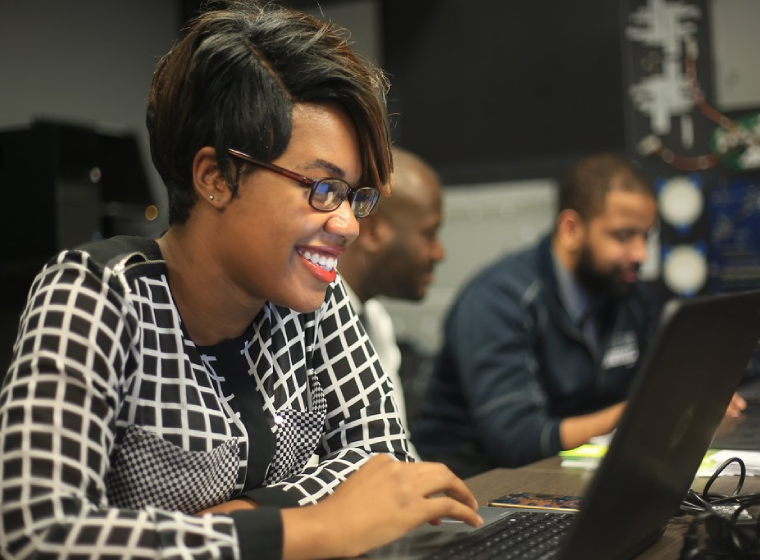 Donate Now
Your support makes a powerful difference in our ability to build a technology talent training solution that creates greater access and equity.