Diverse by Design – Detroit 2019
WELCOME AND OPENING REMARKS
To kick the event off with a bang TEKsystems President, Jay Alvather and Per Scholas President & CEO, Plinio Ayala proudly announced the launch of a talent transformation partnership to train more than 540 people for cutting-edge jobs in Detroit, Philadelphia and Boston. This joint effort to create a more diverse talent pipeline for emerging U.S. tech hubs is directly linked to Diverse by Design's vision of equity at the forefront, as regional and national economies develop.
Over the course of the afternoon, we heard from thought leaders who believe in the concept that businesses can source exceptional talent right in their local communities. Highlights included remarks from Damien Howard, National SVP of Social Ventures, Per Scholas, Akissi Lewis, National Professionals Talent Development Chair, NSBE, Jim Livingston, VP, Talent Acquisition, Quicken Loans and Franklin Reed, Director, Inclusion & Diversity, TEKsystems.
SOLUTIONS PANEL
Our Solutions Panel participants explored past experiences and bold ideas surrounding employers empowering the communities they reside in through sophisticated talent development and inclusion strategies. Jennifer Taylor stated, "Companies should take a look at the communities around them. Does your company reflect the community you reside in?" Anthony Murphy added, "I feel corporations have a responsibility to engage with their communities. In order to be the change you want to see in your community, you have to become apart of the community."
CLOSING FIRESIDE CHAT
The exchange during the closing fireside chat between Jim Livingston and Franklin Reed was particularly interesting as they both spoke to the structural shifts needed to truly create change within organizations.
"Diversity and inclusion is just a tagline until senior leaders embrace it. Anyone in talent and acquisition is set with short term goals. At Quicken Loans, our D&I and talent acquisition are all tied together; when leadership is apart of the conversation that is when change happens." – Jim Livingston
Franklin Reed highlighted, "If inclusion is seen as a program or initiative it is harder to demonstrate it as a core value; we need people who view it as a 'nice to have' to a 'need to have'."
Thank you to our sponsors CompTIA, eBay, NSBE, and TEKsystems for their support and attendance at our seventh in a long-running series for Diverse by Design. We hope that all attendees found the afternoon informative and engaging, and we hope to see you all again.
Sign up for our Monthly Impact Report
More News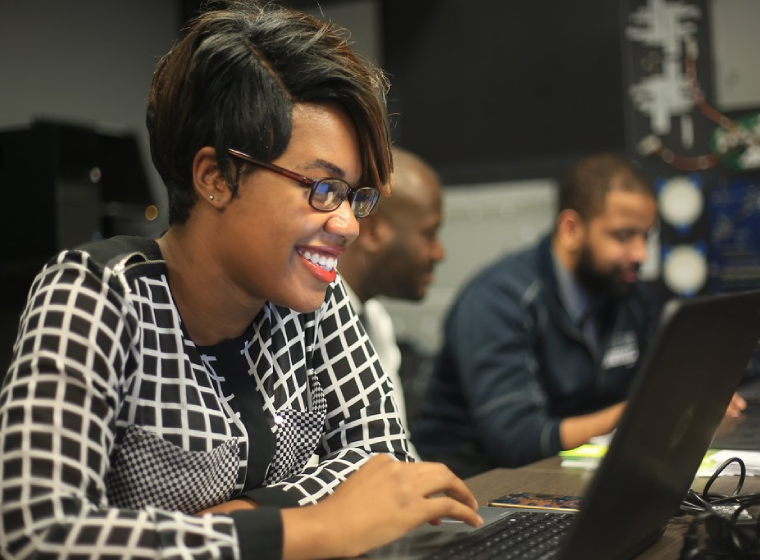 Donate Now
Your support makes a powerful difference in our ability to build a technology talent training solution that creates greater access and equity.