Diverse by Design Hosts 2nd Annual Jeffersonian Dinner
On Thursday, September 27th 100 guests gathered for Diverse by Design's 2nd Annual Jeffersonian Dinner hosted at the home of Tony Spinelli, Per Scholas National Board Member and Chief Operating Officer & President, Cyber Division at Fractal Industries Inc.
The tradition of a Jeffersonian dinner began at the home of Thomas Jefferson in the early 1800s. Gathering together thought leaders and influencers across a broad range of issues, then President Jefferson posed a challenge for the group, and encouraged spirited debate throughout the evening.
In accordance with the tradition, Diverse by Design invited voices across a number of technology industries that included C-Suite leaders, recruiters and hiring managers in cybersecurity, IT and talent development to discuss actionable solutions employers can leverage to build more diverse and inclusive workplaces. The dinner was a starting point to a conversation and a network to foster substantive changes powered by an employer network in the National Capital Region.
The dinner's host, Tony Spinelli, challenged the group to commit to strengthening their workforce through intentional sourcing, recruiting and hiring practices. Jeff Senne, Managing Director, PwC followed with remarks that included concrete examples for how PwC is challenging their existing structures from leadership to entry-level positions. According to Jeff, each person is responsible for championing inclusion in the workplace. The spirited discussion that followed continued late into the evening. The culminating moment was a "report out" where individual employers and corporate representatives reflected aloud to fellow employers in the room about reframing a "can't do" attitude into an actionable strategy moving forward. Partners were encouraged to visit Per Scholas' Silver Spring location following the event to have the opportunity to meet individuals trained in both cybersecurity and IT Support.
Thank you to everyone involved in the event. The evening was made possible by Platinum Level Sponsor Fannie Mae, as well as Silver Level Sponsors Kudelski Security, Synchrony Financial and Farm Credit Financial. For more information about the evening, Diverse by Design or Per Scholas, please reach out to [email protected] or visit the website www.diversebydesign.org.
Sign up for our Monthly Impact Report
More News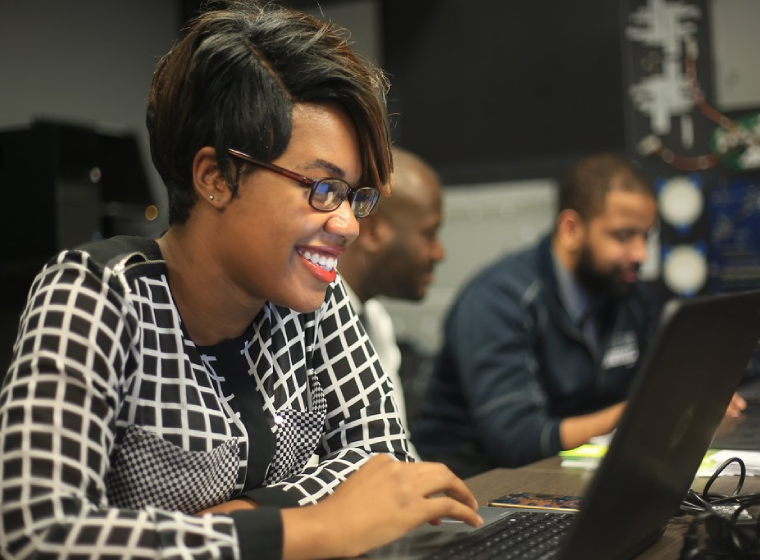 Donate Now
Your support makes a powerful difference in our ability to build a technology talent training solution that creates greater access and equity.