Diverse by Design Key Sponsor, JPMorgan Chase & Co. Elevates Conversation on Diversity and Inclusion in the Workplace
Per Scholas and the Information Technology Senior Management Forum, partnered with global financial leader JPMorgan Chase & Co. to pioneer an innovative approach to building diversity and inclusion in the workplace.
The opportunity to partner with JPMorgan Chase strengthens an important connection between industry leaders and diversity experts in the workforce. The firm has partnered alongside Per Scholas for more than twenty years. They became one of the first Signature partner's when Per Scholas officially launched our Corporate Engagement program three years ago. This Signature status reflects the company's commitment to deeply investing and cultivating diverse talent pipelines for their workforce. The partnership emphasizes the company's commitment to hiring Per Scholas graduates, volunteering staff hours for mock interviews and mentorship opportunities, as well as event sponsorship and board participation. Per Scholas and ITSMF are thankful for the continued collaboration and look forward to engaging employers and future leaders across the country with the support of JPMorgan Chase.
Diverse workforces offer a competitive edge in the market. In fact, research shows that diverse companies are 35 percent more likely to outperform their counterparts, yet 97 percent of domestic senior leadership teams fail to reflect the demographic composition of the United States.
Earlier this year, Per Scholas and ITSMF launched Diverse by Design, which offers a new platform for the organizations to build collective momentum and reshape our nation's workforce.
The first event leaders to engage in conversations about successful models that rethink hiring systems and retention practices. With JPMorgan Chase's support, Diverse by Design announced the National Working Group to move conversations about making workplaces more inclusive, equitable, and diverse to action.
The National Working Group is comprised of Fortune 500 thought leaders and partners focused on developing systems for hiring and retaining diverse talent across a number of sectors. The Working Group is led by co-chairs Toacca Rutherford, Chief Development Officer for Consumer Business Banking and Auto IT, JPMorgan Chase & Co., and Gene Waddy Chief Executive Officer, DIVERSANT and includes 11 other members. The inaugural Diverse by Design event offered the opportunity for JPMorgan Chase to reaffirm financial support and investment in Per Scholas across multiple sites.
The second Diverse by Design convening took place on December 13 in our nation's Capital. Only weeks following the presidential election, the convening explored the intersection of public policy and private sector diversity initiatives, driving action aimed at fostering more diverse and inclusive workplaces. The audience, composed of C-suite executives and workforce representatives from across the East Coast experienced a State of the Nation address by Chair Jenny Yang of the U.S. Equal Employment Opportunity Commission (EEOC). The event also featured a keynote conversation, panel discussions and ignite presentations. National Working Group chair Toacca Rutherford offered remarks on behalf of the Working Group, while Terrance Bowman, Vice President and Diversity Lead for Global Technology Recruiting, moderated an impassioned panel discussion between public and private sector representatives.
The firm's most recent contribution to Diverse by Design reinforces JPMorgan Chase & Co.'s commitment to investing in conversations linked to diverse hiring, inclusion and retention practices.
To learn more about Diverse by Design please visit www.perscholas.org/diversebydesign
Since its inception in 1996, ITSMF remains the only national organization dedicated exclusively to cultivating executive-level talent among black technology professionals. ITSMF offers career-advancing, leadership development programs and holds quarterly Symposiums focused on preparing the next generation of diverse technology leaders to impact organizational innovation and growth in the global marketplace. To learn more, visit http://www.itsmfonline.org.
Per Scholas is a national nonprofit that drives positive and proven social change in communities across the country. Through rigorous and tuition-free technology training and professional development, we prepare motivated and curious adults who are un- or underemployed for life-changing careers as IT professionals, and we create onramps to businesses in need of their talents. Today we provide our solutions in six cities across the country: Atlanta, Georgia; Greater Cincinnati and Columbus, Ohio; Dallas, Texas; the National Capital Region, and New York, New York. To date, Per Scholas has trained over 6,000 individuals, helping them build lasting, life-changing careers in technology. To learn more, visit www.perscholas.org.
Sign up for our Monthly Impact Report
More News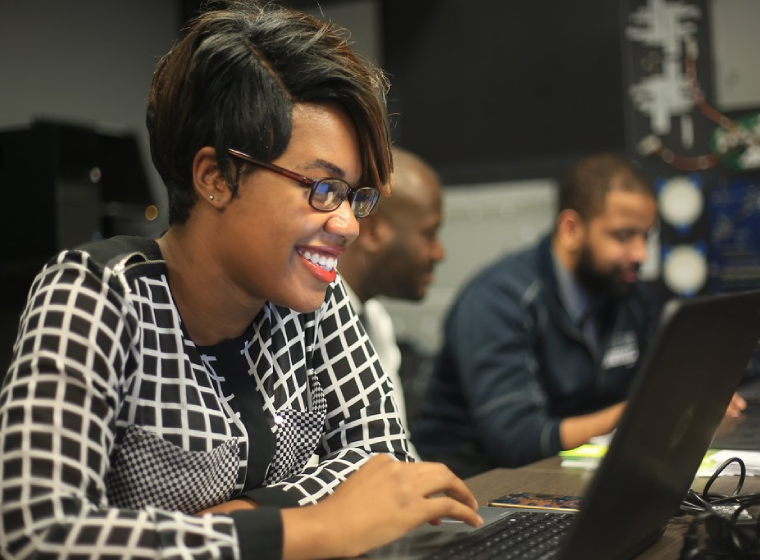 Donate Now
Your support makes a powerful difference in our ability to build a technology talent training solution that creates greater access and equity.