Diverse by Design – New York City 2016
On Tuesday, June 21, 2016, Per Scholas and the Information Technology Senior Management Forum (ITSMF) hosted Diverse by Design, the first in a conversation series about building diversity and inclusion in the workforce.
Nearly 200 guests comprising of C-Suite individuals, employer partners, and representatives from workforce development convened at Google's New York City Headquarters to hear from Fortune 500 thought leaders in technology, finance, energy, and social impact. Damien Howard, Vice President of Social Ventures at Per Scholas opened the event with this quote: "To make a real impact on Diversity and Inclusion you need to be focused and courageous." This page highlights speakers and key learning moments from the event.
WELCOME AND OPENING REMARKS
Damien Howard, National Vice President, Social Ventures, Per Scholas
Toacca Rutherford, Chief Development Officer, Consumer Business Banking and Auto IT, JPMorgan Chase & Co.
IGNITE PRESENTATION
Dr. Randal Pinkett discussed the global impact that diversity can hae when it becomes an organizational priority. According to Randal, "Once you have individuals who care about personal diversity, organizational diversity becomes easy."
INNOVATION PANEL
Presented by Errika Mallett, Vice President of Member Services & External Affairs, ITSMF
Moderated by Brennon Marcano, Executive Director of the Council of Urban Professionals
Amy Chapman, Senior Manager, Community Affairs, Capital One
Thomas H. Graham, Vice President, Special Projects, Pepco Holdings
Brian H. Johnson, Ph.D., Senior Director, Surgical Innovation, Johnson & Johnson
Ali Marano, Head of Technology for Social Good, JPMorgan Chase & Co.
Karen Sumberg, Diversity Business Partner Lead for Tech, Google
Innovation panelists discussed how their organization have tackled the issue of diversity. The common thread woven through each representative's remarks was that success in building and retaining a more diverse workforce was tied to the desire of hiring managers and the executive leadership team to more effectively reflect the nation's diversity. Ali Marano, of JPMorgan Chase & Co. stated, "Innovation comes from diverse thinking. Diversity is more than just race or gender. Diverse thinking is shifting how we do business."
KEYNOTE CONVERSATION
Linda Clement-Holmes offered a range of perspectives that included stories of her own journey and trajectory through the tech workforce. Her insights developed audience members understanding of an a corporate executives approach and framing of hiring practices and inclusion methods within a major corproation.
IGNITE PRESENTATION
Gene Waddy shared how inspiration from his father helped launch him toward a career as an engineer. He also discussed the importance of passing down similar inspirations to his son to help encourage his success in school, in his career and in his life. Mr. Waddy closed his remarks encouraging the audience to take action in achieving what they desire saying, "The parachute won't open unless you jump."
SOLUTIONS PANEL
Presented by Ken Walker, VP, National Site Operations, Per Scholas
Moderated by Harvey Butler, Global Head of Supplier Diversity, Barclays
Andi Azzolina, Director, Shared Development Services, JetBlue Airways
Nedra Dickson, Global Supplier Diversity & Sustainability Lead, Accenture
Claudia Lee Healy, Vice President, Global Talent Acquisition & Development, Verizon
Wayne Kunow, Global Head of Information Risk Management, Barclays
Sarah Ayres Steinberg, Vice President, Global Philanthropy, JPMorgan Chase & Co.
The Solutions panel offered audience members action-oriented solutions to some of the most challenging diversity issues facing the technology industry. Moderator, Harvey Butler summarized the central obstacle stating, "Talent is ubiquitous, opportunity is not." Panelists discussed how they established new talent pipelines to strengthen their organizations and the importance of an inclusive work culture and in recruiting and retaining a high caliber of diverse tech talent. Sarah Ayres Steinberg of JPMorgan Chase & Co. advocated for "approaching the skills gap and diversity gap in a holistic way creates opportunities for incredible success."
CLOSING REMARKS
During the closing remarks, Per Scholas President and CEO Plinio Ayala announced the creation of the Diverse by Design National Working Group that will influence and provide oversight on the direction of future Diverse by Design conversations. The National Working Group will focus on ways to uncover, distill, and promote the best solutions to attract more diverse talent to all ranks of the technology sector. "They will ensure this important conversation continues," said Plinio.
Sign up for our Monthly Impact Report
More News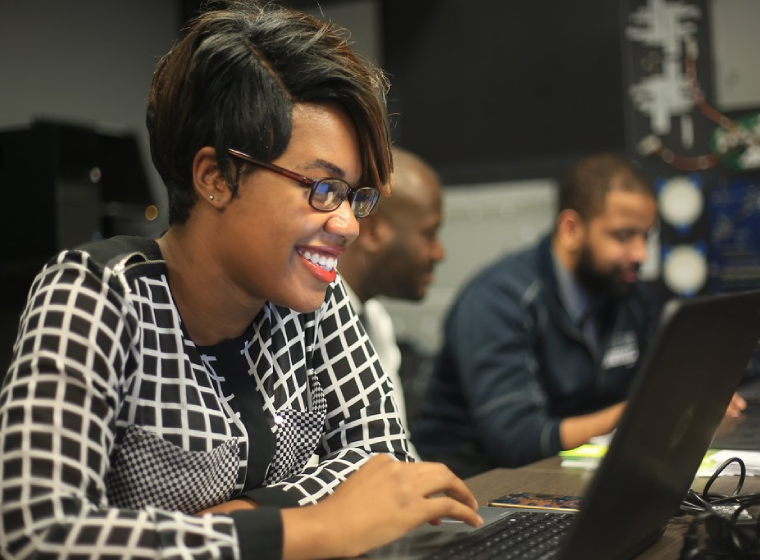 Donate Now
Your support makes a powerful difference in our ability to build a technology talent training solution that creates greater access and equity.