Diverse by Design – Washington 2016
Per Scholas and the Information Technology Senior Management Forum (ITSMF) hosted the second Diverse by Design on Tuesday, December 13, 2016 in the nation's capital.
The event was hosted at Google and brought together nearly 150 c-suite executives, employer partners, public servants, and leaders from the nonprofit and philanthropic sectors to discuss the role and impact of public-private partnerships in building an inclusive and diverse tech workforce. Damien Howard, VP of Social Ventures at Per Scholas opened the afternoon by highlighting the need for crosscutting collaborative solutions to drive progress toward creating a truly representative tech workforce.
WELCOME AND OPENING REMARKS
STATE OF THE NATION
Jenny Yang shared insights from her career working to ensure fairness and equal opportunity in the workplace and charged the audience to think about and act on ways they can embed equality, broaden networks, and evaluate benefits to attract and retain diverse talent within their organizations. Yang provided attendees with copies of the White House Office of Science and Technology Policy's Action Grid on how to promote diversity and inclusion in the science and technology workforces.
IGNITE PRESENTATION
Dr. Richards shared a harrowing tale of how she overcame criticism and doubts from peers who didn't think she could succeed in math and science because of her gender and her race. She discussed the importance of mentorship and the role it played in helping her achieve her goals, including receiving a Ph.D. in Cellular & Molecular Medicine from the Johns Hopkins School of Medicine, serving as a NFL Cheerleader where she helped to challenge stereotypes and encourage young people to pursue their interests in science, technology, engineering and math.
PANEL: EXAMINING PUBLIC AND PRIVATE DIVERSITY AND INCLUSION INITIATIVES
Partnership panel participants shared business success stories that illustrated the organizational culture and bottom line impacts of a representative workforce.
KEYNOTE CONVERSATION
During a conversation between Evan & Chambers Technology Executive Vice President Michael Bennett and ITSMF President Viola Maxwell-Thompson, Bennett shared the experiences that led him to leave a career as an attorney to pursue an interest in technology. He discussed the critical need for organizations to be intentional in ensuring that their workforce includes individuals who bring diverse experiences and perspectives in order to move the company forward. When discussing current diversity initiatives and ways to cultivate a more diverse senior staff he pointed out "the pipeline does not matter if the organizational chart stays the same.
IGNITE PRESENTATION
Tonia focused on her career and journey embracing culture and inclusion as pillars within her work.
CLOSING REMARKS
Sign up for our Monthly Impact Report
More News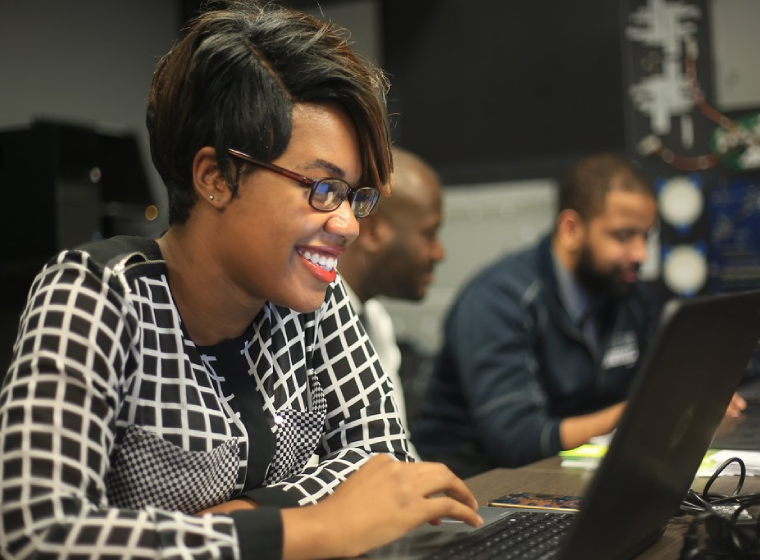 Donate Now
Your support makes a powerful difference in our ability to build a technology talent training solution that creates greater access and equity.