Per Scholas and ITSMF Bring Second Diverse by Design to Capital City at Google HQ, Brings Diversity Tactics to the Forefront
On Tuesday, December 13, 2016, Per Scholas and the Information Technology Senior Management Forum (ITSMF) hosted the second Diverse by Design, a conversation series about building diversity and inclusion in the workforce. The event, hosted at Google's headquarters in D.C., included nearly 150 guests comprising of C-Suite individuals, employer partners, public servants, and leaders from nonprofits and foundations, who elevated best practices and partnerships to build an inclusive and diverse workforce.
The afternoon was kicked off by Damien Howard, VP of Social Ventures at Per Scholas who got attendees fired up and ready to go and reminded us all, "smooth seas do not make skillful sailors." Shortly thereafter, Melissa Stallings, Managing Director of the National Capital Region with Per Scholas shared some local insights, elevating pipelines and partnerships in the D.C. region. Melissa shared the story of a recent Per Scholas graduate, Renique King, who had this to say about her time at Per Scholas: "During my studies, I embraced the culture, staff, my instructor, my classmates, and each day of lessons. Every day I learned something new about IT and myself." Melissa set the tone for the rest of the afternoon with this quote: "Let today's event be what spurs you into action to put into place or further develop strategic and thoughtful initiatives that create and sustain an inclusive, equitable, and innovative tech ecosystem."
Co-Chairs of the National Working Group, Toacca Rutherford, Chief Development Officer, Consumer Business Banking and Auto IT, JPMorgan Chase & Co. and Gene Waddy, CEO at DIVERSANT took the stage to share stories from their careers and continued investment in the Diverse by Design movement. Toacca emphasized the need to create pathways for untapped talent and hopes that one day, "#diversebydesign" will be a verb like "Google."
Chair Jenny Yang, of the U.S. Equal Employment Opportunity Commission, charged the audience to increase diversity by embedding equality, broadening networks, and evaluating benefits, she shared an awesome resource: The White House Office of Science and Technology Policy's Action Grid on how to promote diversity and inclusion in the science and technology workforces.
Dr. Talmesha Richards, Chief Academic and Diversity Officer, STEMconnector and Million Women Mentor, was the 1st of two Ignite presentations scheduled for the afternoon. Her harrowing tale involved a fellow student explaining that she would never win a math competition because she was "a girl." The audience learned, not only did she win the competition but she continued on a multi-year winning streak and brought the entire audience to a round of applause. She ended her speech firmly stating "With STEM mentoring everyone wins. With #Diversity, EVERYONE wins."
The momentum from Dr. Talemsha Richards, carried over into a powerhouse panel, introduced by Errika Mallet, led by Terrance Bowman, JPMorgan Chase & Co. On stage, D.C. Deputy Mayor Courtney Snowden, Jamika Burge, Capital One, Chanelle Hardy, Google, Marty Rodgers, Accenture and Nicole Cozier with the Human Rights Campaign discussed cross-cutting and collaborative partnerships between private and public spheres. The panel also emphasized success stories from their own companies. Chanelle Hardy was able to share that a Mexican American employee at Google attributed his idea for a blue colored phone to his heritage and the result was millions in revenue for Google. The panelists agreed that in order for a company to succeed in their diversity efforts, leadership needs to have the "tough conversations." Some choice quotes from the panel include:
"Diversity is like being invited to the party and inclusion is being asked to dance"- Jamika Burge, Capital One
"Talent is ubiquitous, but opportunity is not. Looking for untapped talent? Go to where the untapped talent is." – Courtney Snowden, DC Deputy Mayor
"When you're in that power seat, ask the hard questions" – Chanelle Hardy, Google
Per Scholas' Kenneth Walker, VP of Operations introduced the Keynote conversation between Michael Bennett, Executive Vice President at Evan & Chambers Technology and Viola Maxwell-Thompson, President at ITSMF.
During the conversation, Michael Bennett walked through his decision to shift from a career in law to tech. His efforts to promote diversity focused on being intentional and ensuring that he hired "someone who sees the world a little differently" When looking at current diversity efforts by organizations, Michael pointed out, "the pipeline does not matter if the organizational chart stays the same. He shared five leadership principals with the audience that he believe are necessary to building diverse and inclusive workplaces. They include:
Authenticity
Carefully Weighted Decisions
Integrated Thought Leadership
Trust Your Gut
Servant Leadership
The final Ignite presentation from Tonia Wellons, VP for Community Investment with The Community Foundation for the National Capital Region, focused on her career and journey embracing culture and inclusion as pillars within her work.
Viola Maxwell-Thompson of ITSMF closed us out but asked the audience to remain engaged with Diverse by Design as we continue to elevate and model real solutions creating impact on diversity and inclusion numbers across our nation's workforce.
"Thank you to all who attended," Kenneth Walker of Per Scholas shared, "Thank you to each of our guests for joining us in a dynamic and intentional conversation. Collaboration and partnership are the keys to our success and we are fortunate to be learning alongside industry leaders in both public and private spheres and hope to carry this momentum forward into 2017."
Here is how you can keep the momentum going!
To learn more about our panelists and speakers, visit our speakers page here. Many thanks to our  partners at JPMorgan Chase & Co. and Google for their generous support of Diverse by Design.
Sign up for our Monthly Impact Report
More News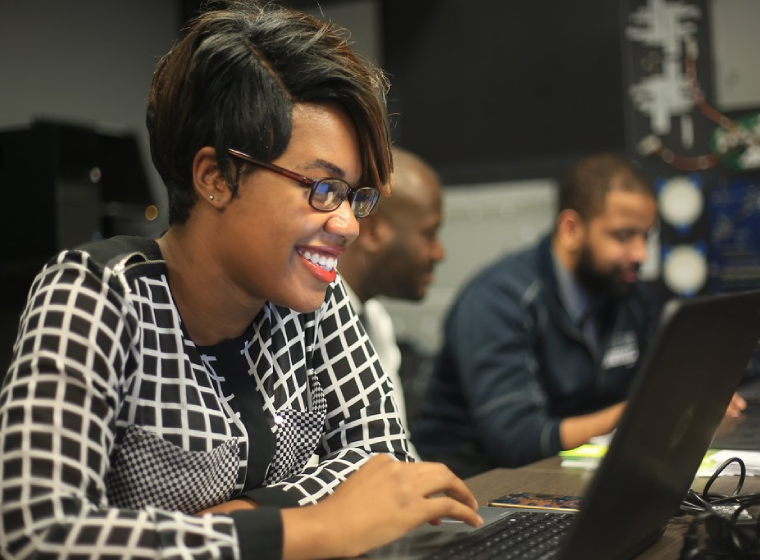 Donate Now
Your support makes a powerful difference in our ability to build a technology talent training solution that creates greater access and equity.