Per Scholas NCR Student Ambassador Marc Johnson Moves from Stockroom to Service Desk Engineer
Born and raised in New York City, Marc attended college in New Haven, Connecticut, and started pursuing a pre-­med degree. However, all wasn't smooth sailing for Marc. After two years, he couldn't afford the pricey $40,000 annual tuition; even with student loans, Marc was forced to drop out.
To make ends meet, Marc took a job at MAC Cosmetics, but the position failed to provide any upward mobility. "Furthering my career really matters to me," shared Marc. Needing a change, Marc started thinking of his knack for technology, often pegged by family members to fix their computers and cell phones. "I have always been IT savvy, but there was no set path into IT in front of me," he told us. "My friend said to me, 'Certifications are the key to getting a foot in the door of the tech industry.'"
He immediately started his search for any training programs specifically focused on certifications and came across Per Scholas. "I thought to myself, this is probably too good to be true. There is no way this is free. They are definitely going to want some of my paycheck after."
He was, of course, proven wrong. He went through the lengthy admissions process which includes an adult education test and multiple interviews with National Capital Region staff. "Once I met the staff, I was really hoping I got in."
Marc was accepted. He told us, "I've always done things on my computer, but I wasn't prepared. The course was pretty difficult…I thought it was going to be easier. Time and attendance is critical. I left my house 2 hours early just to make sure that I got there on time, and I only live 30 minutes away."
Once he adjusted to the heavy workload and hours, Marc found his stride. He says that the Career Development portion of the course was really helpful to his confidence and composure, specifically the resume critique, LinkedIn coaching, and public speaking coaching. "I hate interviews and public speaking, but [Director of Business Solutions and Career Services] Peyton really helped walked us through what to do."
The final hurdle in the journey was passing exams and finding a job. Marc shared, "I was confident that I would pass, but at the same time I had lingering doubt. It's scary because you study so hard for the test." Fortunately, he passed both the 801 and 802 tests the first time, earning his A+ certification. He says, "I was ecstatic. I thought, 'YES FINALLY!'"
As graduation approached, Marc started putting his career development training to the test by setting up interviews with many different technology companies. "I wanted to work somewhere where I felt at home," he said. Three weeks after graduation and four interviews later, Marc was hired at Design Data, an IT consulting firm. "This job has the potential to take me somewhere," Marc said.
Looking back, if Marc hadn't found Per Scholas, he would still be in the stockroom at MAC Cosmetics with little chance of a lucrative career. In the future, he hopes to build a life in the NCR with his girlfriend Ashley, who supported him throughout the Per Scholas journey. He also wants to learn more about technology by experiencing a variety of different aspects of the industry. He shared, "I like that in IT, you can never stop learning. There is so much to learn. Everything I do, I am thinking about IT. It keeps you on your toes."
Sign up for our Monthly Impact Report
More News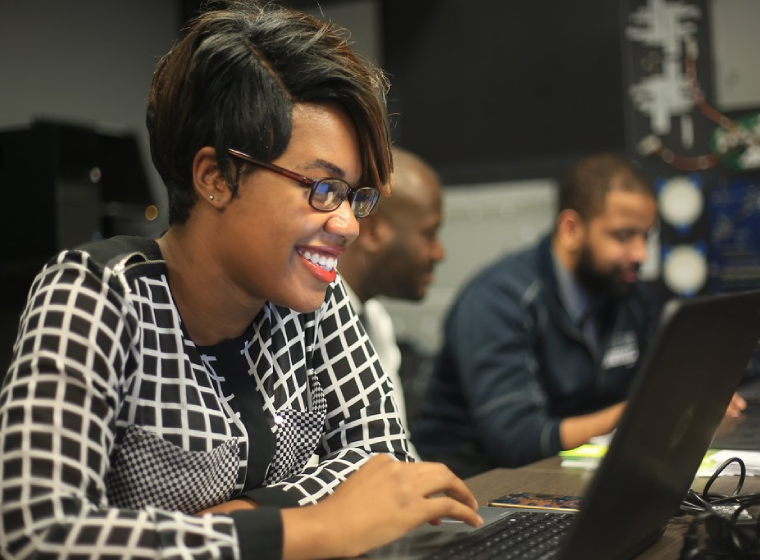 Donate Now
Your support makes a powerful difference in our ability to build a technology talent training solution that creates greater access and equity.