Per Scholas NCR IT Security Students Attend Resume Workshop with Signature Partner Capital One : Monthly Impact Report – Apr. 2017
On March 20, Per Scholas students from the IT Security training held in the National Capital Region attended a "Resume Workshop" hosted by our Signature Partner Capital One. The resume workshop provided students with top-level insight into the cyber security positions that are currently available, salary negotiations and promotions. Furthermore, students received necessary feedback from HR recruiters on what they would be looking for in an IT professional to hire. Per Scholas NCR Senior Director, Program, Melissa Stallings had this to say about the day long event:
"I cannot express enough how much value our relationship with Capital One brings to the quality of our students and our training! The resume workshop was helpful, as it specifically targeted tech positions that our students are competing for. Resume workshops are pretty common, however Capital One offered [our students] a step above the norm by integrating essential tools on negotiating salaries and promotions. Students were also able to get honest feedback from HR recruiters on what they look for and spent their lunch hour meeting leaders across multiple divisions at Capital One. This opportunity gave our students even more exposure and insight into the company, and they were able to practice their 60 second pitch- which they've been practicing in Career Development."
The students came away from the workshop with a renewed sense of purpose and drive to enter the cybersecurity field. One student, Sheku, mentioned that "The workshop that Capital One Bank had with Per Scholas was a great experience. It is everything that a job seeker could ask for…It allowed the attendees to improve their resume, cover letters, social network, and confidence. Per Schola is a great program itself since it prepares the attendees for a real-world job and a real-world technical skill of high importance."
Per Scholas NCR Ambassador Renique is a graduate of the same IT Security course and currently works for Capital One as a Business Transformation and Integration Associate. She attended the resume workshops and was able to highlight the incredible things that Capital One is doing in the cybersecurity field. Student David stated "I didn't realize Capital One was on the cutting edge of cybersecurity. They have so many opportunities that advancement is almost endless and they strongly encourage employees to further their education. Capital One would be the ideal company in regards to employment."
Check out past Monthly Impact Reports here.
Sign up for our Monthly Impact Report
More News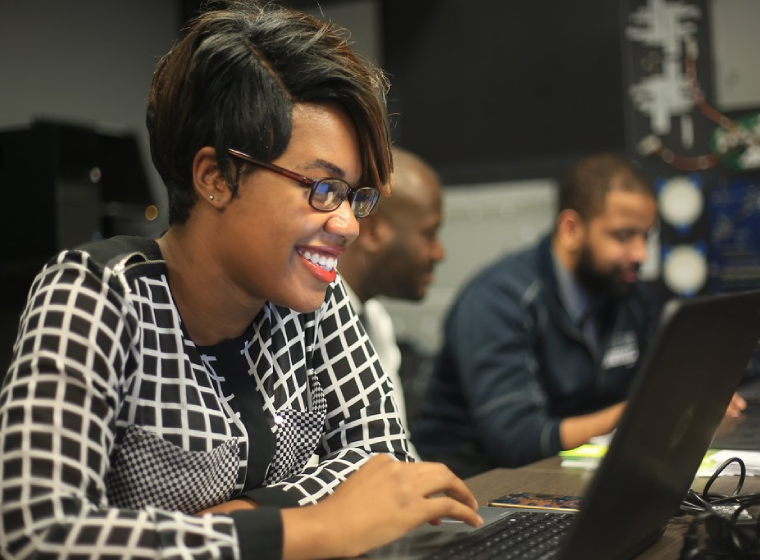 Donate Now
Your support makes a powerful difference in our ability to build a technology talent training solution that creates greater access and equity.