Per Scholas Columbus Partners with Local Social Venture, Commons Studio, to Provide High-Quality Headshots for Graduates Entering the Job Market: Monthly Impact Report – May. 2017
Per Scholas Columbus has partnered with Commons Studio, a social enterprise focused on career development that offers professionally photographed portraits and headshots for individuals entering the workforce.
Matt Reese, the organization's founder explains that "job recruiters spend a majority of their time looking through profile photos on sites like LinkedIn and company profiles as opposed to vital skills and talents." "I empathize with individuals entering the workforce. We all know our creative potential and the talent that we possess but you have to face and overcome obstacles that make it hard to be successful." Commons Studio operates on a buy one – give one policy they created a program called Shot for Shot®  Portraits – every time an individual purchases a headshot from the company a second headshot is donated to an individual seeking to enter the workforce.
The concept behind Shot for Shot®  Portraits was realized when Matt Reese recognized common themes between his own challenges as a freelance photographer and individuals working to build a sustainable career and lifestyle for their families. This became a passion for career development which has translated into working with community based organizations all over Central Ohio.
Commons Studio's team worked with their first class of Per Scholas students to photograph professional headshots that they will use on their application and referral materials. Kris Hamilton, a recent Per Scholas IT Support Graduate commented "It was a fabulous day! It was a Saturday, there were cameras and big lights! I haven't had professional pictures taken since I was a child, maybe 10 years old and it was very exciting to sit in a  professional photography studio."
Lori Calliman, Director of Business Solutions at Per Scholas Columbus remarked that "social media has had a profound impact on the 'professional headshot'; job seekers have decided that their social media 'selfie' can now double as their professional headshot and that is very far from the truth. HR professionals are telling us that a headshot can actually make or break your chances of getting in the door. Thanks to Matt Reese and Commons Studio the head-shot will be one less obstacle for Per Scholas students."
The day itself was a training opportunity for photographers and Per Scholas students alike. "We are able to use this as a training experience for apprentice photographers at the studio giving them an opportunity to apply best practices and build rapport with students as their clients" says Matt Reese. Similarly, the studio space exposed Per Scholas students to a professional setting and allowed them to engage professional photographers about how they would like to represent themselves to the employer community.
To learn more aboutShot for Shot®  Portraits, please check out http://www.columbusphotographer.com.
Behind the Scenes photos by Lori Caliman
Shot for Shot® Portraits by Matt Reese | Commons Studio © 2017
Check out past Monthly Impact Reports here.
Sign up for our Monthly Impact Report
More News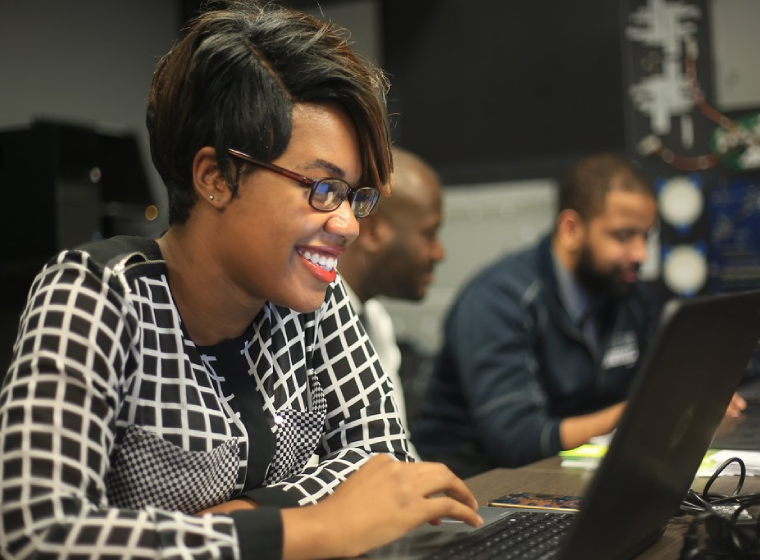 Donate Now
Your support makes a powerful difference in our ability to build a technology talent training solution that creates greater access and equity.