Student Spotlight: Per Scholas Dallas Alumni Osasere Osifo
"When looking for things that would make me happy, I looked at my passion and the career prospects and they all led to IT."
When computers became accessible in Osasere's home country, Nigeria, he would spend hours upon hours learning about the components and software of his desktop. His passion for IT continued to grow as he learned of the vast opportunities available in the field. However, he only had a Bs in physics and lacked any formal IT training and therefore could not find any IT job upon relocating to the United States.
Before Per Scholas, Osasere would move from one job to another, working long hours seven days a week– never finding satisfaction and ultimately feeling lost.
However, Osasere knew that needed to change. One day while looking for a new job, he stumbled upon an ad for Per Scholas Dallas. After reading about the free IT program, Osasere thought, "This is too good to be true." Osasere tried other, for profit tech schools that would require 2 years of education; something he knew he had no time for. "How could a free program do this in less time?" He wondered.
Osasere was excited to find that Per Scholas was real and it was an opportunity he did not want to miss. His excitement and nervousness got the best of him, however, he was shy of successfully completing the english portion of the exam. But that didn't stop Osasere. "My zeal increased! I was nervous, but I did not want to miss out on this opportunity" he says. Osasere studied hard and on his second go, passed the entrance exam. After a series of interviews, he was admitted into Per Scholas. "To me that was a defining moment. Something I really wanted to do, just became accessible to me."
"It was everything I expected. I saw the people involved, I saw their commitment, their passion! It wasn't just an IT program for people to get certified, it was a genuine passion to help people succeed and get better," Osasere claims. Osasere felt that the career development portion was especially helpful, helping each of the students plot out their career path and where they wanted to go. The technical instructor managed to break everything down so the whole class could understand; providing them the confidence they needed to say "we can do this."
Osasere feels confident in his career path now. "My confusion before this program was where do I go, how do I get into this field? I know vividly now, where I want to go" Midway through the training, Osasere was offered positions as a Technical Analyst and a Media Technician. When asked about his career prospects, he told us "I'm going to be happy with my next job. I'm going to be able to take care of my family."
Sign up for our Monthly Impact Report
More News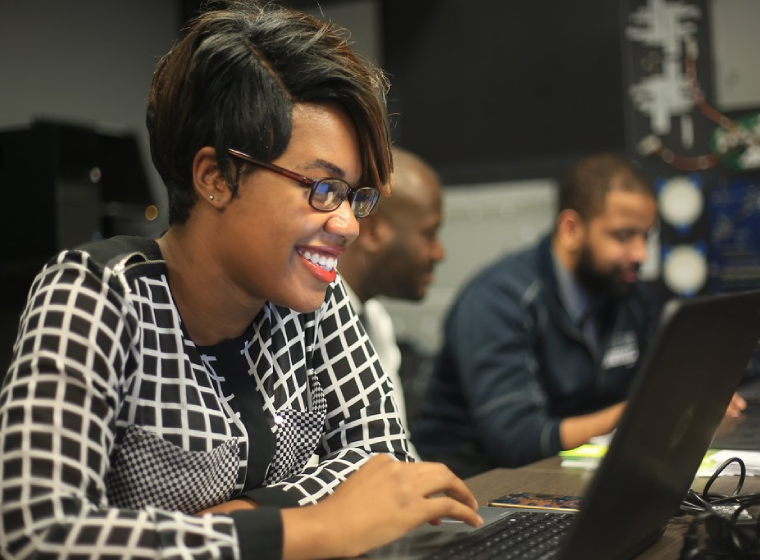 Donate Now
Your support makes a powerful difference in our ability to build a technology talent training solution that creates greater access and equity.