Per Scholas' Damien Howard talks Diverse by Design and creating a coalition for Diversity in Tech
Damien Howard, Vice President of Social Ventures at Per Scholas, has just returned from a meeting with a small group of technology leaders. It was a room of approximately 35 white men, and Damien was the sole African American among them. The optic of that room illuminates a situation that Damien is working hard to address. He says the group acknowledged that there is a deep problem with diversity and representation in technology, and they want to hear from people with solutions that could lead to progress. Damien is glad to be one of those people.
Damien never likes to speak ill of people, so he leaves names and titles out as he relates an anecdote from several years ago. He was leading the Business Development team at Per Scholas in New York, which meant that he was cultivating a wide variety of industry contacts. He had taken a few very positive calls with a particular firm, and the relationship had progressed to a face-to-face meeting. He arrived at the office and was asked to wait alone in a conference room. After some time, the individual he was scheduled to meet with came in, and after studying Damien's face he asked, "are you Damien?" Damien said that he was, and the individual asked him to wait a bit longer. After several more minutes, the receptionist came into the room and told him that the meeting would not be happening after all.
In that moment, Damien confronted the reality of the biases and prejudices that perpetuate the uneven playing field in tech, and in American corporate culture at large. He was inspired in that moment to do something that might change the playing field. Damien recalls a poem by Tupac Shakur, "The Rose that Grew from Concrete":
The poem had been mentioned at a conference that Damien attended, and it made him recall his thoughts on the piece: "I started thinking about that poem again, about the resilience of a rose growing between the cracks in the cement," Damien explains. "Per Scholas students are dealing with scenarios and challenges that vary drastically, that have forced them to be strong. However, there are times that the rose shouldn't have to work so hard to be great. Yes, we have to celebrate the resilience of the rose, but we also have to deal with the environment. We have to talk about the cement." Damien takes the metaphor a step further: "Hard work is necessary, but when you intentionally pour cement on the ground to make it harder, we have to ask why you're only pouring the cement on 125th street and not on 23rd street."
Damien sees himself in Shakur's poem. He describes his childhood in Harlem as buoyed by the perseverance, poise, grace and power of his mother, who built stability into his life despite his father and brothers' involvement in the street. "She taught me never to accept disrespect or mistreatment from anyone, and always to own my own narrative," he says. In light of that influence, it's not surprising that he took his conference room rejection as an opportunity to become inspired.
Diverse by Design is a conversation series on building diversity and inclusion in the tech workforce that is co-sponsored by Per Scholas and the IT Senior Management Forum (ITSMF). The series has staged six events since 2016. Damien began Diverse by Design, along with his Per Scholas colleague Ken Walker, and the partnership of Viola Maxwell-Thompson, President and CEO of ITSMF. Damien also credits meaningful contributions from Stephanie LeBlanc of Google, who secured venues for three Diverse by Design events, and has been a powerful voice in the conversation series.
It all came together for Damien at a quarterly ITSMF event in Cincinnati. "It was the first time I was in a room full of 150-200 African American business leaders and C-Suite professionals—talent from middle management to executive," explains Damien. "It was a real game changer for me—a defining moment. I knew I was going to have an uphill battle getting Diverse by Design started, and Ken was critical. When I'm out talking with business contacts, it's so rare to see people of color or women. In Cincinnati I could see the timing was right, and now I have partners to get this going."
Damien is proud and amazed that Diverse by Design is moving into its 7th event. Since 2016, conversations have been held in New York, NY; Washington, D.C.; Kansas City, MO; Mountainview, CA; Pittsburgh, PA; and Dallas, TX. These events bring together c-suite thought leaders to discuss best practices, and collaboratively develop solutions to forge a more direct path for businesses to attract, develop, and retain a more diverse and inclusive workforce. They also provide a venue for up-and-coming talent and executives alike to network and get to know each other. Additionally, Diverse by Design is the reason why Per Scholas is now working with CEO Action for Diversity & Inclusion which is being lead by PwC. On March 28th, Diverse by Design will head to Detroit, MI, to host a conversation on "empowering where we work", which will take a community-first approach to diverse hiring challenges in Detroit and across the United States.
Damien says he is gratified that the conversations are influencing concrete action at participating organizations. Per Scholas has entered into customized training partnerships with companies such as Cognizant, resulting in Platform by Per Scholas. Additionally, the Diverse by Design National Working Group is pursuing pre-employment training models with a number of organizations.
"Diversity is a wide lens," Damien says. "You have to include Latin Americans, women, people of all creeds. You have to find organizations with similar strengths and expand the scope. Diverse by Design goes way beyond Per Scholas. Yes, we created it, but it's an opportunity to join arms with other high performing workforce development and corporate partners. We can create a coalition of powerhouses. We can do this together and have a greater impact if we combine our resources."
In five years, Damien expects Diverse by Design to have helped 20 companies move into some form of customized training model. Through open dialogue and thought leadership, he expects the initiative to continue to push the needle on inclusion in the tech workforce, and to help more companies and industry leaders understand that a diverse workforce will benefit their businesses. "I think we can have an impact around the attitude and mindset in corporate America, and some kind of impact on policy as we move forward. Diverse by Design will move into a national call to action, so we can account for the work that we can do collectively with other workforce development organizations," says Damien. He is optimistic about the future: "Diverse by design will help break up the cement for diverse IT talent, for our roses to be able to flourish and thrive without artificial barriers placed in front of them."
To learn more about Diverse by Design, visit the website and browse previous events. You can answer Damien's call to action by registering to join the next conversation in Detroit on March, 28th.
Sign up for our Monthly Impact Report
More News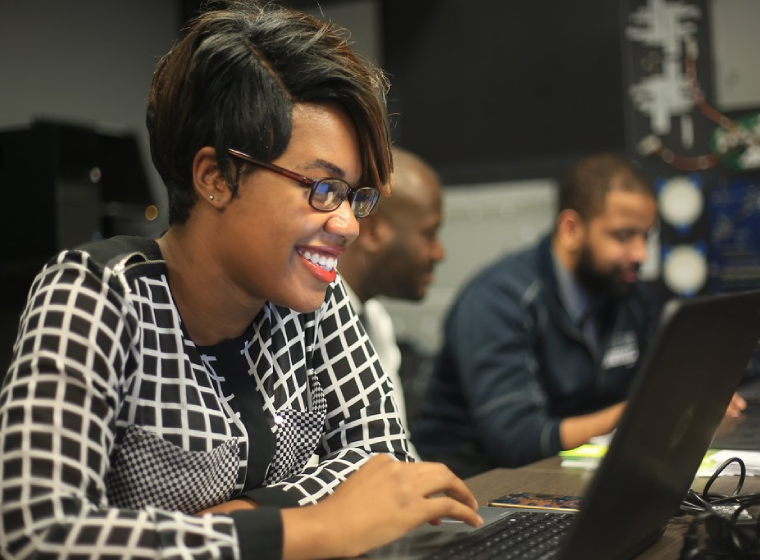 Donate Now
Your support makes a powerful difference in our ability to build a technology talent training solution that creates greater access and equity.