Per Scholas Expands Cybersecurity and Tech Training Offerings to St. Louis
Per Scholas Expands Cybersecurity and Tech Training Offerings to St. Louis 
Cortex Innovation Community Welcomes Per Scholas As Part of Strategy To Accelerate Region's Inclusive Economic Growth
ST. LOUIS (April 4, 2022) — National tech training nonprofit Per Scholas today announced its expansion to St. Louis and the appointment of Dr. Charlie Mackey, Jr. as Per Scholas St. Louis Managing Director. Through an innovative partnership with Cortex Innovation Community, Per Scholas St. Louis will offer its tuition-free, rigorous technical training as the latest addition to Cortex, from its newest campus, located at 20 S. Sarah Street in the District. 
Sam Fiorello, Cortex President & CEO, said, "Cortex is thrilled to welcome Per Scholas and Dr. Charlie Mackey, Jr. to the St. Louis community. The St. Louis region has a large number of unfilled jobs, particularly in growing areas like cybersecurity; adding Per Scholas to the existing infrastructure of local training partners will strengthen the support necessary to employ under-skilled workers and fill these critical job openings in the St. Louis region." 
Per Scholas has advanced economic equity for more than 25 years by offering evidence-based, tuition-free technology training and connecting Per Scholas graduates to high-growth careers in technology. Aligned with its commitment to diversity, equity, inclusion, and belonging, 85 percent of Per Scholas learners are people of color, and more than a third identify as women. Graduates are hired into tech roles by more than 650 employer partners nationwide, ranging from Fortune 500 to innovative startups. 
"I am honored to join Per Scholas and lead our transformational work here in St. Louis. I believe our training removes two of the largest barriers for members of our local community who aspire to work in technology: access and affordability. By removing these barriers, Per Scholas learners and our future St. Louis graduates can achieve social and economic mobility," said Dr. Charlie Mackey, Per Scholas St. Louis Managing Director. "Our partnership with Cortex – and being located in this incredible District – will propel our ability to interact with the local tech community and employers in need of tech talent. Per Scholas St. Louis is excited to join CyberUp and NPower in training St. Louis' future technologists. Together, I'm confident we'll be able to achieve our shared vision of a more inclusive and diverse tech workforce here in St. Louis."
In 2022, Per Scholas St. Louis will offer Cybersecurity and IT Support skills training and is currently accepting applications for its Cybersecurity cohort, scheduled to begin on June 17. 
The Cortex Innovation Community is committed to partnering with employers, training providers and academic institutions to grow and attract quality jobs and prepare a diversity of talent to fill those jobs. Partnering with Per Scholas to fill the need for skilled talent in cybersecurity and tech is a critical component of Cortex's recently released 5-year strategic plan. 
"It takes focused, intentional collaboration to achieve a vision as ambitious as an equitable, inclusive, and diverse workforce, and Per Scholas is grateful to Cortex for their leadership and warm welcome to St. Louis. The opportunity before us is great, and with Charlie at the helm, I know Per Scholas St. Louis will make a meaningful difference in the lives of our learners, their families, and the newest city Per Scholas is proud to call home," said Plinio Ayala, President and CEO, Per Scholas. 
Per Scholas St. Louis will participate in the Cybersecurity Minicon, hosted by The Global Center for Cybersecurity @ Cortex on April 7. For additional details and to register, click here.  
To learn more about Per Scholas St. Louis, click here. To learn more about Cortex Innovation Community, www.cortexstl.org.  
About Cortex Innovation Community: Cortex is a vibrant space serving as an inclusive economic engine for St. Louis. Cortex creates equitable economic impacts by leveraging high-quality facilities, developing programs that build knowledge and networks, and convening strategic partnerships that attract and support emerging and established companies. Founded in 2002 through a collaboration of Washington University in St. Louis, BJC HealthCare, the University of Missouri – St. Louis, Saint Louis University, and the Missouri Botanical Garden, the Cortex Innovation Community (CortexSTL.org) is an internationally recognized hub of innovation and entrepreneurship that is focused on accelerating inclusive economic growth in St. Louis. 
About Per Scholas: Per Scholas is a national organization that has been advancing economic mobility for more than 25 years. Through rigorous training, professional development, and robust employer connections, we prepare individuals traditionally underrepresented in technology for high-growth careers in the industry. We partner with leading employers to build more diverse talent pools, directly connecting our graduates to new career opportunities at businesses ranging from Fortune 500 companies to innovative startups. With campuses in 18 cities, Per Scholas has trained more than 16,000 individuals in tech skills, building bridges to careers in technology. To learn more, visit PerScholas.org and follow us on LinkedIn, Twitter, Facebook, and Instagram.
###
Sign up for our Monthly Impact Report
More News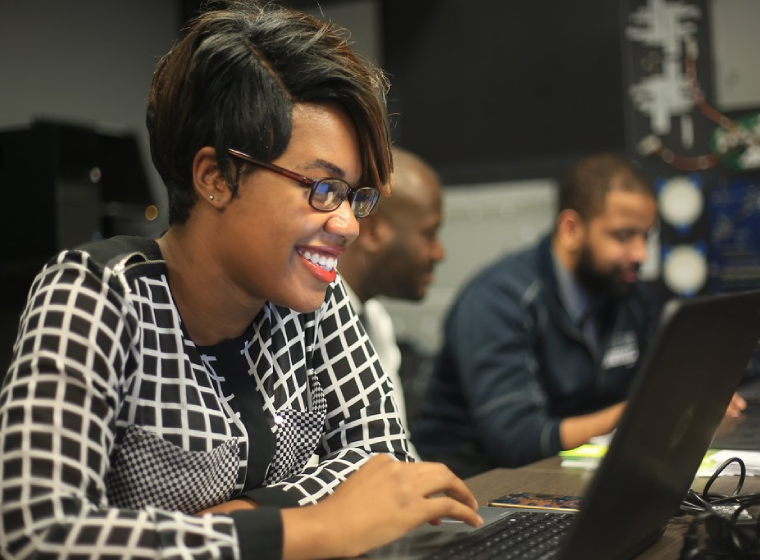 Donate Now
Your support makes a powerful difference in our ability to build a technology talent training solution that creates greater access and equity.