Second Annual Per Scholas Golf Outing raises significant funds for free IT training
The second annual Per Scholas Golf Outing was held September 10 at Golf Club of Dublin and raised significant funds to support talented, unemployed and underemployed local residents who leveraged the free Per Scholas IT job training to launch life-changing careers in technology. The event was sponsored and attended by Centric Consulting, HMB, Huntington Bank, Leading EDJE, Lightwell, Robert Half Technology, Safelite Auto, and TEKSystems.
Per Scholas graduate Angelica Williams gave opening remarks and stressed the impact of the training. "Since graduating, my children and I have moved into our own home. We have fun playing together in the backyard and hanging out with our neighbors and their big loving dog. My children enjoy the privacy of their own rooms and I enjoy the peace of mind that comes with knowing I can support and provide for my babies!" Angelica today works in the IT department at Nationwide after expressing unemployment from her previous career in healthcare. She expressed to the attendees, "Life has greatly improved for us, and I cannot take all the credit for that. Your support is essential in continuing to produce such amazing, inspiring success stories."
Signs adorned the course at each hole to emphasize the impact of the nationally-recognized job training model. Since opening in 2012, Per Scholas has:
Placed 180 women and men in entry-level IT support careers and produces an 80% job-placement rate
96 local companies have hired graduates; 30% have hired multiple graduates, like Nationwide, TEKsystems and Time Warner Cable
Graduates on average increase their pre-training incomes by 150%
Graduates collectively earned $5.6 million in wages in the past two and a half years—a significant investment back into the regional economy.
Recognition from the White House, the City of Columbus, and local business community attest the quality and impact this has on today's workforce issues.
At the end of the day, Chris Ferguson, a graduate from April 2014 spoke to the attendees. He was shy and nervous but also beaming. He shared, "While you were all playing golf in support of Per Scholas, I received a job offer from JPMorgan Chase." He ran up to the Managing Director Rob Guentter to show him his phone with the offer letter. It was a great moment for all.
Per Scholas offers five classes annually in Columbus with the capacity to train up to 100 women and men each year. The cost to train one individual is $6,000 for the eight-week intensive course. Before enrollment, 38% of our students were receiving public benefits. After graduating and becoming employed with average starting wage earnings of $31,000, the return is more than $300,000 collectively from their earnings.
Columbus was the first operation to open as part of Per Scholas' national expansion outside of its headquarters in New York. The impact and growth in the Columbus region has been energizing and we are grateful to each supporter who has ensured our place in the community.
Sign up for our Monthly Impact Report
More News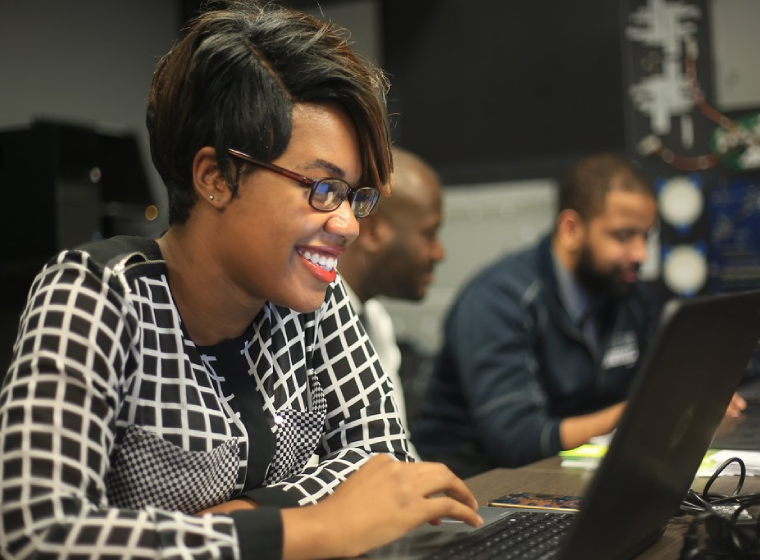 Donate Now
Your support makes a powerful difference in our ability to build a technology talent training solution that creates greater access and equity.