The Return to Campus Begins
After nearly a year and a half of remote training, virtual camaraderie, and reminding people they're on mute, Per Scholas campuses began opening their doors to welcome our learners back to in-person learning in July. Complete with social distancing and health and sanitizing protocols in place, Cincinnati, Columbus, and National Capital Region were the first of our seventeen campuses to host our cohorts in-person. This is the start of our beginning steps as we roll out an initiative to re-introduce our learners, national staff, and campus teams on-site. Don't think we will forget what we've learned from the pandemic, though; Per Scholas mastered the art of remote training and will continue to use it to reach more individuals moving forward.  
The return to campus for our learners is an experience that won't be taken for granted as we continue to monitor the health of those returning, wear masks, and provide sanitizer for all.  If there is one thing the pandemic and remote training taught us, it is that the resiliency of our learners and campus teams is unparalleled.  We know that our learners can take on anything—we've seen that from the many challenges learners overcome before even arriving at Per Scholas, throughout in-person training (pre-pandemic), and in the initiative and resilience everyone showed both when we went remote and now as we return to campus.
While it may have been great logging into Zoom from the comfort of home and wearing sweatpants as the bottoms of our professional attire, there is absolutely nothing that compares to the interaction and experience of in-person training at Per Scholas.  Per Scholas Cincinnati Managing Director Jay Dierig reflected that since returning, "Being back on-site has been a great experience for both our staff and learners. With tremendous effort and innovation, we made the pivot to deliver our courses in a remote environment, but there is nothing quite like the interaction, hands-on learning, and sense of community we can create with in-person experiences."  Just as our learners will pave the way in the tech industry once they graduate, they will now pave the way for our organization as we transition back in-person for our national staff as well.  
The morale that in-person training has created is second to none after being virtual since March 2020. Jay Dierig has noticed that the learners and campus teams are thrilled to be back as they build career paths in technology and advance economic mobility.  "I'm delighted to be back in our beautiful building at Citylink and love to see the look of excitement on the faces of our learners each morning," Jay mentioned.  "Providing a safe, inclusive, and inviting environment for our staff and learners will continue to be our top priority." 
As we continue to welcome smiling faces back into our campuses across the country, we are eager to connect our diverse and skilled learners with leading businesses just as we have for the past 25 years. We'll all miss reminding our colleagues they're on mute at least once a day, but we think the trade off is worth it.  
Sign up for our Monthly Impact Report
More News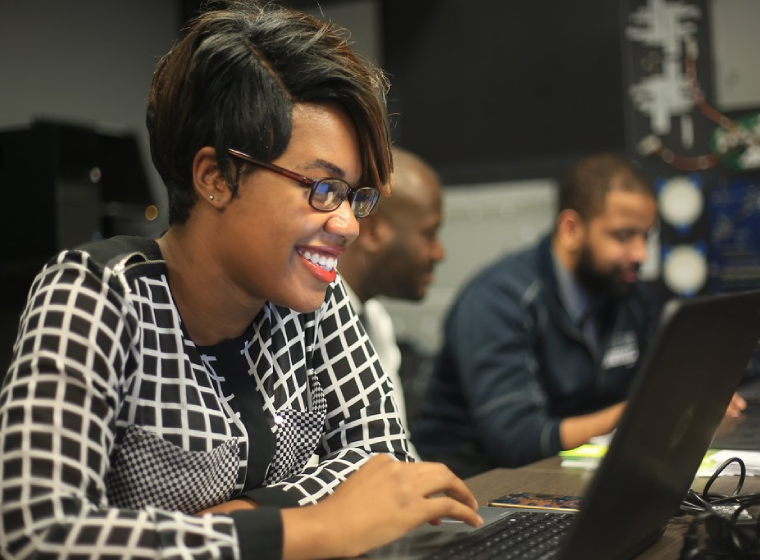 Donate Now
Your support makes a powerful difference in our ability to build a technology talent training solution that creates greater access and equity.