"Per Scholas is so much more than getting a certification. It makes your life better." – Army Vet Tye Finds New Opportunities In Per Scholas
When Tye joined the army in 2011, he never dreamed that one day he would eventually end up working for multinational telecommunications corporation AT&T.
After being medically discharged after four years in the Army, Tye jumped into real estate and property management in the Atlanta area. Things were going well: Tye had his own apartment, was making a steady income, and was starting to build his life after the service.
However, one day he started feeling sick. Tye went to the doctor and found out that he was having an allergic reaction to a mold infestation in his apartment complex. When he confronted his landlord to mitigate the mold, he was told that nothing was going to be done about the problem. Falling more and more ill, Tye was forced to move out of his apartment and back in with his mother. And, to top it all off, his health prevented him from working for several months while he recovered.
With no health benefits or savings account, Tye had nothing left after his health scare. He shared, "I really didn't have any benefits set aside, so I didn't have anything to fall back on. I needed to look into a job field that could secure me."
Determined to get his life back, he started applying for any position where he could earn a steady income, but nothing came. Tye felt discouraged. He recalls that the one job offer he received was from fast food chain KFC. He knew he could do so much better.
"I was at a real sad place. When you know you have talent and skills and you have no luck earning income and showcasing your skills, it can weigh on you," he said. "Per Scholas was key in getting back to having some type of self worth and improving my relationships."
After the KFC job offer, something clicked. He thought back to his days in the Army where as a Signal Support Specialist, he analyzed, troubleshot, and fixed hardware, software and application errors. Information technology had endless possibilities, and he already had some foundational skills and veteran status to get him in the door.
Tye started furiously doing research and came across a technology school that just opened in Atlanta called Per Scholas that provided free certification training.
"My friends in IT always say that experience and certification are more important than degrees," he shared.
"My first impression was that this was too good to be true," he said. "To see a free program that is training people with no financial commitment to the class other than a personal commitment to yourself, I thought, WHERE'S THE CATCH?"
He did more research and talked with family and friends. He decided Per Scholas looked legitimate enough to give it a try. He enrolled and was admitted to the very first class in Atlanta.
As a Per Scholas student, Tye loved so many things about the course. He bonded with his classmates and was impressed with the caliber of the other students. He said, "Per Scholas picked the right people. We all bonded and worked together to get through the program."
He was also impressed with how the course could take someone with little to no experience and turn them into an IT professional in 8 weeks. "There were people with zero IT experience, and they knew ten-fold more about IT when they graduated than when they came in."
Ultimately, though, the course helped Tye get back to feeling like himself. He described the routine of the course and high expectations of the instructors as transformative, changing him back into a motivated, ambitious professional he once was. "Having to dress up every day, having sense of purpose, and seeing the reward at end of journey really changed me," he said.
After graduation, Tye was hired by multinational corporation and Per Scholas Major Partner AT&T as a retail consultant, where he travels to five stores and does sales and technical support. He says he's on a fast track to management and looks forward to diving deeper into the company within the next 12 months.

He has also stayed in touch with Per Scholas, volunteering his time to speak to the next class of students. He says he truly appreciates the experience at Per Scholas and is grateful for the impact it's had on his life.
"Not going to Per Scholas would have been one of the biggest regrets. Per Scholas is so much more than getting a certification. It makes your life better."
From all of us at Per Scholas, wishing Tye the best of luck in his journey!
Read more about Tye here.
Sign up for our Monthly Impact Report
More News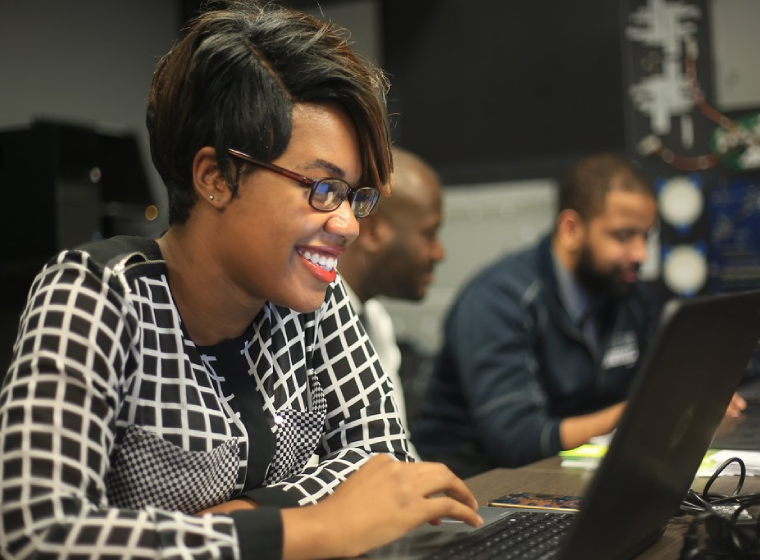 Donate Now
Your support makes a powerful difference in our ability to build a technology talent training solution that creates greater access and equity.