"​​I can breathe easier now…" – Grad Aaron's career change provides transformative work-life balance
"I can breathe easier now knowing that I have benefits, I have a 401K, I have a salary. I can't believe it. I get holidays off and it's paid for. Per Scholas has opened me up to a world of possibilities."
Meet Aaron Mingo. A local of Cincinnati, Aaron attended Ohio State University after high school. After two years, however, he couldn't afford tuition so he had to withdraw. Soon after, Aaron took a job at a local restaurant.
Flash forward 11 years: Aaron was still working in the service industry. The job was difficult; he worked nights and weekends, and didn't get compensated for holidays or sick time. Because of the long hours, Aaron's personal life was struggling. He barely got to spend time with his new wife and three children; his physical health had taken a toll after a decade of lugging trays and boxes 40 hours a week. "My life was at the mercy of the restaurant," says Aaron.
As well, his hope for a better life for his family was dwindling. In the service industry, Aaron explains, it is hard to move up the ladder. "I was at the restaurant for a decade and I was still in the same position. No matter how hard I worked, I couldn't get ahead. I gave 100% every night and some nights only made $20."
Aaron was frustrated that all his hard work should yield something more for himself and his family. "After so many years of working, I decided that every day needed to be something I enjoyed. I was not in control of my financial well-being. I needed to make a change," he says.
Then something fateful happened. Wayne Ivy, Per Scholas Cincinnati Associate Director of Career Development, came into Aaron's restaurant. He was dining with a friend of Aaron's, and the three gentlemen started talking. Wayne mentioned his job with local nonprofit tech school Per Scholas. Aaron's interest was piqued, but he didn't think much more of it.
Aaron shares that he always had a knack for technology. In high school, he was part of a team that built one of the the first Cincinnati Bell websites in 1999. "Tech was always something that interested me. But I thought that there was only one route into the industry, and that was college," he says.
A few weeks after his interaction with Wayne, Aaron found an ad for Per Scholas on a local job board. It was a eureka! moment for him. He applied for the training immediately and was accepted.
While excited for this fresh start, the eight weeks of immersive training was no walk in the park for Aaron. Because he had to financially support his growing family, he kept his job at the restaurant while attending Per Scholas, which means he was working 40 hours AND taking Per Scholas' free, full time IT support course. He would attend class from 9am – 5pm then drive to work from 6pm – 10pm, and work full time on the weekends. To get in all the study time he possibly could, Aaron would listen to tapes in his car of IT guru Professor Messer while on the way to and from work and would study at night after his kids went to bed.
"Although it was hard, I was always motivated that there is something else better here." In particular, Aaron soaked in the Career Development portion of the course, which teaches eight hours a week of essential workplace skills like communication, professionalism, office culture, and team building. "Even though I had a lot of experience in the restaurant dealing with people, I didn't have the professional business communication skills needed to succeed in an office," says Aaron.
The day of his graduation, Aaron was proud. He had made it through the eight grueling weeks and achieved his A+ certification. He says, though, no one was more proud than his wife. In the parking lot of graduation, she looked at him and said, "Does this mean that you'll be home with us at night now?"
And, so it was. After graduating from Per Scholas, Aaron now enjoys a normal 9-5 schedule with no weekend hours and paid holidays. He worked for Per Scholas Partner Time Warner Cable for a time. Now he works as a IT Support Analyst in the same hospital in which his wife is a technician.
"I have a sense of pride about being an 'IT guy,'" he says. "I stand a little taller when I tell people what I do. It shows that this person is intelligent, professional, and driven. This job has done wonders for my self-esteem."
Today, Aaron is focused on his family and his future. He's content being the family tech support. In five years, he hopes to get his Net+ and Security+ certification with the ultimate goal of following the Cisco security track. He shares, "Through Per Scholas, I had the chance to be the true master of my destiny. I am so thankful."
To read more about Aaron speaking at our Toss for Techs event, click here.
Sign up for our Monthly Impact Report
More News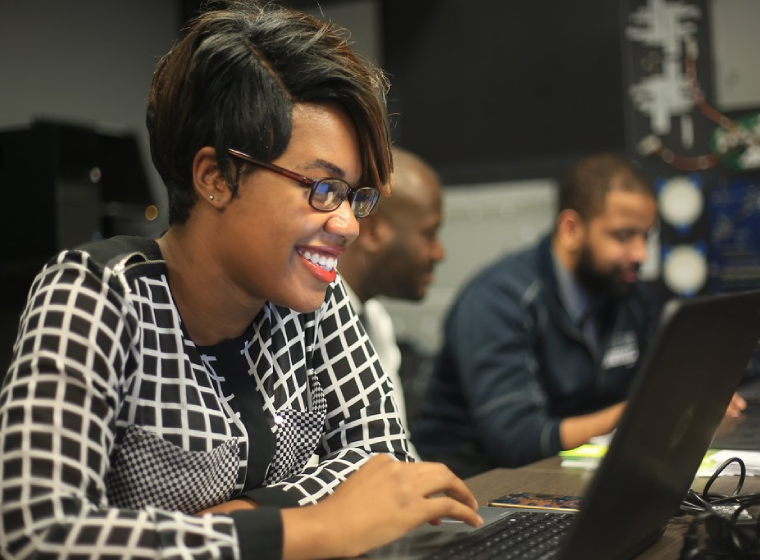 Donate Now
Your support makes a powerful difference in our ability to build a technology talent training solution that creates greater access and equity.