ACTING ASSISTANT SECRETARY ERIC SELEZNOW ATTENDS PER SCHOLAS NATIONAL CAPITAL REGION GRAND OPENING | SILVER SPRING
"It is a real joy to be around Per Scholas staff and alumni – we seem to be a real happy group." That was a parting comment from a Per Scholas Cincinnati alumna who attended the Per Scholas National Capital Region grand opening on April 22. She was one of many (happy) special guests.
Per Scholas could not be more excited for its fourth and newest site in Silver Spring, Maryland, serving the surrounding National Capital Region with IT-Ready training. The grand opening event took place April 22 with the presence of Acting Assistant Secretary Eric Seleznow, Employment and Training Administration, U.S. Department of Labor; President and CEO Msgr. Rev. John Enzler of Catholic Charities of the Archdiocese of Washington; Leonard Howie, Secretary of Labor, Licensing and Regulation for the State of Maryland; Montgomery County Executive Isiah Leggett; Ed Glabus of ManTech International Corporation, representation from Congressman Chris Van Hollen's office — and many others.
The event began with a roundtable discussion with Assistant Secretary Seleznow and five IT-Ready graduates – one from each IT-Ready operation, New York, Columbus, Cincinnati, Minneapolis, and a current student from Silver Spring. They were joined by President and CEO of Per Scholas, Plinio Ayala, CEO of Creating IT Futures Foundation, Charles Eaton, and Father John of Catholic Charities of the Archdiocese of Washington.
"I worked for 18 years as a computer programmer. I was laid off and unemployed for nearly three years. I used up my pension, my savings, my unemployment. My family and I were surviving on credit cards when I found Per Scholas," shared one graduate who is a mother of three. She is now working full-time as an IT consultant with ComResource at Nationwide.
"I was laid off after working for a company for many years. I couldn't even get a job at the local hardware store. After Per Scholas, I now work for HealthPartners and make enough to not have to worry anymore for my kids. Simple things like going to the grocery store stress free about paying the bill is such a huge relief," another graduate shared with the guests and peers.
Assistant Secretary Seleznow listened with his undivided attention. "I hear stories all across the country like yours – hard working people with great skills and attitudes that just need a little bit of assistance and an opportunity to succeed. You have done that! I am happy to say we have a President and Vice President in the White House right now that are listening to these concerns and have made it a priority to respond to need and support innovative job driven solutions like Per Scholas. Thank you for sharing with me today."
After additional guests arrived, the roundtable was followed by a program with remarks from Per Scholas and partner leadership, local government officials and employers. The message was clear: the need for Per Scholas is abundant, both in the communities we serve and among employers.
"We consistently have 100-200 open jobs in IT and Cyber." Ed Glabus of ManTech International Corporation shared in his speech to the audience at the inaugural event. "These jobs will not stop growing, the workforce will never catch up to the demand. That's why programs like Per Scholas are a great solution and that is why I'm here today."
Catholic Charities Per Scholas
The first class is now in session with 15 students at its permanent location at 700 Roeder Road. The class will graduate May 23. The celebration was held to introduce and highlight Per Scholas and the IT-Ready program – a free 8-week job training course providing high quality hands-on technical skills learning and professional soft skills development to unemployed and underemployed individuals. The course teaches to the CompTIA A+ certification, which prepares candidates for entry-level help-desk and technical support roles. The Per Scholas model has been proven successful through independent studies, triggering its growth into new markets. In its first year, 80 students drawn from the National Capital Region will be trained in Silver Spring. Historically, 85 percent of Per Scholas participants graduate and obtain industry certification and 75 percent of graduates land jobs.
Even among these prestigious guests, the stars of the event were obvious among everyone — the 15 Per Scholas students. Each individually gave personal guided tours through the space to each guest, provided photography services of the event, presented in front of the crowd at the podium, and, most proudly, networked, networked, networked. They looked sharp, were incredibly kind and personable, and Per Scholas could not be more proud of these newest members to our growing family.
Per Scholas extends its deepest thanks to the guest speakers, its supporters Creating IT Futures Foundation, Catholic Charities of the Archdiocese of Washington, and the Community Foundation of Montgomery County, and the Silver Spring community for a very warm welcome.
We look forward to engaging with local partners and employers. The takeaway message from Managing Director Bridgette Gray of Per Scholas Silver Spring is clear: "Hire our graduates. And if you can't, then introduce Per Scholas to a person who can."
Sign up for our Monthly Impact Report
More News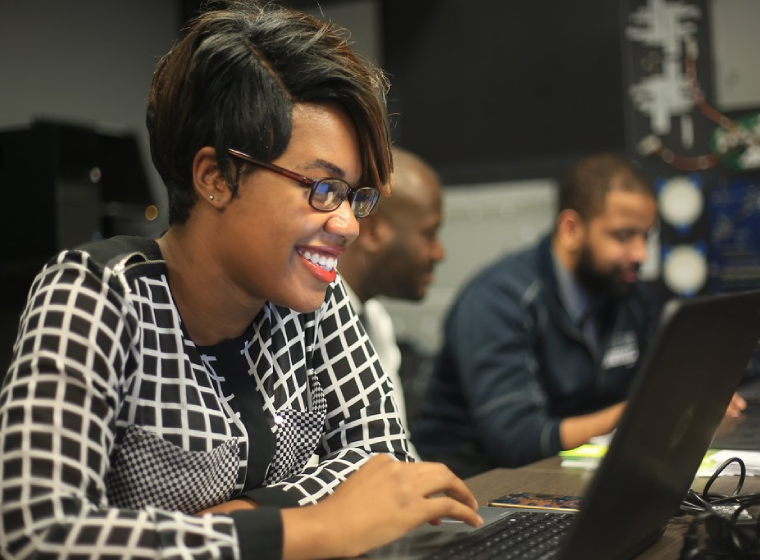 Donate Now
Your support makes a powerful difference in our ability to build a technology talent training solution that creates greater access and equity.