Go-Getter Angela Trained Through An Injury To Start A Life-Changing Career In Tech
Before Per Scholas, Angela worked tirelessly at the Cincinnati Children's Hospital Medical Center as an Access Service Representative. Angela found herself working overtime almost every night so she could pay her bills every month. With an annual increase of just 20 cents, Angela was forced to make sacrifices to take care of her family. "My mom is 79, living in Kentucky on a strict income with medicinal needs — I would skip doctor's appointments so that what I would spend on a co-pay would go towards her groceries and prescriptions," she says. Never resting on her laurels, Angela sought out new ways to get promoted at her work. She gained her Associate's degree in Business Administration and took 17 additional classes to prepare herself for any promotion opportunities at her job.
With no promotion in sight, Angela was forced to look elsewhere. After sending over more than 250 unsuccessful applications, Angela was lost. While talking to her sister, who has been in IT for over 30 years, Angela felt inspired. She often assisted the doctors in the office with their tech support needs. In fact, the manager of the IT department at the hospital guaranteed her a position if she ever gained IT certifications. Angela knew that IT would allow her to do more, where she could have a meaningful career. After some research, Angela found that IT courses were expensive and time consuming– there was no way she could afford the costs and miss the opportunity to work. The less expensive online courses lacked the necessary hands on training she needed to grasp the concepts. Angela nearly gave up, until she found Per Scholas.
Angela's friend had recently left a corporate position making an incredible salary because he wasn't happy. He heard about Per Scholas on the radio, quit his job and started the program. He enrolled in the Software Testing course, provided in partnership with Thrive Impact Sourcing. It was only 8 weeks and he is now employed as a Software QA Tester. Inspired, Angela decided that she had to take the course. She made the call to City Link and made an appointment to attend a Per Scholas information session. Amidst all of this, Angela had surgery on her spine which put her out of commission for 3 months.
Angela knew this was her only opportunity to change her career so she used her time off wisely. Angela had surgery on July 8th, her Per Scholas interview on the 14th, and started training on the 25th. She spent her recovery months learning how to be an IT professional. At first, it was overwhelming. "I knew I wouldn't drop out and quit, but I was afraid I wouldn't make it," she says. Angela was inspired by her instructor, Jacqueline. She says "Jacqueline used all sorts of techniques. We were trained on how to do test cases that prepared us for the real world."
Angela was always early for class and always prepared. Her determination did not go unnoticed; her Mom said, "I don't know how you're able to heal from a surgery and go to training at the same time!" The career development portion of the training also surprised Angela. She was amazed to see her resume turn into what she saw as a "fantastic document filled with new skills and abilities."
Angela graduated Class President from Per Scholas and began work at Thrive Impact Sourcing as a Quality Assurance tester and she could not be happier. Her work matters in real-time and she is now in an environment that cares about her growth. "I'm not dreading going to work everyday. I'm not frazzled, frustrated, or disappointed anymore." The greatest change for Angela, was in her compensation and ability to provide for her family. With an annual salary difference of ($12K or 30%), Angela is able to do more. She says "When I think about things I actually need, I know I can afford them. I don't have to wait or juggle bill payments anymore." She is even able to help her Mom pay for groceries and medications, and her son with college tuition and car payment.
With a new career, Angela has hopes to take her Software Testing skills further by learning to write code and obtaining a Software Engineer position. When asked about her change through Per Scholas, she states plainly: "I was not happy before. I was stagnant and had self-doubts in my abilities. Now, I feel motivated that I can do more. Nothing can stop me."
Sign up for our Monthly Impact Report
More News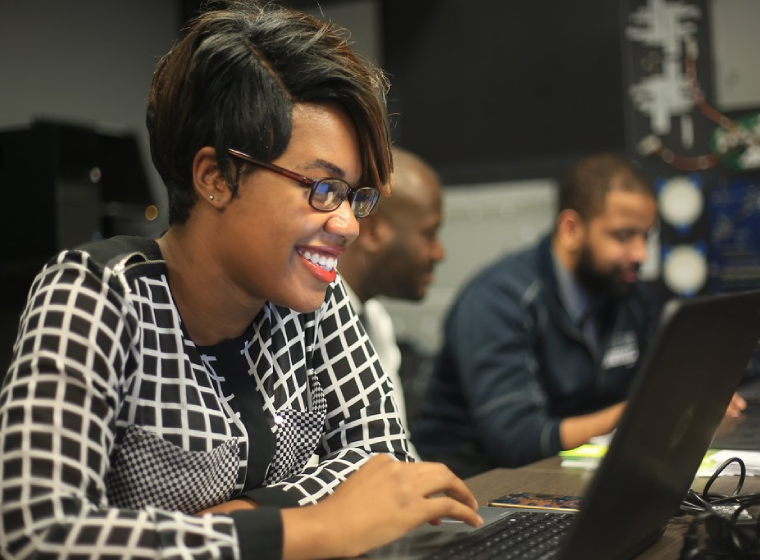 Donate Now
Your support makes a powerful difference in our ability to build a technology talent training solution that creates greater access and equity.