Angie Kamath Appointed Executive Director of Per Scholas in New York City
Per Scholas is proud to announce the appointment of Angie Kamath as the Executive Director of its operations in New York City.
Most recently the Deputy Commissioner of Workforce Development at the New York City Department of Small Business Services (SBS), Angie will manage all of Per Scholas' training, placement, partnership development and other key activities in New York. Plinio Ayala, Per Scholas' CEO and President, will continue to serve in its top leadership role, but will focus more of his day-to-day attention on Per Scholas' expansion into other cities.
Angie is a seven-year veteran of SBS, where she oversaw the development of its Workforce1 Career Center system — the city's front-line response to the unemployment crisis. During her tenure, she built the system from six Career Centers into more than fifteen, serving all five boroughs. Today, the Centers serve 120,000 individuals and help more than 25,000 find new jobs each year. Angie also created partnerships between Workforce1 Career Centers and the City University of New York (CUNY), community and faith-based organizations, high schools, the New York State Department of Labor and New York City's three main public library systems. She implemented several successful initiatives for Mayor Bloomberg's Center for Economic Opportunity (CEO), focused on improving economic opportunities for the working poor.
Angie decided to join Per Scholas after becoming impressed with its work during her service with New York City government. "My experience helping build New York City's workforce taught me that the best programs don't just help people gain new skills— they create strong, sustainable partnerships with employers," she said. "It sounds simple, but Per Scholas is one of the only organizations in New York City that knows how to do this well."
"Angie is an incredible addition to the Per Scholas team and someone I trust implicitly to guide our development in New York City," said Plinio Ayala. "We are very fortunate to benefit from her experience leading one of the largest municipal responses to unemployment in the nation. I know that she will bring an exciting new chapter to our work."
Before her tenure at SBS, Angie was the Executive Director of StreetWise Partners, a community organization focused on training and job placement for low-income individuals. While there, she collaborated with Per Scholas as one if its nonprofit partners — organizations that refer new students to our programs and help us develop their full potential.
Angie holds a B.S. in Business Management from Cornell University and a Master's in Public Policy from the John F. Kennedy School of Government at Harvard University. She lives in Manhattan with her husband, two children, "and one poorly behaved dog." We are very pleased to welcome her to Per Scholas.
Sign up for our Monthly Impact Report
More News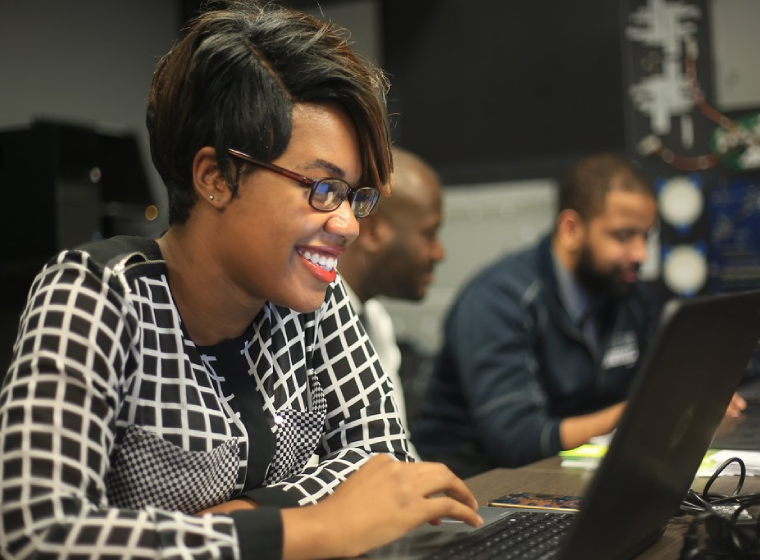 Donate Now
Your support makes a powerful difference in our ability to build a technology talent training solution that creates greater access and equity.