Marine Veteran Busts through Glass Ceiling through Free IT Certification Training
Babatunde "Bab" Adetiba, Dallas-born first generation American, came to Per Scholas at a time when he felt the pressure of a glass ceiling closing in on his potential.
At age 22, Bab served our country through the Marine Corps for two years as a Flight Equipment Technician where he worked the parts and equipment that make up a military plane. This experience, he says, primed him for his future, even though at the time he didn't realize the importance of his experience. "I learned a lot about pilots and the technology that goes behind a plane. It's a lot of technology that we don't even realize is in existence."
In addition to his military service, Bab had over 60 college credits under his belt and real world experience working for Microsoft.
Despite all his experience, Bab was unsure of where to go or what to do with his skills. Without knowing exactly what to study, more school didn't seem like the right decision. Bab couldn't imagine taking on more debt to learn unnecessary information that he might not use in his career. "I didn't want to incur more loans. It's insane how much school costs these days," he says. "Not everyone is wired for college."
At age 24, he was at a crossroads. Because of his prior experience, Bab started looking into information technology jobs in Dallas. But, he soon realized, getting into the tech field is not as easy as it seems — even with prior experience. Many jobs require certifications, particularly CompTIA A+. "There was a glass ceiling," he says. "I knew the potential in the A+ certification. But I realized the time commitment for getting it and the cost associated." He felt discouraged. Should he pay for unaffordable certification courses or try a start from scratch in a different field?
One day while on Facebook, Bab saw a friend's post about nonprofit tech school Per Scholas which just opened up a location in Dallas. He called and spoke to Managing Director Billy Lane who told him that yes, Per Scholas offered A+ certification for free, no strings attached. Bab was sold. The next day, a Friday, he attended orientation and was in class the following Monday.
"Me finding Per Scholas was the right thing at the right time. I made the leap to dedicate my time to learning," he recalls.
Bab excelled in the full time 8-week training at Per Scholas. Using his skills from the military, he was on time, disciplined with his assignments, and worked well with his classmates. He even lead study groups with his classmates after class. "I learned that teaching people is also a learning experience. It was a great class with good cohesion."
On top of gaining the knowledge to become A+ certified, Bab soaked up all he could in Career Development, the portion of the course that teaches essential workplace skills. Particularly, he says, he enjoyed learning about resume building and professional dress.
During training Bab lived with his parents and worked nights and weekends at his family's moving business to make ends meet. "It was definitely a struggle. But nothing worth having is easy," Bab says.
And, it was all worth it. One week after graduation from Per Scholas, Bab landed a position in the IT industry. He now works as a Deployment Technician at Premier LogiTech. He connects well with his team and notes that the CEO of the company, Darryl Smith, is a marine veteran himself.
Most of all, Bab says he enjoys one thing: freedom. He explains that a career in tech not only provides monetary freedom, but the autonomy to learn and grow in an expanding field. In the future, he hopes to give other young people like himself the opportunity to get into IT.
"I love the Per Scholas model. It has changed my life."
Sign up for our Monthly Impact Report
More News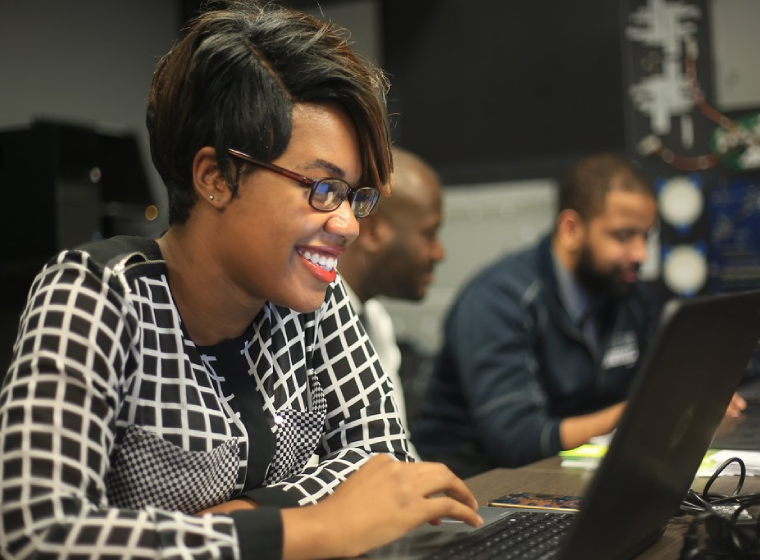 Donate Now
Your support makes a powerful difference in our ability to build a technology talent training solution that creates greater access and equity.