Franklin County Commissioners Invest $4.5 Million To Help Women of Color Join the Tech Sector
Franklin County Commissioners Invest $4.5 Million To Help Women of Color Join the Tech Sector
Columbus, OH – Franklin County was in the headlines last week when President Joe Biden touted local technology investments in his State of the Union speech. On Tuesday, the Franklin County Board of Commissioners committed to developing the county workforce to meet a growing demand for technology jobs, while placing equity at the forefront of their approach.
The Commissioners voted unanimously to approve a more than $4.5 million COVID-19 recovery grant to support the new Tech Women of Color workforce training initiative. This innovative partnership between the Franklin County Department of Job and Family Services and the nationally recognized tech training nonprofit Per Scholas will help train and place 200 low-income women of color on the path to self-sufficiency through good-paying jobs.
"When I was 23 coming out of the military with two young daughters, I had an IT background and credentials from the Navy, but I still couldn't find a job. I was one of those women who just needed a chance," Commissioner Erica C. Crawley said. "What we're doing here isn't a handout. It's about helping people who are willing and ready to work. They just need a chance."
While the economy has rebounded over the past year, job growth especially among women of color, has not kept pace with the overall rate. In January, the nationwide unemployment rates for Black women (5.8 percent) and LatinX women (4.9 percent) were higher than the overall unemployment rate for women. Employment disparities in the technology field predate the pandemic but are even more stark today. Nationwide, Black women only make up 3 percent of the technology workforce while LatinX women account for only 1 percent.
"This was never just going to be about meeting workforce demands. It's about equitable access, equitable growth and equitable opportunity," Commissioner John O'Grady said. "If Ohio's going to become the 'Silicon Heartland,' we're going to do it by giving people who've been overlooked and underrepresented in tech the fair shot they deserve."
The Tech Women of Color initiative is a 15-week program that will offer technical skills training, executive mentoring, financial coaching, and more. Participants will receive paid internships and graduate with industry-recognized credentials – ready to compete for high-paying, in-demand technology jobs.
"The best social service is a good-paying job, but a job alone isn't going to move you up the economic ladder if the ground beneath can't support it," Commissioner Kevin L. Boyce said.  "We're providing ongoing support so women can finish the program on stable ground and ready to begin that climb."
In addition to employment placement and retention services, graduates will receive ongoing supportive services to help navigate the "benefits cliff," which occurs when a small increase in earnings leads to loss of public assistance benefits like food assistance or Publicly Funded Child Care.
"We can't ask a mom to embark on new career path and then say, 'but by the way, you won't be able to drop your baby off at child care.' This program can't work if that's a choice she has to make," Deputy County Administrator Joy Bivens said. "We're facing the reality of the benefits cliff and saying, 'we're going to walk this path with you and make sure you have the tools to succeed.'"
The initiative is funded with American Rescue Plan Act dollars and will run for two years, through August of 2024.
"Since launching our evidence-based technology training here in Columbus 10 years ago, Per Scholas Columbus has trained and prepared more than 800 learners for in-demand technology jobs across our region. Increasing equity and closing the opportunity gap is core to our work, and I'm looking forward to affecting change right here in Franklin County," said Noah Mitchell, Managing Director of Per Scholas Columbus. "We are incredibly grateful to the Franklin County Board of Commissioners for this transformational investment and are looking forward to teaming up with the Franklin County Department of Job and Family Services to bring this intentional Tech Women of Color training to life."
Women who are interested in learning more can visit www.PerScholas.org/Columbus.
###
The Franklin County Department of Job and Family Services provides timely public assistance benefits and builds community partnership through inclusion, responsiveness and innovation. Learn more at https://jfs.franklincountyohio.gov and follow FCDJFS on Facebook, Twitter, and YouTube.
Per Scholas is a national organization that has been advancing economic mobility for 25 years. Through rigorous training, professional development, and robust employer connections, we prepare individuals traditionally underrepresented in technology for high-growth careers in the industry. We partner with leading employers to build more diverse talent pools, directly connecting our graduates to new career opportunities at businesses ranging from Fortune 500 companies to innovative startups. With campuses in 17 cities, Per Scholas has trained more than 16,000 individuals in tech skills, building bridges to careers in technology. To learn more, visit PerScholas.org.
Sign up for our Monthly Impact Report
More News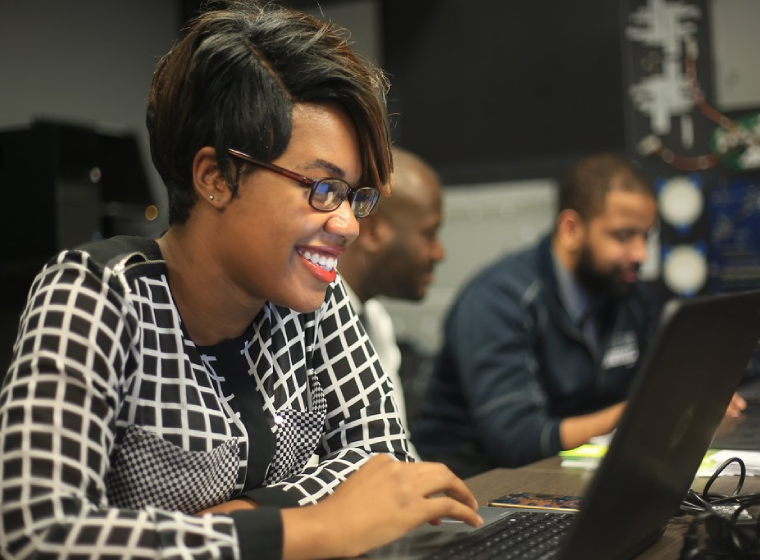 Donate Now
Your support makes a powerful difference in our ability to build a technology talent training solution that creates greater access and equity.