​"I wasn't happy with what I was doing with my life. Per Scholas gave me the knowledge and tools I needed to change my path." Ambitious graduate Courtney acts on his passion for technology and launches career in Atlanta.
Photo Credit: Charles Mowatt
Courtney has traveled many different paths in his lifetime. Over the course of his life, Courtney has been a member of the United States Air Force, a music producer, a security guard, and a web developer. Courtney realized the common thread running through the work he loves is when the work combines the ability to help others solve their problems and helping people get access to the information they need. Courtney realized that a career in IT would give him the ability to exercise his gifts in these areas and also help him to create a better future for himself and his family.
Courtney grew up in Opelika, a small town in Alabama. He grew up with a strong desire to explore the world beyond the borders of his small town. "I have always been a heavy reader. I have always been a fan of information and learning." Despite having the potential to do better, Courtney did not perform well enough in high school to secure a college scholarship. He faced a real dilemma as to what to do with his life after his K-12 education.
Courtney would find the answer to his question after taking the ASVAB and receiving a visit from an Air Force recruiter. "He convinced me that the best choice I could make for myself was to join the USAF and take advantage of all the opportunities it would open up to me. He was right.
"Joining the Air Force was one of the best life choices I ever made." The Air Force gave him an opportunity to travel and indulge his youthful dream of becoming a music producer. It was also his introduction to the Internet. "A close friend of mine lived with his aunt. She was a computer programmer and she had an account with America Online. That was the very first place that I ever saw an online forum. It was intriguing to be able to have a conversation with someone clear across the country over a computer."
Courtney catalogued this experience, but his desire to enter technology was secondary to his dreams of making it in the music industry. He would spend many years mastering the art of music recording and production. Nevertheless, technology always played a role in his musical voyage. "I was always the go-to person when people were looking to set up equipment and my desire to try and magnify my opportunities within the music industry is what led me to becoming a self-taught web developer."
Courtney purchased a couple of web development books from Barnes and Noble and began teaching himself to code. He began to entertain the notion of being a freelance web developer and started soliciting clients from Craigslist. "The main thing I learned from this period was that I really liked helping people solve their problems, be it marketing or maximizing their workflow. Technology provided a great tool to provide these services and customize them in the ways my clients required."
Courtney was working full-time at a luxury hotel, but would spend all of his time after work, and during days off, working on freelance web projects for his clients and himself. "I didn't make very much money and I realized, eventually, that I wasn't very good at the business side of being a freelancer. However, this period planted a seed and I knew that I wanted a career dealing with technology."
Eventually, Courtney, and a close friend, took a chance and opened their own music studio. He also began to correspond online with Cicely Smith, the woman who would eventually become his wife.
"The music studio gave me the opportunity to converge a lot of interests," he shared. As a business owner, he had to do everything himself, from setting up the website, the hardware, software, wireless networking, accounting, marketing, and more.
Courtney was doing what he loved. "It was a laboratory and I learned a lot." What he didn't realize, he says, was how difficult it would to be an entrepreneur in the collapsing music industry. Eventually, he would have to step away from the studio and direct his focus towards helping his fiancée and son adjust to life in Atlanta. "They had moved from out of state to be with me and she also has narcolepsy. There was an extended period where I was needed to help everyone make Atlanta a home."
In the midst of working security fulltime and part-time hustles, he continued to try and get his first IT certification by self-studying, but was unable to focus enough on his own to do it.
Later on, his family experienced a serious change in finances requiring him to make a serious life change to increase the family's income.
It was at this juncture that his wife found an ad for Per Scholas, a technology school offering tuition-free certification and professional development training. Courtney immediately realized what he'd been looking for all long. "What I realized was that I was dabbling in IT for years before deciding to get my certification. Everything I was doing was related to technology."
He describes the IT field as offering an abundance of opportunity, upward mobility, and lucrative job prospects. "This was an opportunity for me to start something and to finish something. I knew I wanted to get into IT and I knew Per Scholas was a gateway to that goal," he said.
Never giving less than 100%, Courtney immediately applied to the training and even created a PowerPoint presentation to show the Per Scholas admissions team why he was a perfect fit.
He was accepted to the first Per Scholas class in Atlanta, GA.
He describes the eight weeks of training as a very challenging, but one of the most invigorating moments in his life. Because the Per Scholas training was full-time and Courtney couldn't give up his full-time job, he simply decided to do both. He would load up on caffeine during the last hour of his overnight shift and head to the 9am training for the next 8 hours. After class, he would head back to his job and sleep in his car until it was close to time to clock in and begin his overnight shift. He would study by placing all of his study cards on Quizlet and taking every opportunity to study when he could. When he finally had a day off, he slept.
Courtney graduated with his CompTIA A+ certification, a new skill set, and a whole lot of confidence. "During the eight weeks, it was go-go-go. It emboldened me, it made me feel great. I felt that I could do whatever I put my mind to."
Once he had graduated, Courtney put the same energy into finding a job. He says it was really tough finding that first entry level position because many businesses refuse to take a chance on someone without a tech background.
Finally, two months after graduation, his search paid off. He was hired at an IT Services company with a specialty in law firms working with law firms, where he worked on the help desk. Now, Courtney has also returned to self-study. He is working on becoming a software engineer to further push his IT capabilities and secure a strong future for himself and his family
What's ahead for Courtney? He sees himself as a leader in the field. He wants to find ways to help other people of color get into the tech field.
Courtney also spends a lot of his time giving back to Per Scholas. He visits the Atlanta training center and speaks to current classes.
Ultimately, Courtney is excited with where his skills can take him and feels that the best still lies ahead.
Check out past Monthly Impact Reports here.
Sign up for our Monthly Impact Report
More News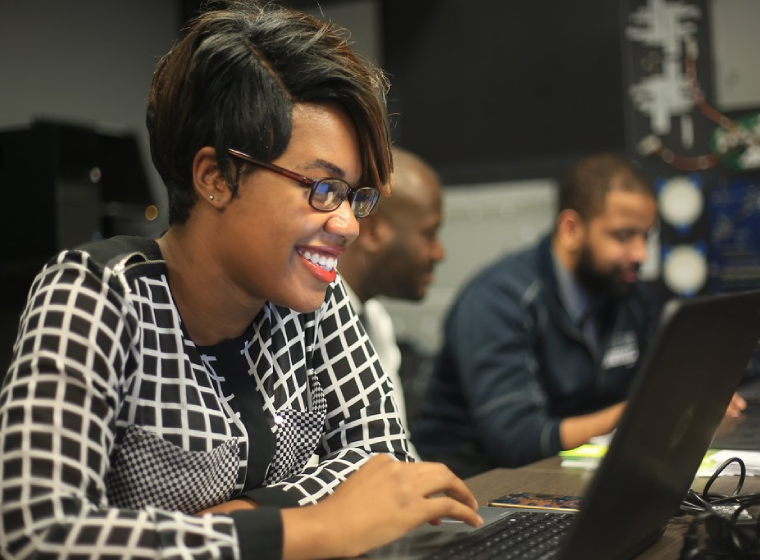 Donate Now
Your support makes a powerful difference in our ability to build a technology talent training solution that creates greater access and equity.