Diverse by Design and Per Scholas Chicago Host DEI&B Event
Diverse by Design, in partnership with ITSMF, TEKsystems, and Per Scholas Chicago, hosted an intimate event focused on diversity, equity, inclusion, and belonging (DEI&B) at Cara Chicago. The event had a keynote discussion with Nikki Lanier, Founder and CEO of Harper Slade, featured the documentary The Road Up and a discussion led by Co-Director Greg Jacobs and held two-panel discussions about DEI&B efforts regarding diverse talent.
The Diverse by Design Chicago event was led by Damien Howard, Diverse by Design Co-Founder, and Per Scholas Chief Enterprise Solutions Officer. Here, Damien interacted with our esteemed guests to dive deeper into DEI&B challenges and solutions. In the keynote discussion with Nikki Lanier, Damien discussed corporate racial equity and engaging and retaining diverse talent through employee engagement. "The workplace is tremendously powerful in that it can be the source of such joy and replenishment, but it could also be the source of ammunition, muting, and stunting that doesn't just contribute to how we work, but how we feel about ourselves," Nikki reflected. "In my HR life, I was always really interested in employee engagement, but there are circumstances that give rise to really rich and meaningful employee engagement experiences, such as do we feel as though we are affirmed and valued and appreciated because of who we are, and not in spite of it."
Following Nikki Lanier's fireside chat, Greg Jacobs discussed his powerful documentary, The Road Up, which follows four participants in Cara, a Chicago-based job-training program. The film chronicles their search for stable employment and a pathway out of poverty. He then discussed the making of the film and its impact in the Chicago community. "[Cara] is an amazing place and we were so excited by the work that they do and so excited by the potential of everything that's happening here that we wanted to tell the story," Greg discussed. "We wanted to be part of the story to tell, and so as filmmakers, we got to be part of the story."
Greg Jacobs then joined Jesse Teverbaugh, Cara Collective Director of Student & Alumni Affairs featured in The Road Up and Nikki Lanier for our first panel discussion, The Power of Alternative Skills Training, moderated by Damien Howard. 
Franklin Reed, Executive Director, Global Inclusion, Diversity and Equity at TEKsystems, and Diverse by Design Chair, introduced our second panel with insightful remarks regarding retaining top diverse talent and how the industry is moving towards attracting diverse talent to succeed in their roles.  "For decades, we have dictated where and how we attract and engage talent. That model used to work, and now we can either cooperate with this shift, or we can continue to resist it only to find ourselves on the outside looking in," Franklin remarked. "However, now we are forced to invest in and engage talent pools that have been marginalized, underestimated, and on the lopsided distribution of opportunity." 
The second panel discussion, Attraction Strategies and Talent Pipelines, was moderated by Nikki Lanier and featured panelists and Diverse by Design Board members Julie Dillman, Executive Vice President, Chubb Group; Senior Executive, Operations and Technology; and Digital Transformation Officer, Tina Simmons, SVP of Human Resources at Comcast Cable, NBCUniversal, and Maria Medrano, Sr. Director, Diversity Partnerships & External Engagement at Google. Here, this strong all-female panel covered topics on retaining diverse talent through meaningful engagement, attracting diverse talent for a multitude of perspectives, and creating corporate equity vs. equality. 
Additionally, we heard from Cara Plus Director of Expansion Strategy Liana Bran, who gave us information about Cara Chicago and their initiatives as a training program in Chicago. Per Scholas President and CEO Plinio Ayala closed out the event with remarks to challenge everyone in their diversity, equity, inclusion, and belonging initiatives and his experience in doing so at Per Scholas. 
We are excited for our future Diverse by Design events and are thrilled about the important and enriching conversations held in Chicago that will challenge corporate DEI&B efforts. 
Sign up for our Monthly Impact Report
More News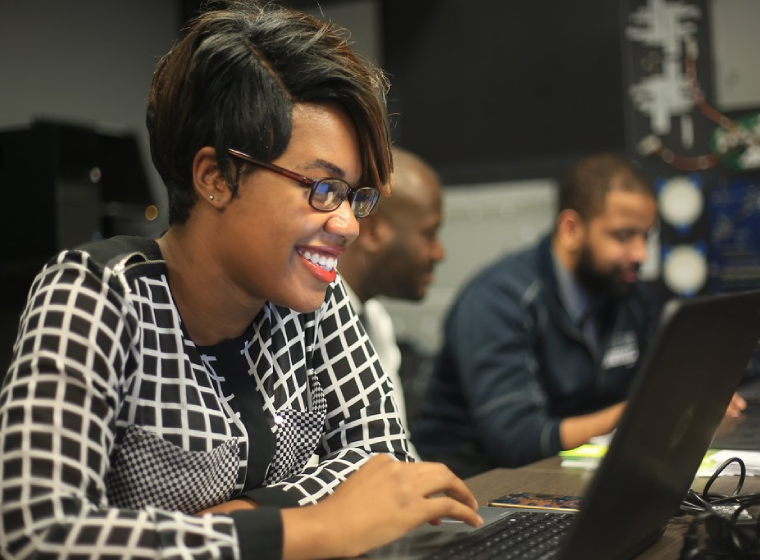 Donate Now
Your support makes a powerful difference in our ability to build a technology talent training solution that creates greater access and equity.