Diverse by Design – Kansas City 2017
Per Scholas and the Information Technology Senior Management Forum (ITSMF) hosted the third Diverse by Design conversation series on Wednesday, March 29, 2017 at the National Society of Black Engineers (NSBE) Annual Conference in Kansas City, Missouri.
The NSBE Conference, focused on "increasing the number of culturally responsible Black Engineers who excel academically, succeed professionally and positively impact the community" provided an energetic and inspiring backdrop for the event. Nearly 150 participants including business and community leaders, teachers, college students, engineers and workforce development advocates joined the engaging and frank conversation about building diversity and inclusion in the workforce.
WELCOME AND OPENING REMARKS
STATE OF AFFAIRS
Dr. Karl Reid shared that NSBE has set a bold goal of graduating 10,000 African-American bachelor degree recipients in engineering annually by 2025 up from the current number of 3,620. Matthew Nelson added how personal this initiative is to him, "I am a college dropout on my way to receiving my doctorate. This would not have been possible without the support of NSBE."
IGNITE PRESENTATION
Stephanie kicked off her Ignite presentation by challenging the audience to be aware of and challenge "the unconscious bias that helps define one's potential based on their skin color." She asked listeners to use any opportunity to set an example for children and young adults and reinforce to them that "they can do it – whatever 'it' is for them."
KEYNOTE CONVERSATION
Plinio and Tony's conversation focused primarily on how to provide a path to opportunity for talented, high-potential individuals from overlooked communities. Tony stressed that creating a diverse talent pipeline is a win-win-win for employers, employees and the community but cautioned that "diversity is not a mathematical equation. It's a cultural change." And to truly drive change, uncomfortable conversations are required Tony noted, "the tough part is speaking [about diversity] to people who do not believe in it."
IGNITE PRESENTATION
Viola Maxwell-Thompson's Ignite presentation shed light on some staggering statistics about women in the tech industry including that more than 56 percent of women in technology leave the industry. Viola shared that she herself was almost one of these women but that a former boss helped her find the work-life balance she needed to raise her family. Encouraging all employers to "hear her voice" is a key goal of ITSMF. The organization has created the Emerge Women's Leadership Forum to "increase the number of women of color in technology from 9% to 15% by 2025 through a series of professional workshops, supportive environments and model leadership, and by doing so amplify the nuance of women leaders."
PANEL: ENGINEERING DIVERSITY
The panel addressed many questions from the audience about best practices for "engineering diversity" and critical elements to employee retention. Retention recommendations included having more transparent and frequent reviews, being intentional about pairing career counselors and mentors and making employees feel like they are being invested in."  Stephanie LeBlanc noted that a major reason why companies lose talent is when employees feel like they do not have what Google calls "psychological safety: the freedom and ability to be their authentic self."
CLOSING REMARKS-DIVERSE BY DESIGN NATIONAL WORKING GROUP CO-CHAIRS
Sign up for our Monthly Impact Report
More News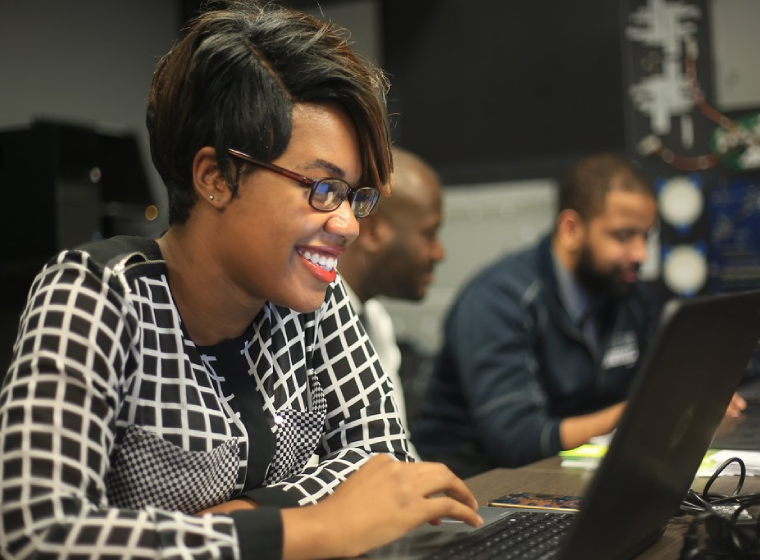 Donate Now
Your support makes a powerful difference in our ability to build a technology talent training solution that creates greater access and equity.