Diverse by Design – DC Speakers
D. Michael Bennett, Executive Vice President of Strategy at Evans and Chambers Technology
An accomplished and award-winning leader and corporate attorney, Michael has navigated complex, multi-billion dollar corporate transactions over his career. His expertise includes Corporate law, Contract Law, Information Management and Cyber Security strategy and execution, Organizational Management and Transformation as well as Executive Leadership and Diversity and Inclusion consulting. Along with his role as Chairman, DC Board of Elections, Michael is the Executive Vice President of Strategy,
Evans and Chambers Technology, a rapidly growing technology company. Michael is also a Presidential Nominee, U.S. Postal Service Board of Governors (the full U.S. Senate's confirmation vote is pending).
He also serves as a Senior Advisor to several "bleeding edge" technology companies and venture capital firms. Michael provides adjunct board service to both Howard University and is Chair of the Duke University DC Alumni Association. Michael retired from BAE Systems Inc. in 2014 as the Senior Vice President of Information Management and the Chief Information Officer.
Michael joined BAE Systems from Northrop Grumman where he served in increasingly responsible positions for more than 18 years, including Vice President, Contracts, Pricing, Procurement and Risk Management for their Information Technology Sector. Previously, Michael also practiced law full-time with Logicon, Inc., EDS Corporation and the U.S. Federal Government for approximately 20 years.
A recipient of the Washington Business Journal 2012 Minority Business Leader Award, he holds a Bachelor of Arts with honors from Duke University. He received his Juris Doctorate from the George Washington University Law School, and he is a long-time licensed practitioner of both the Washington, D.C., and Virginia Bars.
Terrance Bowman, Global Diversity Manager for Technology Recruiting at JPMorgan Chase
Terrance Bowman is the Delaware Site Lead, Interim Tampa Site Lead, and Global Diversity Manager for Technology Recruiting at JPMorgan Chase.  He is responsible for developing and implementing strategies for experienced-hire recruiting in the Delaware and Tampa regions as well as coordinating Global Technology recruiting initiatives across the firm's 14 strategic technology sites across North America, APAC, and EMEA.  Terrance has led the firm in delivering high-touch diversity recruiting events to
attract and hire top talent across all lines of business and job families for the organization.
Prior to supporting experienced-hire recruiting, he was a Technology & Diversity Recruiting Manager for the Corporate Development Program (CDP) and also managed the firm-wide campus relationships with the University of Delaware and Syracuse University.
Terrance joined JPMorgan Chase & Co. in 2005, where he worked for several years as a Senior Technical Operations Lead for the Corporate Internet Group and was responsible for delivering several critical database migrations, credit card and mobile applications, and a host of other infrastructure projects.
Before joining the JPMC, Terrance was a Technology Solutions Delivery Manager at Accenture and was head of Diversity Employee Networking Groups for the Philadelphia Office.
Terrance is a proud life-member of Kappa Alpha Psi Fraternity, Inc. and is currently active with the Chester (PA) Alumni Chapter. He is also a member of Union Lodge #21, Suakim Temple #60, and on the advisory board of the University of Delaware Black Alumni Organization. He is committed to helping to educate and mentor young people and periodical organizes scholarship fundraisers to help support local college students.
Terrance is a native of Chester, PA and a graduate of the University of Delaware (Bachelor of Electrical Engineering) and Widener University (MBA). He currently resides in New Castle, DE with his wife and two sons.
Dr. Jamika Burge, Senior Manager at Capital One
Dr. Jamika D. Burge is a Senior Manager at Capital One, where she oversees research curriculum development and internal/external outreach. At Capital One, she ideates and creates innovative user research curricula that empower designers, developers, and engineers to apply design thinking and human-centered design principles into their daily work, and beyond. She also engages with internal and external organizations in computing and design outreach activities. Prior to joining Capital One, Jamika served
non-profit and government organizations, including as a consultant to the Defense Advanced Research Projects Agency (DARPA) in the Information Innovation Office (I2O). She provided technical and management consult for innovative DARPA programs which were funded at over $70 million. Her research interests lie in human-computer interaction (HCI), specifically in the design of technologies that support a range of communication and interaction needs. She is active in computer science education and STEM preparedness efforts, providing expertise for a host of funded programs funded by the National Science Foundation (NSF) and the Computing Research Association (CRA), particularly those seeking to broaden participation in computer science. She also provides insight and research into the layers of intersectionality that affect black women and girls in computer science. Jamika holds a Ph.D. in computer science, with a focus on human-computer interaction (HCI) from Virginia Polytechnic Institute and State University, where she was an IBM Research Fellow.
Dr. Burge is also Founder and Principal of Design & Technology Concepts (DTC), LLC, where she focuses on computer science design and education research. To date, DTC has consulted for Google, the National Center for Women in Information Technology (NCWIT), and the American Association of College & Universities (AAC&U), among other organizations. Her career has also included positions across academic (Spelman College and Howard University), non-profit (Smarter Balanced at UCLA), and industry (IBM Research) sectors.
Nicole Cozier, Director of Diversity and Inclusion at Human Rights Campaign
Nicole Cozier has nearly 20 years of non-profit experience in the direct services, advocacy, and philanthropic sectors. In February 2016, Nicole joined the staff of the Human Rights Campaign as the Director of Diversity and Inclusion – a position that she describes as a perfect culmination of her experience and her passion for work with deep personal significance.  In this role, Nicole is responsible for managing the D&I team and designing and implementing diversity and inclusion strategy and initiatives that
translate D&I philosophy into core organizational practice.
Most of Nicole's career has been focused on gender equity; however, in the words of Audre Lorde – "there is no such thing as a single-issue struggle, because we do not live single-issue lives," so one cannot effectively address gender issues without also examining how gender intersects with race, class, sexual orientation, age, and the myriad other identities that influence people's experiences and opportunities. As a result, the consciousness and lens of diversity, inclusion and cultural competency has always been an important element of her work.
Nicole began her career in women's health and reproductive health and rights for organizations including Planned Parenthood – in Toronto, Canada, and Philadelphia, PA –, Cooper Health System in Camden, NJ, with an array of roles focusing on research, public and professional education, and counselling. Upon moving to Washington, DC in 1999, Nicole worked for the Ovarian Cancer National Alliance where she led a national public education campaign – which included cultural competency work with member organizations across the country – and organizational development. She also served on the Scientific Advisory Committee for the Mautner Project.
In 2003, Nicole joined Women & Philanthropy, a 30-year-old affinity group that worked to increase women's leadership in the philanthropic sector and increase philanthropic dollars to programs addressing the critical needs for diverse communities of women and girls. There, Nicole managed the program portfolio and also served as the organization's representative for the Joint Affinity Group (JAG) – a collaborative of identity based affinity groups working to pursue more equity for diverse communities. Then, with a desire to take her work back to a local level, in 2008, Nicole joined the staff of Washington Area Women's Foundation – the region's only foundation dedicated exclusively to increasing the economic security of economically vulnerable women and girls.
At The Women's Foundation, Nicole managed the foundation's donor education work, grantee partner technical assistance and capacity building, and the foundation's collective giving programs – including the foundation signature community-based grantmaking program, the Leadership Awards. Nicole also oversaw the Foundation's two giving circles: the Rainmakers Giving Circle and the African American Women's Giving Circle, and was one of the founding members of KINDRED, an African American LGBTQ giving circle. Nicole also served on the board of directors for Funders for LGBTQ Issues, as well as on the Capacity Building Funders Group, and Partnership for Prince George's County.
In 2010, Nicole was the staff lead in the development of the organization's strategic plan which marked the transition of her role at the foundation from exclusively programmatic to one that included organizational development and operations, including human capital management. Cultivating excellence among staff and maintaining an organizational environment where staff could thrive was a core priority. This ultimately led Nicole to the role of Chief Operating Officer (COO). As second in command, Nicole managed internal operations for The Women's Foundation and the development and cross-organizational implementation of the organization's strategic goals.
Nicole holds an MBA and MS from Temple University, as well as an honors bachelor's degree from the University of Toronto. A resident of the metro Washington area for more than 16 years, Nicole has also lived in Philadelphia, New Jersey, USVI, Canada and Barbados. Nicole currently lives in Northern Virginia with her wife and daughter.
Viola Maxwell-Thompson, President of Information Technology Senior Management Forum (ITSMF)
Viola Maxwell-Thompson is President of Information Technology Senior Management Forum (ITSMF), a national organization committed to the continuous professional development of black senior-level executives in the technology industry.  Their members, who are CIOs and other senior-level technology executives, are from Fortune 500 companies, the public sector, Academia and privately-owned technology companies.
A nationally recognized thought-leader in business transformation and process re-engineering, Ms. Thompson, who is a former IT management consultant, joined ITSMF as a member in the late 1990s, became Executive Director in 2004 and President in 2015. Ms. Thompson's business acumen and technical know-how—she's fluent in everything from "assembler programming" to tweeting on her iPad—have positioned her to lead ITSMF as it raises its visibility, makes its mark on the technology industry and becomes a Web-page "favorite place" for technology professionals. Ms. Thompson has drawn on her vast experience in program management and career training to transform ITSMF into a professional development organization with the fiscal soundness and infrastructure to prepare the next generation of black technology leaders for the executive suite.
Prior to joining ITSMF, Ms. Thompson was a partner with Ernst & Young LLC's Management Consulting Practice in Chicago and Atlanta, where she specialized in organizational development, process re-engineering and technology deployment. For 17 years, she led diverse teams that blended strategic-problem solving with state-of-the-art technology solutions to enhance operations for Fortune 500 companies in the manufacturing, financial services and consumer products industries. Her expertise in sales and customer-management, combined with her technical proficiency, contributed to her success directing some of Ernst & Young's largest implementation projects. These include an $82 million program to improve the supply chain for the largest printing company in the U.S., featuring package selection and implementation of an integrated Supply Chain, Order Management and Shop Floor Operations.
Ms. Thompson is often featured in the media for her expert insights on a variety of business topics, including diversity and the retention of executives; work-life balance issues; and career management as a female executive of color. She has been quoted in numerous leading industry and consumer publications—CIO Insight, the Chicago Tribune, Black Enterprise Magazine, Diversity Careers Magazine and IT Management Consulting, among others. In 1998, she was nominated for the National Society of Black Engineers' (NSBE) "Golden Touch Award," which recognizes outstanding achievements by black engineers.
Ms. Thompson received her B.A. in Psychology and Education from Lake Forest College in Lake Forest, Illinois. She also holds certifications in Project Management and Systems Methodology.
Dr. Talmesha Richards, Chief Academic and Diversity Office at STEMconnector
In her role at STEMconnector, Dr. Talmesha Richards serves as the Chief Academic and Diversity Officer, managing a portfolio of projects including the STEM Higher Education Council and the global strategy for Million Women Mentors. Prior to joining STEMconnector, Dr. Richards advocated for the National Girls Collaborative Project, engaging stakeholders and representing national leadership. She has also written for Teach for America's Pass the Chalk Blog.
Dr. Talmesha Richards is a vibrant scientist, who earned her Ph.D. in Cellular and Molecular Medicine from the Johns Hopkins School of Medicine. She spent her undergraduate career at the University of Maryland Baltimore County (UMBC) as a Meyerhoff Scholar. She double majored in Chemical Engineering and Mathematics.
Dr. Richards is a firm believer in nurturing both her academic and artistic side. She danced as a National Football League Cheerleader for eight years. Her cheerleading career allowed her to combine her various passions: community service, dancing and science. Dr. Richards utilized her cheerleading career as a platform to promote STEM Education. She had many mentors throughout her life who encouraged her to persist through her STEM coursework and she considers it her personal responsibility to do the same. As a Science Cheerleader, she shares her personal story to challenge stereotypes and encourage youth to pursue STEM careers. Dr. Richards' work has been featured on local and national television programs including the Today Show.
Her professional memberships include the American Association for the Advancement of Science and the Association for Women in Science (AWIS). Dr. Richards' continued service to the community has fostered her desire to be an avid STEM advocate within and outside of STEMconnector. She believes that being an advocate assists in bringing positive change in people's lives on a local, national, and international level, and is excited about being a catalyst in that process.
Marty Rodgers, Office Managing Director for the D.C. Metro Office at Accenture
Martin "Marty" Rodgers is the Office Managing Director for the Washington, D.C. Metro Office as well as the Executive Director of Accenture's Nonprofit Group and International Public Sector Practice. Marty specializes in business strategy, IT strategy and transformation, change management, program management, business case development, and both business and enterprise architectures.
With nearly 20 years of federal, commercial, nonprofit and multilateral
project management experience, he helps a range of diverse clients. As an advocate of corporate social responsibility, Marty was named Office Managing Director for Accenture's Washington, D.C. Metro Office in December 2014 supporting the firm's Local Market Initiative serving as a member of numerous boards which include the Greater Washington Board of Trade, The Economic Club of Washington, Federal City Council, the Accenture Foundation, as well as serving on the Board of Trustees at the University of Notre Dame.
Prior to Accenture, Marty served as a leader in the national and community service and workforce skills fields, crafting numerous pieces of relevant legislation ranging from significant amendments in work-study and service-learning to notable laws including the King Holiday & Service Act, National & Community Service Trust Act of 1993, and School-to-Work Opportunities Act of 1993.
Marty has 25 years of selected board, pro-bono, and staff experiences working with nonprofit organizations such as Teach for America, Junior Achievement, Phelps Stokes Fund, Diocese of Gallup NM, Experience Corps/AARP, Save the Children, Children's Defense Fund, Public Allies, Friends of the Children, Initiative for a Competitive Inner-City (ICIC), Americorps*NCCC, Youth Service America, Global Impact, Americorps Alums, University of Notre Dame, CUSO, Reading Partners, and many others.
In addition to social impact work, Marty is also committed to diversity awareness and training and minority recruiting and awareness.
Marty earned a B.A. in economics from the University of Notre Dame, followed by an MBA from Harvard University. He lives in Falls Church, VA with his wife and three children.
Toacca Rutherford, Chief Development Officer for Consumer Business Banking and Auto Information Technology at JPMorgan Chase
Toacca Rutherford is the Chief Development Officer (CDO) for Consumer Business Banking and Auto Information Technology. Toacca and the CDO team will focus on building the developers' community, implementing Agile/Scrum, and enhancing productivity and quality.  Most recently, Toacca was the Global Head of General Ledger Technology and Corporate and Investment Bank's Finance Technology platforms leading global application delivery teams.  Prior to this, Toacca was the Chief Technology Officer
for the Finance Core Processing Platform and has held a variety of technical and managerial roles in Credit, Risk, and Architecture.
Toacca began her career at JPMorgan as a Database Administrator. She was recruited after graduating from Rutgers University with a Bachelor of Science degree in Industrial Engineering.
Toacca's professional associations include the JPMC Black Executive Forum, CIB Black Leadership Forum Steering Committee, JPMC Technology Diversity Council, and the Women's Bond Club.
Toacca is passionate about giving back in the firm and her community. She is committed to recruiting and retaining high performing talent, mentoring, and coaching. She is also an active leader in her community through her local church and their women's initiatives establishing activities supporting spiritual growth, breast cancer awareness, and community leadership. Toacca is a Board Member of Horizons National in Newark, New Jersey to develop high-quality enrichment programs for low-income public school children in academics, arts, sports, technology, and culture.
At the center of Toacca's life is her family as she cherishes being a devoted wife, and mother of three daughters.
Courtney Snowden, Deputy Mayor for Greater Economic Opportunity in Washington, D.C.
Courtney R. Snowden serves as the Deputy Mayor for Greater Economic Opportunity in Washington, D.C.  A sixth-generation Washingtonian, Courtney is charged with transforming the District's workforce system training, retaining and growing small businesses and resident entrepreneurs and revitalizing overlooked and underserved neighborhoods.
Formerly a Principal at The Raben Group, Courtney relied upon a wealth of grassroots organizing, electoral, and
policy experience to work for her clients. An accomplished political strategist, Courtney lobbied for the firm's corporate and non-profit clients including: Google, MasterCard, Airbnb, the National Urban League, the National Education Association, and Time Warner Cable.
Prior to joining The Raben Group, Courtney served as the Senior Lobbyist for the National PTA, directing their advocacy efforts on a variety of legislative issues including budget and appropriations, vouchers, and No Child Left Behind. In addition, she led the effort to mobilize the National PTA's six million members and effectively prepare them to serve as competent citizen activists on behalf of "Every Child, With One Voice." During her tenure at the National PTA, she chaired the National Coalition for Public Education (NCPE), a coalition comprised of more than fifty education, civic, civil rights, and religious organizations devoted to defeating state and federal efforts to create publicly funded private school voucher programs and tuition tax credits.
Courtney also served as the Federal and National Policy Manager for the Gay, Lesbian, and Straight Education Network (GLSEN), where she strongly advocated for policies to prevent discrimination and bullying of LGBTQ students in our nation's schools. Courtney's hallmark achievement was expanding the Safe Drug Free Schools Programs that focused on anti-bullying efforts across the country.
Courtney started her career in the Office of Congresswoman Tammy Baldwin where she served as a staff assistant and a legislative associate. Immediately following her time on Capitol Hill, Courtney was the Political Assistant at the Human Right Campaign, the nation's largest LGBT political organization in the country.
An active leader in the Washington D.C.'s LGBT and African-American communities and a staunch public education advocate, Courtney has devoted her life to making Washington, D.C, a better place for all its residents, corner to corner. She has a record of coalition building and bringing people from different backgrounds together from across the city.
Gene Waddy, CEO at DIVERSANT
Gene C. Waddy is a visionary entrepreneur and owner of DIVERSANT LLC, the nation's largest African-American owned IT staffing and solutions firm. In many ways, DIVERSANT is a reflection of Gene's professional expertise, personal drive, and his commitment to helping others. The company has enjoyed rapid growth, even during the economic downturn, and has developed a reputation for excellence among numerous Fortune 500 companies.
In his local community, Gene coaches
minority youth about how they can get involved with technology and use it to advance their careers and lives. Gene is an active member of the Board of Directors of PACE Monmouth. PACE, the Program for Acceleration in Careers of Engineering, is a science and engineering awareness program in which professionals volunteer their time to work with local minority high school students to help prepare them for technical careers. Gene also serves as an active board member with the Marion P. Thomas Charter School in Newark and the New Jersey Tech Council. A member of Alpha Phi Alpha, the country's first African-American fraternity, Gene is very active in many of their community service programs. Gene was named the 2013 Ernst & Young Entrepreneur of the Year New Jersey winner as well as a 2011 NJBiz Executive of the Year Finalist.
The son of two Harlemites, Gene was raised in New Jersey. Gene attended Fairleigh Dickinson University where he earned his B.S. in Mechanical Engineering. A "Jersey Guy" at heart, Gene chose to stay in his home state where he now resides with his wife and children.
Tonia Wellons, Vice President for Community Investment at The Community Foundation for the National Capital Region
Tonia serves as Vice President for Community Investment at The Community Foundation for the National Capital Region. In that role, Tonia oversees all of the Foundation's competitive and discretionary grantmaking and strategic partnerships with the community.
Tonia joined in July 2016 and was most recently Head of Global Partnerships at the Peace Corps where she was responsible for leading the Agency's partnerships with government, the private sector,
international NGO's, and donors. Tonia served as Fund Manager for CGAP, a multi-donor initiative focused on financial access and inclusion, housed at the World Bank Group. She also spent a significant part of her career as working on USAID-funded capacity development initiatives during the immediate post-apartheid era in South Africa.
Tonia has led youth employment programs and continues to serve as advisor on local civic engagement programs. In 2010, she founded The Prince George's County Social Innovation Fund (PGCSIF) and its flagship initiative, Forty UNDER 40 Prince George's County, in the place that has been her home for nearly 19 years. Its mission is to build social capital and invest in new approaches to addressing a broad range of social challenges in the county.
Jenny Yang, Chair of the U.S. Equal Employment Opportunity Commission
Jenny R. Yang was named Chair of the U.S. Equal Employment Opportunity Commission by President Barack Obama on September 1, 2014. Prior to that, Ms. Yang served as Vice Chair of the EEOC beginning on April 28, 2014, and as a Commissioner beginning on May 13, 2013. She was unanimously confirmed by the Senate to serve a term ending July 1, 2017.
Throughout her career in the government, private, and nonprofit sectors, Ms. Yang has worked to ensure fairness and equal 
opportunity in the workplace. As Chair, Ms. Yang has led EEOC's efforts to advance pay equality by enhancing the agency's data collection to include employer pay data by sex, race, and ethnicity. To strengthen EEOC's capacity to combat systemic barriers to opportunity, she conducted a comprehensive review of the agency's systemic program, and has instituted coordinated strategies to address persistent and emerging issues that broadly impact workplace policies and practices.
Under her leadership, the Commission adopted new procedures for public input on guidance documents to promote transparency. Through this initiative, the Commission updated its guidance on retaliation, which is the most frequent complaint raised in the workplace.
She represents the agency on the Diversity and Inclusion in Government Council, White House Initiative on Asian Americans and Pacific Islanders, and the White House Equal Pay Enforcement Task Force.
Prior to joining the EEOC, Ms. Yang was a partner at a law firm where she represented employees across the country in complex civil rights actions. Prior to that, Ms. Yang served as a Senior Trial Attorney with the U.S. Department of Justice, Civil Rights Division, Employment Litigation section, and at the National Employment Law Project working to enforce the workplace rights of garment workers. Ms. Yang received her B.A. from Cornell University in Government. She received her J.D. from New York University School of Law.
Sign up for our Monthly Impact Report
More News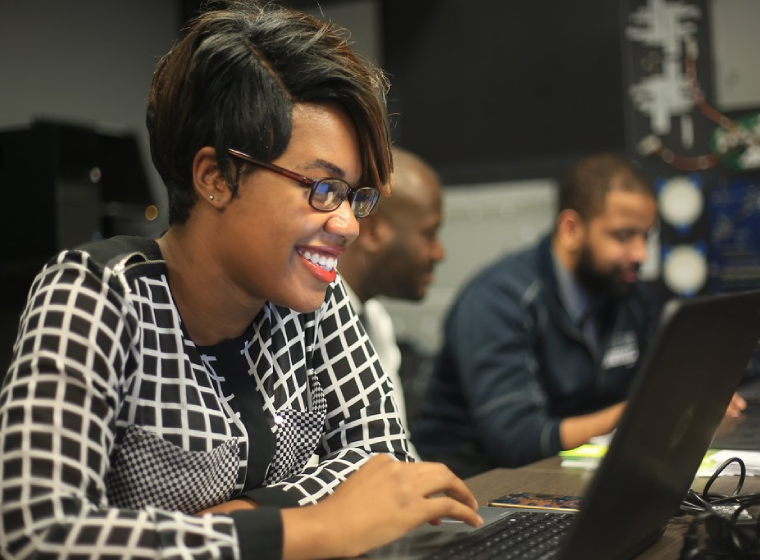 Donate Now
Your support makes a powerful difference in our ability to build a technology talent training solution that creates greater access and equity.