Economic Mobility Releases Report on Network Engineer program at Per Scholas. Findings show program performed well in every category.
In 2012, the New York City Workforce Funders Group convened a group of workforce development stakeholders to encourage new ideas for the field of workforce development. Shortly after that the New York City Department of Small Business Services (SBS) contemplated a skills-training model that partnered a local community college and workforce development nonprofit. SBS convened the Borough of Manhattan Community College (BMCC) and Per Scholas to provide a multi-week training in advanced computer networking. Providing anchor investment in this two-year pilot was New York Workforce Funders Group.
Recruitment for the class targeted individuals out of the workforce or who were working in low-wage jobs but had prior IT experience and/or education and needed assistance to get back into the workforce. Participants were prepared for both the CompTIA Network+ and Cisco Certified Network Associate (CCNA) certifications. It was Per Scholas' first attempt at training individuals for middle-skill jobs.
As the pilot began, Per Scholas engaged evaluation firm Economic Mobility Inc., led by an evaluator of workforce development programming, Mark Elliott, to record the findings of the program. I am pleased to say that the program did incredibly well in every category. This report could have significant influence on future Community College/Non-Profit workforce development partnership models across the nation.
Mobility's evaluation found that:
87% of graduates were employed post training.
Nearly all (97%) who found jobs were working full-time.
Program participants were earning an average of $22.33 an hour, or the equivalent of a $46,000 annual salary.
We encourage you to read the full report and its findings. Per Scholas will utilize these findings to continue what we set out to do:  scale this program. The course is now a formal offering at Per Scholas, named Networking Engineering, and we will increase our annual enrollment from 60 to 100 students. We will also engage new partners in addition to BMCC such as Lehman College and are beginning exploring expansion to markets across the country.
Thank you to each of our funders who invested in this project and believed in our ability to innovate. Your trust in us is humbling:  New York City Workforce Funders, ACE Group, New York Community Trust, and SBS. Others behind the success of this project are the Rockefeller Foundation, Robin Hood Foundation, and the Eleanor Schwartz Foundation.
It is worth attempting to put in words the impact this work has on the lives it exists to serve. Tyrell is one of those individuals. He landed a job at Bloomberg after graduating Project Scale and shared, "I love my job. My story is a true testament of how Per Scholas is changing lives." Even with a bachelor's degree, Tyrell struggled to secure a permanent IT position and was faced with unemployment on and off over several years. "I am so excited and happy to be working at the Bloomberg. It is a dream come true." To learn more about Tyrell's full journey into the tech field, go to perscholas.org/news/tyrell.
Sign up for our Monthly Impact Report
More News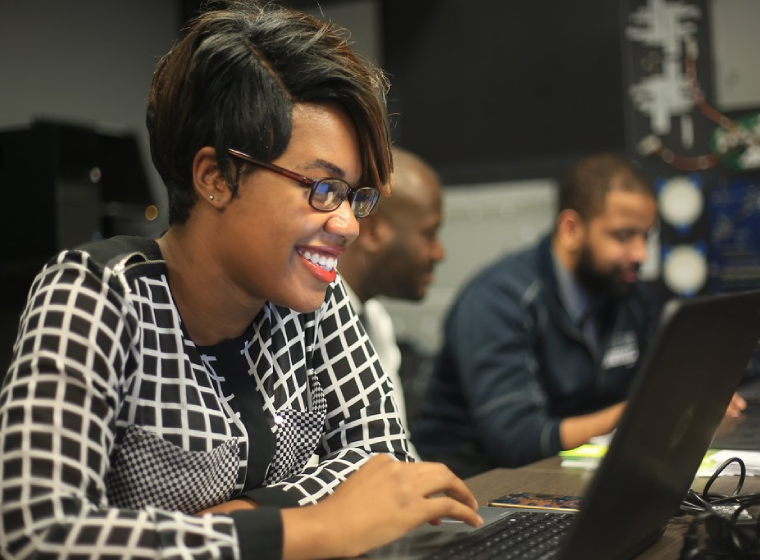 Donate Now
Your support makes a powerful difference in our ability to build a technology talent training solution that creates greater access and equity.