Empire State Development Announces Cognizant and Per Scholas to Launch Free IT Training Program to Create Employment Pipeline for In-Demand Technology Jobs
Empire State Development Announces Cognizant and Per Scholas to Launch Free IT Training Program to Create Employment Pipeline for In-Demand Technology Jobs
Intensive program is designed to develop necessary skills for today's digital technology careers; Cognizant to hire at least 350 of the trainees to fill current positions to increase operations in NY State
June 16, 2017
Empire State Development (ESD) today announced that Cognizant, a Fortune 500 global provider of business and technology services, will partner with Per Scholas to create a New York City-based job training program to help New Yorkers access career opportunities in the growing IT, digital, and tech sectors. The South Bronx-based training program will provide no-cost technology skills training and career development resources for as many as 650 New Yorkers over the next 18 months.
Per Scholas is a national non-profit dedicated to collaborating with business to design industry- and job specific courses based on employers' tech talent needs for individuals in lower-income communities.
Cognizant, a global leader in business, digital and technology services, and one of the largest STEM recruiters in the United States, intends to hire as many as 350 of the training program's initial graduates for Cognizant's client sites in the five boroughs. Cognizant's rigorous training program, supported by Empire State Development and operated by Per Scholas, includes industry- and job-specific courses based on employers' IT needs and is to connect individuals in overlooked talent pools with job opportunities.
"This project is not only an economic win for New York – it's a project that gives back to the people and communities that make New York great. As our tech sector flourishes, we need to make sure our workforce is trained to meet this demand and be part of the incredible growth. This training partnership between Cognizant and Per Scholas is an important part of that effort," said ESD President, CEO, and Commissioner Howard Zemsky.
Empire State Development is supporting the $6 million Cognizant program, based in the Urban Development Center in the South Bronx, with $2 million in performance-based tax credits through the Excelsior Jobs Program. The funding will support the recruitment and training of the students who will be able to apply for jobs at Cognizant and elsewhere in the industry. In addition to the planned 350 technology jobs to be filled by graduates of the training program, Cognizant currently employs more than 2,300 associates across New York State. The new Cognizant New York Training Center will also be utilized for training programs for current these and other Cognizant associates in the region.
"We're pleased to be working with Empire State Development to expand in New York City and increase the base of trained IT and digital technology professionals in the broader New York community," said Jim Lennox, Chief People Officer, Cognizant. "The U.S. needs more qualified IT talent and this partnership is just one example of how we continue to invest in our communities to train American workers for next generation digital opportunities."
"Per Scholas is thrilled to leverage our twenty years of experience partnering with business to support Cognizant's efforts to train local and hire local. Across the country, Per Scholas has trained over 6,500 adults, individuals from overlooked communities, who lack the resources but not the creativity and determination to succeed in tech," says Plinio Ayala, President and CEO of Per Scholas. "The increased demand for local talent, along with the rising number of technology jobs available, means that companies are exploring strategies to access talent outside of their traditional pipelines. These public/private partnerships will build the workforce of the future and we hope this can be a model that others will replicate, both supporting employer demand and strengthening the communities we serve."
To learn more about these upcoming training opportunities or details about Cognizant's partnership with Per Scholas, please email [email protected].
Cognizant is the latest example of the Governor's successful efforts to attract and retain tech and digital companies in New York State. This year, United Technologies Corporation announced that it would open a digital accelerator at 55 Water Street in DUMBO, creating 250 new high-tech jobs. In January 2017, Spotify announced it will establish its U.S. headquarters at 4 World Trade Center and create over 1,000 new jobs. Last year, Snapchat reached an agreement with ESD for performance-based Excelsior Jobs Program refundable tax credits, in exchange for creating nearly 400 jobs and retaining 118 jobs in Manhattan. Also in 2016, designer eyewear maker Warby Parker announced that it would create 128 jobs in a new Rockland County optical lab and retain more than 250 jobs in New York City. Thanks to support from ESD, in the past few years alone, Cognizant and the aforementioned companies – along with BuzzFeed, Etsy and others – have committed to creating over 2,500 jobs and retaining nearly 4,000 jobs in New York State.
About Cognizant
Cognizant (NASDAQ-100: CTSH) is one of the world's leading professional services companies, transforming clients' business, operating and technology models for the digital era. Our unique industry-based, consultative approach helps clients envision, build and run more innovative and efficient businesses. Headquartered in the U.S., Cognizant is ranked 205 on the Fortune 500 and is consistently listed among the most admired companies in the world. Learn how Cognizant helps clients lead with digital at www.cognizant.com or follow us @Cognizant.
About Per Scholas
Per Scholas is a national nonprofit that drives positive and proven social change in communities across the country. Through rigorous and tuition-free technology training and professional development, we prepare motivated and curious adults who are un- or underemployed for life-changing careers as IT professionals, and we create onramps to businesses in need of their talents. Today we provide our solutions in six cities across the country: Atlanta, Georgia; Greater Cincinnati and Columbus, Ohio; Dallas, Texas; the National Capital Region, and New York, New York. To date, Per Scholas has trained over 6,500 individuals, helping them build lasting, life-changing careers in technology. To learn more, visit www.perscholas.org.
About Empire State Development
Empire State Development (ESD) is New York's chief economic development agency (www.esd.ny.gov). The mission of ESD is to promote a vigorous and growing economy, encourage the creation of new job and economic opportunities, increase revenues to the State and its municipalities, and achieve stable and diversified local economies. Through the use of loans, grants, tax credits and other forms of financial assistance, ESD strives to enhance private business investment and growth to spur job creation and support prosperous communities across New York State. ESD is also the primary administrative agency overseeing Governor Cuomo's Regional Economic Development Councils and the marketing of "I Love NY," the State's iconic tourism brand. For more information on Regional Councils and Empire State Development, please visit www.regionalcouncils.ny.gov and www.esd.ny.gov.
Sign up for our Monthly Impact Report
More News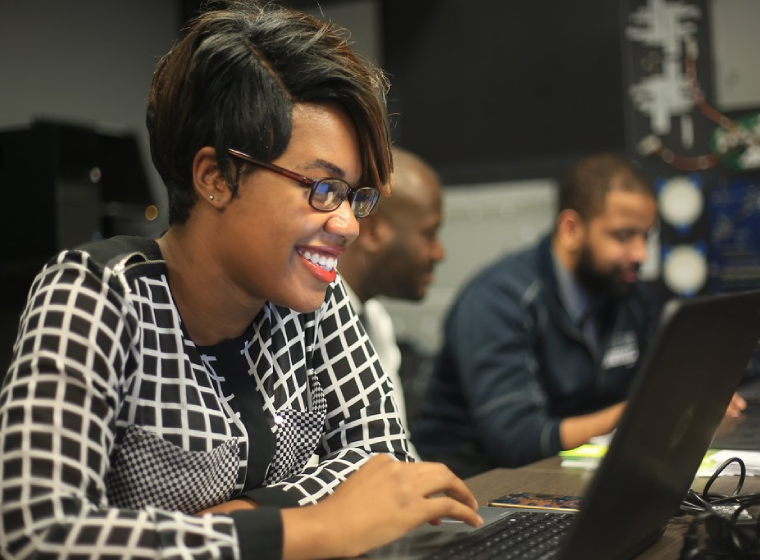 Donate Now
Your support makes a powerful difference in our ability to build a technology talent training solution that creates greater access and equity.