Family man Reggie pursues 'Happyness' at Per Scholas
"My daughter has been helpful in this process. She has kept me focused. I need to be able to provide her a better childhood."
Family means everything to Reggie. He speaks highly and often of his mother and father. Born and raised in the Bronx, his house was the go-to spot among all of his friends growing up. "My parents were parents to all of my friends." When Reggie became a father himself, he was raised to know to take that job seriously. "I appreciate what my parents and family gave me which motivates me to want to do better for my daughter."
As a teenager and young adult he travelled the country performing music, and loved it. "Being on a stage. Feeding off an audience. There is nothing like it." Reggie held down jobs around his performance schedule, usually low-paying porter and sales positions. He had his eye set on college, to begin working toward a career. Like so many, though, he couldn't afford it and stopped taking classes after a year and a half.
His mother pointed him to Per Scholas. Because the time commitment doesn't allow for many candidates to work and go to class simultaneously, his first reaction was, "I couldn't do it. I needed a job. I needed money." He took another security job instead—only to get laid off along with 40 others. The opportunity resurfaced and it was his girlfriend who pushed him and encouraged him. She told him this was an opportunity to grow. She made sacrifices, they did together, and he enrolled. "She was happier than me on my graduation day," he laughs. "She knew the importance. She knew what this meant." Per Scholas was an opportunity to have a career, not just a job.
Getting to the finish line and graduating was not easy for Reggie. The strict attendance policy was a daily hurdle, but one he respected to get him job ready. "You know that movie with Will Smith called the 'Pursuit of Happyness'? That was me on some days." Referring to the scene where Will Smith, a single parent living in a shelter, is competing in a non paid internship that could earn him a job at the company. On his way for the first day, he gets hit by a car, loses his shoe, but keeps running at a dead sprint to make it on time.
That was Reggie. To get to class, he would drop his daughter off at school in West Harlem and sprint across town to catch the east side subway to Per Scholas. Hurrying his 4-year-old daughter along, he'd explain, "Daddy has to get to school, too!" Once, he says he almost got taken out by a car… But he kept going. He would show up to class in a complete sweat, he shares.
"There were too many people at stake for me to fail. I don't know what I would have done if I had disappointed them." His friends and family were invested in his success. Throughout the 14 weeks of training, everyone chipped in with childcare, metro fare, meals, and motivation.
Reggie was a self-proclaimed day dreamer, at least when it came to high school and college (he specifically called out sociology: "Come on, how can you not day dream in that class?"). Class was often not interesting to him. That is why he valued what Per Scholas offered so much. "The knowledge you guys have in this building is crazy." He is referring to the instructors who together bring decades of industry experience and are veterans of teaching. "You learn something new every day. The teaching style is delivered in a way that you can't lose interest. You want to participate."
When asked why technology piqued his interest, he responded with: "What year did Nintendo come out?" He laughs and continues to recall the vivid memory of the day a computer was brought home. Mavis Beacon, Jeopardy and Carmen San Diego games on a floppy disc are name dropped one after the other. AOL and dial-up internet follow. Napster music downloading. And so on. Reggie goes through the timeline and evolution of modern-day technology — memories fond to many born in the 80s. When software evolved to support music production, he taught himself everything he could. Coming to Per Scholas allowed him to take that natural curiosity and talent and make it a formal skill. He lit up about knowing the technical terms to articulate what he had been guessing for so many years.
Since graduating Reggie has wrapped up an internship with computer literacy organization IGotITToo where he teaches classes to seniors and young adults while also maintaining the labs and a contract position with Robert Half Technology. He most recently started a new position with American Dream Charter School in the Bronx as Tech Support. And of course, "I fix everyone's computers now. Everyone comes to me."
To sum it up super cheesy, Reggie is pursuing happiness.
Sign up for our Monthly Impact Report
More News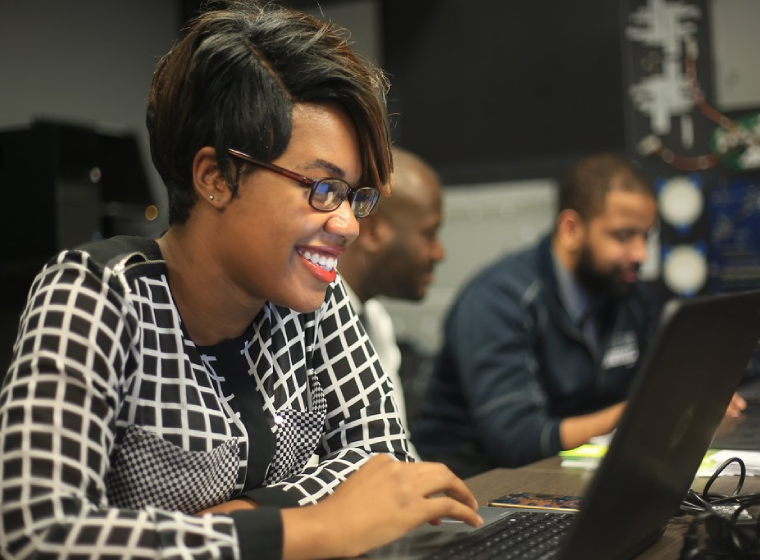 Donate Now
Your support makes a powerful difference in our ability to build a technology talent training solution that creates greater access and equity.