Per Scholas is dedicated to connecting our learners with tuition-free tech training designed to launch them into thriving tech careers. Upon completion of training, our graduates are often able to take on roles that allow them to earn a higher income than in their previous employment, as well as access new financial opportunities. Per Scholas is unique because we not only provide tech training to our learners, but we also offer them the services of financial coaches to help with financial planning and wealth management. We tapped into the expertise of our financial planners to obtain their top five tips for financial planning.  
As part of our Learner Support Team, Per Scholas's financial coaches are available to guide our learners and provide advice on all manner of finance-related matters, from saving money to budgeting and more. Our financial coaches are dedicated to helping our learners navigate their individual financial situations, as well as setting our learners up for future success in taking their financial planning to the next level.
1. Consider Your Financial Needs
Financial planning is not a cookie-cutter, one-size-fits-all approach. To start budgeting and saving money, you need to consider what is important to you and why. Beyond basic necessities, each person will have their own things that are important to them to allocate money for. Furthermore, depending on factors such as where a person lives, the size of their family, etc., even planning for necessities will vary by situation. A financial plan that works excellently for one individual may not be applicable at all to another person. 
It is necessary to remain open to new ideas when considering your own financial needs. This will allow you to make better plans and decisions about managing your finances. It is also important to understand that you may need to make some difficult financial decisions and sacrifices in order to achieve financial freedom. In financial planning, Brenda Badger, Per Scholas's Senior Manager of Financial Coaching stated that "the most important thing is to be willing to learn and have an open mindset to adopt new habits, processes, and information learned." 
2.  Create emergency savings, then save for anything else
When we spoke with our financial coaches, all of them had the same advice when it came to what percentage of your income to save: there is no set percentage that works for everyone, but it is very important to first create emergency savings. "Prioritizing emergency savings is a critical part of a sound financial plan," Brenda emphasized. Once you have created emergency savings, you can then make sure your income outweighs your expenses and determine a reasonable percentage of your paycheck to save each month. We found more money-saving tips from The Penny Hoarder that show how small changes make a significant impact on your savings.  
One way to free up money for your savings that you already have is to consider regular expenses. For example, think about what monthly subscriptions you have and if you are able to cut back on any of those. What about daily coffee runs? Perhaps you are able to reduce your coffee shop visits and save money by brewing at home. Saving money doesn't necessarily mean you have to significantly diminish your spending on things that you do, but try compartmentalizing your finances so that you can precisely see where you are able to make adjustments. Do you currently have an emergency savings fund? If so, how did you build it, and what, if any, changes did you make to your regular spending habits in order to do so?
3. Create a budget based on your income and goals
How does one start a budget? What may seem like a big task can actually be exciting! Here are some top budgeting tips from Per Scholas's financial coaches!
Track all of your spending for one week and use that as a starting point for your budget. It's important to know where your money is going and how to strategize around reducing debt, saving for big purchases, and investing in your retirement.

Create a list of all the things you spend money on (bills, fun, transportation) and calculate the amount you think you pay every month. Track your expenses over a month and compare what you think you spend to what you actually spend. Adjust the amounts, so they reflect what is really happening and what you want to happen.

Budgeting is something that should be done before spending so that there is a plan in place and you know your needs are covered, your goals are addressed, and your wants are permitted.

Start with your income and include your fixed and variable expenses. Factor in your emergency savings, your future goals, and a miscellaneous category for the unexpected.

Make your 

budget

 match your paycheck schedule. If paid bi-weekly, your budget should be divided into two groups to coincide with the two paychecks you receive each month.

Track your progress and reward yourself when you reach milestones!
4.  Make SMART financial goals
You should handle your financial goals as you would any other goals and make sure they are SMART – Specific, Measurable, Attainable, Relevant, and Time-Bound. Per Scholas Financial Coach Manager Janell Pollard gave great insight with the example of a particular goal of buying a car. "I think it is important to set yourself up for success by testing out things before you commit," Janell advised. "If you think you can afford a $350 [per month] car payment, practice saving that amount for six months. If you can do it comfortably, you can probably afford the car payment, and you can use the six months of savings (350 x 6 = 2,100) as a down payment. If not, you just saved yourself from making a financial decision you probably couldn't afford."  
Consider each of your financial goals. Write them down, then break them down. For example, if one of your goals is to put money into a savings account, consider amplifying this goal to be a SMART goal. Review the SMART questions posed above and consider how these questions apply to the goal of saving money. How much do you want to save? When do you want to have that amount saved? How much will you put away monthly in order to reach that goal in the time you allotted? Are you able to achieve this goal without compromising your current finances? With relevance to your life, how will this goal help you? These are all ways to consider your goals and strengthen your ability to meet them in the time needed. What are some of your SMART financial goals?
5. Find a financial planner to map out your wealth management and money goals.
A final tip for financial planning is to connect with a financial advisor that works well for you. Brenda suggested, "find a Financial Coach you trust and gel well with. Simply having this type of professional in your corner to inform you, support you, and cheer you on might be the boost your finances have been waiting for!" Remember to keep an open mind and be open to new ideas that may be challenging to implement but worthwhile for your future!
Budgeting your money and planning for your finances is necessary, but it does not have to be a daunting task. Our Per Scholas learners are fortunate to have access to excellent financial coaches from our Learner Support Team, who help learners navigate their finances during and beyond their time at Per Scholas. "Per Scholas offers a lot of services to help the learners manage their finances," recalled Ivan Reyes, who graduated this year from Per Scholas Boston's IT Support course. "I really was able to take advantage of it, and I'm very grateful for it. It's good to have that extra help, and it lets you focus on what you're doing. It's given me the confidence and peace of mind to go out there to find a job that's really the right fit for me."  
When it comes to planning so that you can achieve financial freedom, remember to keep your goals in mind. Whether you are putting $100 a month towards your savings, paying off prior debts, managing a family, or saving up for a particular purchase, each financial goal will be unique to your personal finances. Tackling your finances does not have to be a frightening task; with the proper guidance, it can be educational, informative, and invigorating. Find a budgeting app that works for you, a financial coach that understands your goals and level of financial literacy, and discipline yourself to stay on track with your financial planning. A recent study from Charles Schwab found that 18% of people who did not have a written financial plan felt confident that they could reach their financial goals. In comparison, 54% of people with a written financial plan reportedly felt 'very confident' that they could achieve their financial goals.
Sign up for our Monthly Impact Report
More News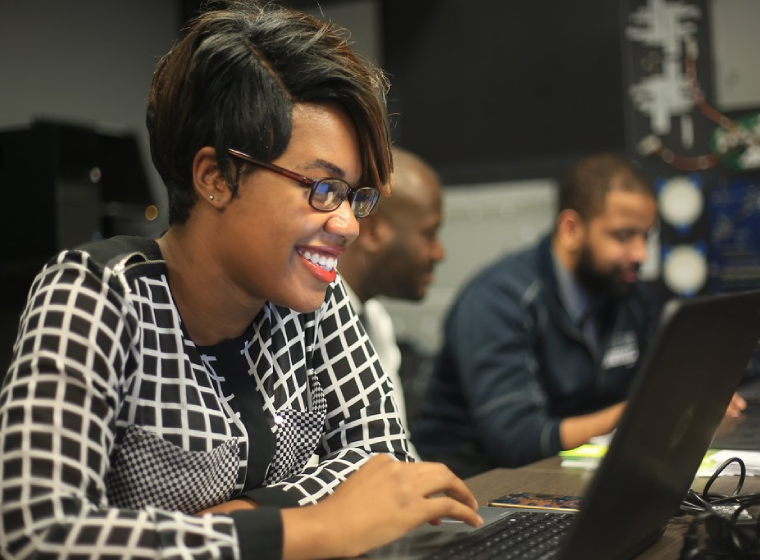 Donate Now
Your support makes a powerful difference in our ability to build a technology talent training solution that creates greater access and equity.