Jobs for People CompTIA A+ Certified | Per Scholas
What Jobs Can I Get with a CompTIA A+ Certification?
A CompTIA A+ certification is a valuable certification, widely accepted as the industry standard qualification to begin a career in IT. The certification is earned by passing two exams designed to validate and demonstrate that you possess the skills needed for a wide range of entry-level IT positions. 
There are many advantages to having a CompTIA A+ certification under your belt, and simply earning the certification is often considered sufficient to be hired for an entry-level IT position. Earning the certification can also be a way for those already established in the IT field to level up their skills. As the CompTIA A+ website notes, "CompTIA A+ will either help you get your start in IT or help you get promoted in your current job. It is the industry standard for establishing a career in IT and is the preferred qualifying credential for technical support and IT operational roles."
Being CompTIA A+ certified can make you an appealing candidate for most hiring managers during your job search. According to research by the International Data Corporation (IDC), "96 percent of human resources managers use IT certifications as screening or hiring criteria during recruitment." 
Furthermore, IDC research revealed that once hired, CompTIA-certified professionals typically perform at a higher level than their non-certified peers over time. CompTIA-certified IT professionals were found to possess higher levels of confidence in their own abilities and greater knowledge bases on a variety of topics. They also proved to be more reliable in their work over time and reached job proficiency more rapidly than their non-certified counterparts.
What is an A+ certification?
CompTIA (The Computing Technology Industry Association) is an American, non-profit trade organization that has developed and issued professional IT certifications for over 20 years. The organization is currently the leading provider of vendor-neutral IT certifications in the world and has issued more than 2 million IT certifications worldwide.
The CompTIA A+ certification, issued by CompTIA, is a performance-based certification designed to demonstrate an individual's knowledge base, and validate the skills required for an entry-level IT position. Unlike other certifications, which typically focus on one domain, CompTIA A+ covers a broad range of topics, making it applicable to a wide variety of tech roles. 
According to the CompTIA website, successfully certified CompTIA A+ professionals will possess the skills to: 
Configure, install and upgrade operating systems, including Windows, Apple OS X, Linux, iOS, Android, and Windows Mobile

Install and image virtual machines

Set up and troubleshoot peripheral devices

Assemble and disassemble computing hardware

Set up and support basic home and small office networks

Implement cybersecurity controls appropriate to helpdesk and technical support roles

Troubleshoot and support end-user access to applications and data
Altogether, the CompTIA A+ exam covers the following topics, verifying skills in these areas: 
Hardware: Successful candidates will be able to identify, use and connect hardware components and devices

Networking: Successful candidates will be able to explain types of networks and connections including transmission control protocol/internet protocol (TCP/IP), Wi-Fi, and small office/home office (SOHO)

Mobile Devices: Successful candidates will be able to install and configure laptops and other mobile devices

Network and Hardware Troubleshooting: Successful candidates will be able to troubleshoot device and network issues

Security: Successful candidates will be able to identify and protect against security vulnerabilities for devices and their network connections

Windows Operating System: Successful candidates will be able to install and support Windows OS, including command line and client support

Other OS Technologies: Successful candidates understand Mac OS, Linux, and mobile OS

Software Troubleshooting: Successful candidates will be able to troubleshoot PC and mobile device issues, including application security support

Operational Procedures: Successful candidates will follow best practices for safety, environmental impacts and communication, and professionalism
Steps for getting A+ certified
The CompTIA A+ is composed of two exams, which must both be passed in order for a candidate to become fully certified. The two exams, Core 1 (220-1101) and Core 2 (220-1102) are each 90 minutes in length, with no more than 90 questions each.
Once an individual is ready to take the examinations, they will need to obtain a CompTIA A+ voucher for both exams from the CompTIA website, before scheduling each exam at an approved testing location.
Typically, the voucher for each exam costs $232, with potential additional fees for exam retakes and training materials. At Per Scholas, all fees are covered, so our students are able to obtain their certifications free of charge. 
CompTIA A+ certifications are valid for 3 years from the date the exam is passed, after which the certification will need to be renewed – through participating in specific training courses or obtaining new, higher level certifications – or retaken. 
Certifications must be regularly renewed or retaken in order to keep candidates' knowledge and skill sets up to date and relevant in the rapidly changing field of IT. 
10 Jobs For People with a CompTIA A+ Certification
Because the CompTIA A+ exam covers such a broad range of material, those who successfully become certified are well suited to take on a wide variety of entry-level positions in the IT field. Some of these positions include:
1) Service desk analyst
Service desk analysts provide technical support to a network of users. More specifically, they "respond to incoming requests for IT support and resolve network, hardware, and software issues with computers. They also perform technical maintenance and software installations and updates." Service desk analysts have strong customer service skills and use their technical expertise to troubleshoot issues and provide support. The median annual salary of a service desk analyst in the United States is $48,620.
2) Help desk technician
Help desk technicians provide technical support and assistance related to computer systems, hardware, and software, either via telephone, in person, or remotely. "A help desk technician might maintain, install, or troubleshoot hardware and software, resolve networking issues, or help resolve other problems for other company employees." Help desk technicians should be well-versed in all aspects of computer systems configuration, setup, and maintenance. The median annual salary for a help desk technician in the United States is $42,504.
3) IT support specialist
According to the CompTIA website, "IT Support Specialists are responsible for analyzing, troubleshooting and evaluating technology issues. This role may support internal clients, helping to keep employees productive, or external customers of a company." Some IT support specialists instruct customers on how to use business-specific programs or work with other specialists and technicians to solve arising issues. Others may be responsible for answering questions for non-business customers, such as how to set up internet connections or troubleshoot personal wifi routers. The average annual salary for an IT support specialist in the United States is $55,321. 
4) Field service technician
Field service technicians are responsible for helping clients install, repair, and maintain physical equipment at customer locations. They are responsible for showing customers how to use their equipment, as well as troubleshooting issues and building relationships with customers. Field service technicians work on-site, and may travel to various locations for their work. The average annual salary for a field service technician in the United States is $51,790.
5) Associate network engineer
Associate network engineers work with networking equipment and software to design, implement, and maintain computer networks. They may also be responsible for installing, maintaining, and troubleshooting network systems, software, and hardware such as routers, switches, firewalls, etc. Associate network engineers may also take part in researching and recommending new technologies that can improve network performance, designing and creating new network systems and infrastructure based on company needs or client requirements, monitoring network performance, and identifying problems so they can be fixed quickly, and more. The average annual salary for an associate network engineer in the United States is $61,892.
6) Data support technician
Data support technicians offer a variety of services to help users with arising issues or repairs. These technicians either work as part of a help desk team or specialize in certain types of equipment or programs. Data support technicians, as the CompTIA website specifies, provide assistance for users by "ensuring the functionality and operations of semi-automated systems, executing complex troubleshooting and repairs, tracking, prioritizing and documenting requests using an IT support request system, providing technical support for computers and associated networks, installing, testing, [and] maintaining and upgrading operating systems." Data support technicians typically maintain computer networks or provide technical help directly to users. The average annual salary for a data support technician in the United States is $45,496.
7) Desktop support administrator
A desktop administrator is responsible for the management of an organization's user workstations, and for assisting clients with hardware and software issues. Their job is to provide technical assistance (on-site or remotely), including the setting up of computer hardware systems, installing and upgrading software, and troubleshooting basic IT issues. The average annual salary for a desktop support administrator in the United States is $58,103.
8) End-user computing technician
End-user support specialists are the first line of help when customers encounter problems or defects with products and programs. They answer telephone inquiries, respond to emails, and perform in-person support sessions. End-user computing technicians are responsible for providing professional support to customers and computer users, and detecting and repairing flaws in computer hardware, software, and equipment. "The major role of an end user support professional is to diagnose a faulty program in the computer systems within an organization and provide immediate solutions to the problem, so that the organization can run effectively." The average annual salary for an end-user computing technician in the United States is $50,425.
9) System support specialist
According to Field Engineer, "system support specialists provide help desk assistance and technical support for all types of issues affecting end users, such as software problems, network breakdowns, and hardware failures." They are able to identify ways to isolate and resolve hardware, software, and network problems. The average annual salary for a system support specialist in the United States is $56,924.
10) Cyber security specialist 
According to the CompTIA website, "cybersecurity specialists continually analyze risks and develop strategies to prevent breaches. They rely on teamwork because of the broad scope of security measures that need to be applied to protect the integrity of the network. Cybersecurity specialists must continually adapt to stay a step ahead of cyber attackers. They must remain up to date on the latest methods attackers are using to infiltrate computer systems and IT security." Other duties include guarding their organization's networks for security breaches, investigating any violations and running defensive protocols, installing and using relevant software to protect sensitive information, documenting security breaches, and simulating attacks to look for vulnerabilities in their systems. The average annual salary for a cybersecurity specialist in the United States is $95,763.
Per Scholas | CompTIA A+ certifications 
Certifications are an important step in launching an IT career, as they ensure you are equipped with the knowledge to take on a wide range of tech roles and make you a competitive candidate in the job search.
At Per Scholas, we understand that talent is ubiquitous, but opportunity is not. That is why we not only provide free tech training but also cover the cost of certification exams for our learners. Learners in our courses are able to earn a variety of certifications (depending on the specific course they enroll in), including the Google IT Support Professional Certificate, the Cybersecurity Analyst Certification (CySA+), and the CompTIA A+ certification, all free of charge.
Apply to Per Scholas today! Learn more about the tuition-free training we offer and apply to IT courses that will help launch your career in tech.
Sign up for our Monthly Impact Report
More News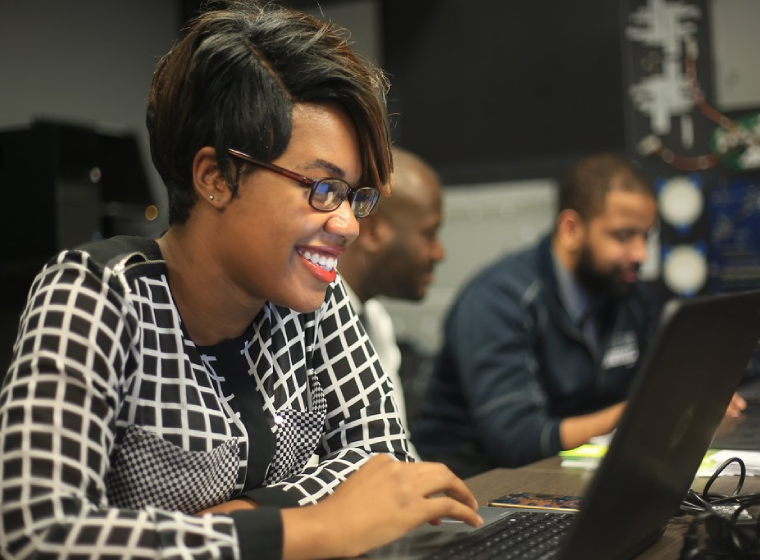 Donate Now
Your support makes a powerful difference in our ability to build a technology talent training solution that creates greater access and equity.