How to Land Your First Job in Tech: Resume and Interview Tips
As Per Scholas continues to prepare our learners for thriving tech careers, our training does not stop at the technical skills needed to acquire a tech role.  For example, we set aside a full day each week for professional development and career coaching for all of our learners for a holistic approach to starting a career in tech.  Our professional development days often include resume reviews, mock interviews, and career coaching with our Career Coaches.  We picked the brain of our Senior Manager of Career Solutions, Christel Grissett, to find out what her top resume and interview tips were to put your best foot forward as you embark on your career in the tech industry.
Resume Tips
Your resume is a live document 
When it comes to creating your resume, keep in mind that you will want to tailor it to each job that you apply for and use keywords used in the job description throughout the document. "Creating a resume is not a "one and done" deal," stated Grissett. "Updating your resume for each job using the job description will help your resume come up with application tracking systems so your it does not become lost in the mix." 
Spell check your resume and ensure that the fonts and sizing are all the same
Maintain a clean, readable font throughout the document. Create curb appeal by listing your skills and a summary of your accomplishments at the beginning of your resume. Alternatively, Grissett recommends not using resume templates because they are often flagged in applicant tracking systems. Save your resume as a PDF to send to the company and name it as your name and the position title so it will be easily found by both you and the company.
Include your soft skills
Soft skills such as time management, leadership, and interpersonal skills are all transferable across any job industry.  Many of our Per Scholas graduates are looking to make career changes into a new job sector, so including soft skills shows what crafts you have that could penetrate any markets.  
Interview Tips
Research the company beforehand and prepare with questions about your role
Besides just researching the company, check out who will interview you on LinkedIn. Review what they post, like, and share – this could spark conversation and take out any nerves since you will know who you are interviewing with beforehand. 
Practice common interview questions/attend mock interviews before the interview
Practice makes perfect, but you don't want to sound too rehearsed!  One of the advantages of our training at Per Scholas is that our professional development days often include mock interviews – an opportunity to practice interviewing and become familiar with this part of the hiring process.  
Consider the interview a conversation more than an interview
To help settle your nerves, consider the interview more of a conversation.  "This is an opportunity to get to know who you could work for and if the company is right for you as well," mentioned Grissett.  She also recommended leaving the interviewer with a question that prompts you to reveal more about yourself, such as, "is there anything I can disclose or speak to that shows my fit for this position?" 
If you keep these interview and resume tips in mind, we know that you will be set up for success as you embark on your career in technology.  Many of these tips are reviewed in all of our cost-free training as part of our professional development curriculum with our career and business development coaches! To learn more about our upcoming training, visit our website.
Sign up for our Monthly Impact Report
More News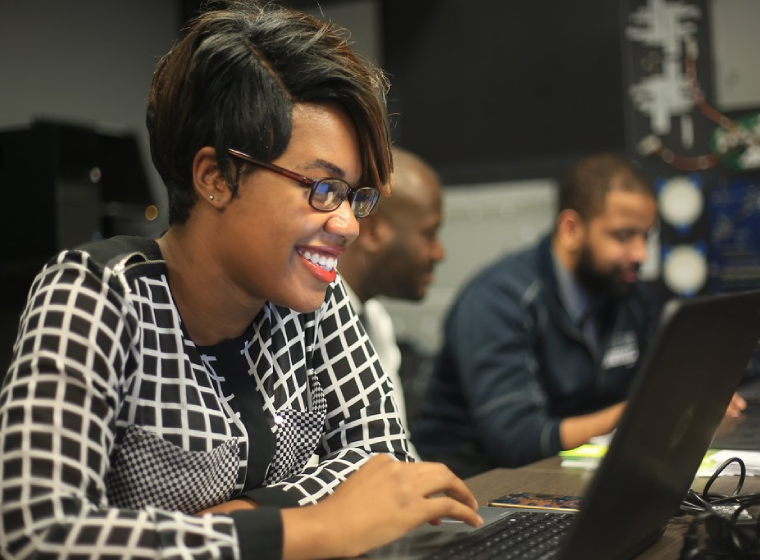 Donate Now
Your support makes a powerful difference in our ability to build a technology talent training solution that creates greater access and equity.