JPMorgan Chase Announces $6 Million to Prepare South Bronx Youth for High-Demand Jobs
Initiative will create a system for aligning career and technical education programs with in-demand jobs in growing New York City industries.
New York, NY (May 5, 2017) – JPMorgan Chase & Co. today announced a $6 million commitment to expand young people's access to economic opportunity in the South Bronx. As growing industries in the city require a more skilled workforce, this initiative will establish an innovative system that connects career and technical education schools in the South Bronx to key employers in New York City. The investment will help drive change and is designed to increase dramatically the number of young people graduating from South Bronx high schools with opportunities to secure well-paying, high-demand jobs.
While the unemployment rate in the Bronx is below six percent for the first time, more than four in 10 South Bronx residents do not have a high school diploma and 23 percent of young people are out of school and out of work. This has pushed half of employed young people into low-paying jobs that limit their financial futures.
With JPMorgan Chase's investment from its New Skills for Youth initiative, more young people in the South Bronx will be able to secure the necessary education and training to secure middle skill jobs in three growing industries: transportation, distribution and logistics; healthcare; and information technology. Middle skills jobs require more education and training than a high school diploma but less than a four-year college degree. Whether they go right into a job or onto post-secondary education or training, young people who enter these pathways will be prepared for success in today's economy.
"The lack of economic opportunity for young people in the South Bronx is a moral and economic crisis," said Jamie Dimon, Chairman and CEO, JPMorgan Chase. "Our investment supports the missing link between a successful education and career: businesses and educators working together to help students succeed. This investment will give young people access to jobs that offer good wages and the chance to move up the economic ladder."
"We have to make sure our young people are leaving school with the skills they need to enter the workforce, so that they can get a good job that offers a solid foundation for building a career and future in The Bronx," said Bronx Borough President Ruben Diaz Jr. "The number of skilled workers we'll need is only going to grow, and this investment from JPMorgan Chase is going to significantly help bridge the gap between schools and the in-demand workforce."
Well-Paying, High Demand Jobs are Available
In New York City, there are an estimated 26,000 well-paying jobs in the transportation, distribution and logistics sector that are attainable by people without a bachelor's degree but who have received some education or training beyond a high school diploma. Jobs in this sector, such as engine repairers, sales and services positions and drivers at the Hunts Point Food Distribution Center, MTA Operations and Maintenance Facilities and private sector bus and truck depots, are projected to grow by 10 percent by 2022, including about 3,500 positions in the Bronx. Entry level workers can start at $45,000 and move up to over $100,000 after a few years of experience.
Investment Overview
To build a new system that connects employers and South Bronx career and technical education programs, JPMorgan Chase's $6 million investment will focus on three key innovations including:
Support intermediaries in growing industries vital to the NYC economy to increase employer engagement and commitments to career education, support school and system level capacity and pathway development in three sectors: healthcare; information technology; and transportation, distribution and logistics.
Build a new apprenticeship model that will lead to more registered apprenticeship opportunities in the South Bronx with a "leave behind" sustainable apprenticeship pathway in transportation distribution and logistics.
Support the development of a high quality data system to measure and track the expansion of services and opportunities for work based learning, internships and community based efforts that match young people to career pathways.
These innovations will be led by several local organizations including:
New Visions for Public Schools, an organization dedicated to ensuring that all New York City public school students, regardless of race or economic class, have access to a high-quality education that prepares them for the rigors of college and the workforce.
New York Alliance for Careers in Healthcare (NYACH), one of the NYC Department of Small Business Services' five Industry Partnerships. NYACH works to build an effective healthcare workforce development system in New York City by collaborating with healthcare employers; helping education and training organizations adapt their approach to better meet the industry's needs; and ensuring low income and unemployed New Yorkers have access to viable career opportunities in healthcare.
The Consortium for Worker Education, which works to advance knowledge and critical thinking, and foster research, creativity, and innovation across academic, artistic, and professional disciplines.
Per Scholas, aiming to open doors to transformative technology careers for individuals from often overlooked communities by creating opportunity, closing the skills divide, and achieving diversity.
Through several targeted philanthropic initiatives, the firm is investing over $325 million in skills development around the world. New Skills for Youth is a $75 million, five-year effort to address the youth unemployment crisis by increasing dramatically the number of young people who complete career pathways that begin in high school and end with postsecondary degrees or credentials aligned with good-paying, high-demand jobs. New Skills at Work is a five-year, $250 million global initiative to help inform and accelerate efforts to address the mismatch between the needs of employers and the skills of job seekers. The firm also invests an additional $5.8 million effort to support summer youth employment programs around the country.
Notable Statements of Support
"In order to successfully prepare students for 21st century jobs, public schools need to cultivate strong industry and civic partnerships. JPMorgan Chase's New Skills for Youth initiative does just that, providing skill-building opportunities for students who will most benefit from them," said New Visions President Mark Dunetz. "At New Visions, we're committed to designing strategies and tools that strengthen schools' partnerships with industry and ensure students get the preparation they need for bright futures in the communities where they live."
"The Department of Small Business Services is thrilled to expand its partnership with JPMorgan Chase," said Small Business Services Commissioner Gregg Bishop. "It has been a strong supporter of our work in healthcare through our New York Alliance for Careers in Healthcare. Today's students are tomorrow's workforce and the key to a strong economy in New York City. Our businesses have an important role to play in making sure our workers have the skills and practical experience they need. This pioneering initiative will create an impactful opportunity for our students, our healthcare employers, and our communities."
"Through our job training programs and apprenticeships we're not only providing the type of in-demand job skills people need, we're building the talent base employers need to grow and thrive," said John K. McDermott, Director of Special Projects, The Consortium for Worker Education. "We're proud to partner with JPMorgan Chase to boost workforce training and development in the South Bronx."
"We do this work to make sure the host of talented youth in the South Bronx aren't overlooked as a competitive workforce resource," said Plinio Ayala, President and CEO, Per Scholas. "With support and investment from partners like JPMorgan Chase we are working to build equitable, accessible career pathways in New York's thriving tech scene."
The initiative is supported by funding from JPMorgan Chase and the JPMorgan Chase Fund in The New York Community Trust. As the community foundation for New York City, Westchester, and Long Island, The New York Community Trust works with individuals, families, and corporations to improve our region through strategic grant-making, civic engagement, and smart giving.
About JPMorgan Chase & Co.
JPMorgan Chase & Co. is a leading global financial services firm with assets of $2.5 trillion and operations worldwide. The Firm is a leader in investment banking, financial services for consumers and small businesses, commercial banking, financial transaction processing, and asset management. A component of the Dow Jones Industrial Average, JPMorgan Chase & Co. serves millions of consumers in the United States and many of the world's most prominent corporate, institutional and government clients under its J.P. Morgan and Chase brands. Information about JPMorgan Chase & Co. is available at www.jpmorganchase.com.
Media Contact:
Stephanie Bosh, (202) 585-1382
Press Release available here.
Sign up for our Monthly Impact Report
More News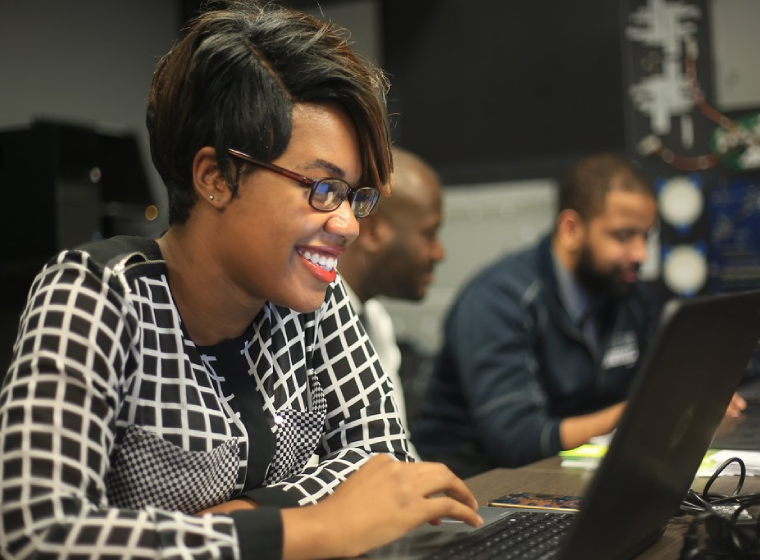 Donate Now
Your support makes a powerful difference in our ability to build a technology talent training solution that creates greater access and equity.