JPMorgan Chase Partners with Per Scholas to Drive Positive Social Change
Per Scholas is focused on driving positive social change, and over the last 20 years, has worked closely with partners like JPMorgan Chase to move this mission forward. Thanks directly to philanthropic investments from JPMorgan Chase, Per Scholas has been able to accomplish many huge achievements. For example, the philanthropic support was integral to expanding our first campuses beyond New York, to Cincinnati and Columbus, which helped set the stage for scaling our training to the 19 campuses we have in cities across the U.S. It also helped launch our Dallas campus in 2015 and catalyzed investment in Per Scholas' earned revenue model for customized training, which has allowed us to continue our growth. 
Our partnership with JPMorgan Chase has also allowed us to foster a national dialogue about equity and inclusion through the support of Diverse by Design, create a national strategy focusing on IT career pathways for young adults, and create a powerful network of alumni at JPMorgan Chase by hiring more than a dozen Per Scholas graduates.
One Per Scholas graduate who now works at JPMorgan Chase is Selasi Fiadzigbe, who graduated from Per Scholas New York's Cybersecurity course in 2020. Prior to Per Scholas, Selasi had earned a bachelor's degree in economics from John Jay College, but he soon realized that he was not happy with his career path and started considering other options. 
Selasi had always been interested in computers – he had built, fixed, and used them all his life. He was intrigued by Cybersecurity and started looking for ways to break into the field, ultimately applying to Per Scholas' Cybersecurity course.
Selasi found his time at Per Scholas to be difficult but rewarding. There was a lot of information to digest, and each day brought something new to learn. Selasi loved his instructor, who was himself a Per Scholas alumni, and understood what his students were going through as they sought to change their lives through the program. Selasi's instructor helped and supported him throughout the course and as he launched his career after graduation. The two have stayed in touch to this day.
Selasi worked as a Cyber Security Analyst at Ankura for two years and recently transitioned to a new role at JPMorgan Chase as an Attack Analyst. He loves his current job because it provides him with many resources and opportunities for growth and more learning. "The team is so big," Selasi said of his new role at JPMorgan Chase. "There are so many smart people around you to learn from. There are so many learning and training opportunities that the team finds time for you to work through, and there is so much opportunity for growth or to pivot to other roles. The resources that are available to you are great. For someone who is still learning and is hungry for knowledge, it is a perfect place to be."
Sign up for our Monthly Impact Report
More News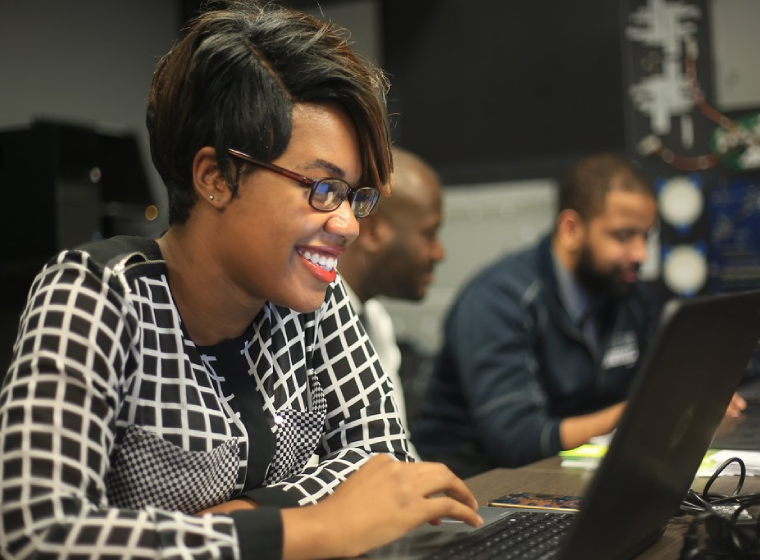 Donate Now
Your support makes a powerful difference in our ability to build a technology talent training solution that creates greater access and equity.