Kelly Richardson named Managing Director of Per Scholas New York. Angie Kamath Takes on New Role.
Kelly Richardson is the new Managing Director of Per Scholas New York as former Executive Director Angie Kamath takes a new role overseeing the newly formed national team for Social Ventures and Innovation at Per Scholas. Kelly is advancing from her role of former Vice President of Program Operations in New York which she held since 2013.
"The New York leadership transition comes at a time when Per Scholas is laser-focused on growth and sustainability of our work," says Plinio Ayala, CEO. "Kelly and Angie's transitions align with our efforts to build more effective service operations in New York, lead and grow a phenomenal staff, and execute strategic plans through best practices in expanding our work."
As Vice President of Program Operations from 2013 to present, Kelly helped to develop a number of new services for Per Scholas NY students, including the expansion of alumni classes, a young adult-focused TechBridge program, financial capability training, and more. Kelly has been the leader in many technological innovations at Per Scholas, including the implementation of the Learning Management System (LMS) and the effective utilization of Salesforce as Per Scholas' data management system to track program progress and outcomes. Throughout all her endeavors, Kelly infuses a strong passion for diversity in tech, including the creation of on-ramps for women, young adults and people of color. Under her lead, Per Scholas NY has seen a job placement rate increase of 10 percentage points, and a 40% increase in student enrollment, with significant gains in enrollments for women and young adults.
Kelly shares, "I'm so excited to take on the role of managing Per Scholas New York. I think this transition is reflective of the growth Per Scholas has achieved in the past three years, both locally and nationally. At the local level, Angie has built amazing things for Per Scholas New York, most notably the Urban Development Center, but also a strong corporate volunteer program, new employers and funders, and increased visibility in the city. Thanks to her leadership, I'm stepping into this role with a strong base of external support."
In her new role, Kelly is responsible for providing vision and leadership on all strategic, programmatic, fundraising, community engagement and administrative success in the New York market.
In tandem with Kelly's transition, Angie Kamath, Executive Director of New York since the Spring of 2013, has taken on a new role at Per Scholas overseeing the newly formed department of Social Ventures and Innovation. Angie will be responsible for identifying, developing, and executing social ventures in markets across the country where Per Scholas has a footprint to assist the organization in the purposeful, focused and sustainable growth of revenue streams.
In her tenure as Per Scholas New York's Executive Director, Angie worked tirelessly to align Per Scholas' work and role in technology education with New York City's best and brightest thought leaders in tech, government, workforce development and nonprofit sectors. Under Angie's leadership Per Scholas New York expanded to add two new training tracks and doubled its revenues. Angie helped to secure 15 new funders in NYC in two-and-a-half years and forged deep, multi-dimensional partnerships with our strongest and most committed corporate partners, including the likes of Barclays, Bloomberg, Doran Jones, Time Warner Cable, JetBlue, and Alvarez and Marsal. Her involvement in the creation of the Software Testing training track as well as the conception and development of the Urban Development Center was integral to the success of both ventures which has lead to recognition by the White House, WIRED magazine, Crain's New York, and Marketplace.
"As I pivot and focus on social ventures nationally for Per Scholas, I cannot wait to build on our strong history of social enterprises that will help us to fuel our R&D and innovation agenda. As a national organization, we are seeking many new possibilities to fill diversity and talent gaps across the country. We are eager to create social ventures with employer partners who value our work and our students, and who are committed to our further growth and innovation. I am thrilled and honored to step into this role for Per Scholas," shared Angie.
Both leaders are invaluable assets to the organization and will continue to help Per Scholas remain an effective and vital organization in the country.
Sign up for our Monthly Impact Report
More News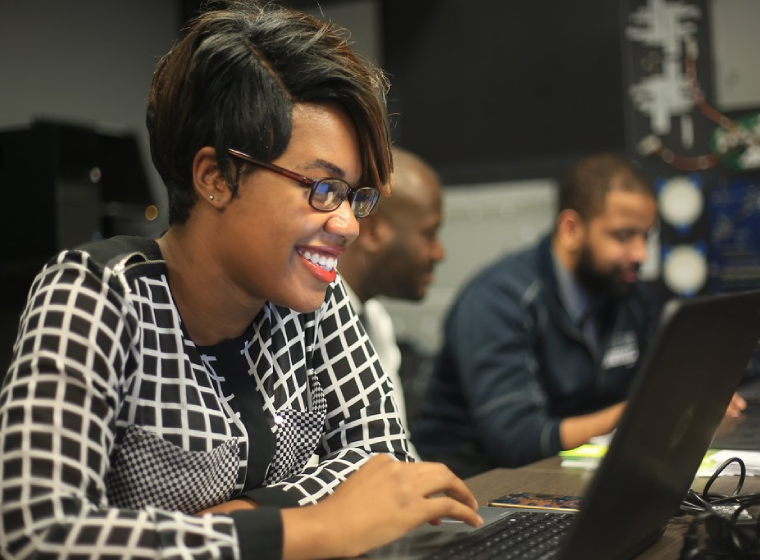 Donate Now
Your support makes a powerful difference in our ability to build a technology talent training solution that creates greater access and equity.