Graduate Kelly Reinvents Herself by Building Skills for a Career in IT
For Kelly Lee, a career in technology was something she had never considered. She felt her days in a call center providing customer service was a world away from what it took to be a tech pro. But she has since dispelled that myth.
Before Per Scholas, Kelly worked at a call center as a training supervisor. The work was difficult because she was primarily responsible for de-escalating phone calls from disgruntled customers. She explains, "When people yell at you for eight hours a day, it starts to become taxing. It's not that I'm so sensitive that I can't deal with people, but after years being on the receiving end with no break, it became hard."
Even though her job was paying the bills, Kelly felt she wasn't fostering the skills needed to build a lifelong career. "I grew a lot, but as far as a skill set, it all depends on how you look on a resume. I wanted functional work skills that would help me to develop a better career path."
Kelly decided to take a step back from her job and try her hand at freelance writing. She wrote a blog and honed her communications skills, but it didn't lead to much more. Kelly realized that she needed help to reinvigorate her career.
A friend and fellow Per Scholas graduate recommended that she look into the Per Scholas IT Support course as a complement to Kelly's past experience.
Kelly immediately saw the potential. "It was a wake-up call," she says. "The tech world is huge. Having tech skills is very specific and useful in today's job market."
After applying to the program and gaining admission, Kelly did research on technology basics so she could feel prepared to dive into the full-time rigorous course.
"Every day I realized that there were so many new topics to cover. It was very exciting."
While exciting, the course was also very challenging — and not just academically. To make ends meet while she attended classes, Kelly and her 9-year-old son moved in with her mother and lived off her small savings. She says, "The experience definitely made my top 10 list of most intense things I've gone through."
On top of familial support, Kelly had encouragement from the Per Scholas staff and her classmates. She describes her fellow Per Scholas students as her new "brothers and sisters," their relationships built on camaraderie and respect.
After eight weeks, Kelly graduated with her CompTIA A+ credential and jumped right into job searching. She worked with Per Scholas employer partner Koncert IT after being introduced to them during the Career Development training at Per Scholas. She landed an IT job on contract with Kroger, the nation's largest supermarket chain, headquartered in Cincinnati and so far, so good. Kelly loves Kroger as a company and feels at home with the company's values.
Her personal life has seen positive changes as well. "I was in a motivational rut. Per Scholas awakened me," she shares. "You really have to work hard and stay motivated to succeed in Per Scholas, as well as in life."
Kelly says that her new career path allows her to set a great example for her son. "For him to see me get a new job and get up and go to work every day, he's old enough to recognize that it affects his life in a positive way. He's excited for me and knows this will build his quality of life in the future."
Kelly's career is promising. She can now see herself going back to school to further her skills and pursue other areas in tech, such as network administration or software testing.
"Even if it's hard, I want to try it. I want to do it all."
Sign up for our Monthly Impact Report
More News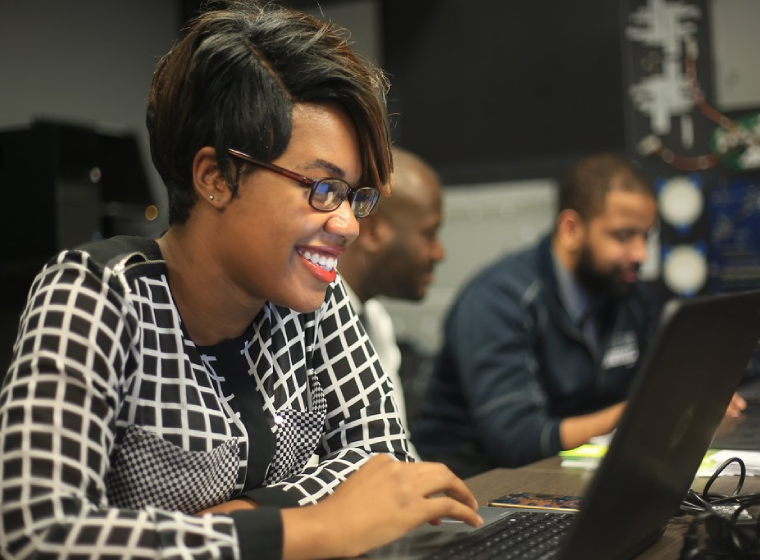 Donate Now
Your support makes a powerful difference in our ability to build a technology talent training solution that creates greater access and equity.