"Look at me now!" Grad Chrystal Builds Better Life for her Family After Per Scholas
Chrystal takes the bus to work every day in the D.C. metro area. Friendly as can be, she has chats with her bus driver and one day her driver asked what she did for a living and with pride she said she works in IT at a college. The bus driver confessed that technology is what she wished she was doing. Chrystal let her know "You can. Just go to Per Scholas." They exchanged numbers, Chrystal provided the info immediately and the bus driver — Kia — applied that night.
This meant a lot to Chrystal. She has always loved encouraging people to push themselves, including herself.
After high school Chrystal attended college to study sociology. She successfully completed three years when she became pregnant with her son, Eli, and had to put school on hold. Once Eli was born she tried to finish school and also took on a job at Starbucks to help pay for tuition and bills. Being a new mother, full-time student, and working became too much. She had to stop her classes.
During this time Chrystal shared a small apartment with her mother, three siblings, and her baby. She describes her room as a corner in a den. She confesses that it was a very rough time in her life. She wasn't proud of herself and knew she wanted more for her son. She just didn't know how to get there.
Then she learned about Per Scholas while attending a workshop at local nonprofit A Wider Circle. The opportunity for free IT job training was shared with the group and she felt it was the answer. Chrystal applied to the IT training that very day.
Exposed to all ranges of TV systems, sound systems, gaming systems as a child, the idea of working in IT got her excited and she was elated when Per Scholas accepted her.
"I didn't have money for daycare for my son. I didn't really even have money for transportation for myself. Some days I didn't have lunch. But it was worth the risk. I just believed everything would fall into place and work out — that I needed to be open to this opportunity and take this risk." Chrystal's mother and grandmother, friends and neighbors were able to help with Eli. Her boyfriend worked two jobs and was supportive of Chrystal seeing this through.
Chrystal also found a strong community of support and camaraderie at Per Scholas among her classmates, the staff, and instructors.
"I loved class. I looked forward to getting up every day and going to class." The passion of her IT Instructor was infectious. The learning environment was unlike any other she had experienced compared to high school and college. It was supportive and she was encouraged to speak up and ask questions. Everyone was there learning from the beginning together and they supported one another along the way.
Her classmates were like a family to her. They would host study groups at home, cook dinner for one another. They pushed each other.
This was especially helpful when Chrystal began her job search following graduation, a process that can be discouraging for any level of professional. Interview after interview, she felt she did great only to be told she didn't get the job. Like a broken record they all said no due to lack of experience. "It was so discouraging. It was hard to not be disappointed. My classmates would keep rooting me on, though. Everyone at Per Scholas did. Bridgette [Managing Director] checked in on me all the time and Peyton [Associate Director of Business Solutions] sent me job opportunities constantly. It's what kept me going."
Then a funny thing happened. A recruiter called her and said the employer wanted to hire her — no interview process needed. It was a short-term contract and they would keep those they wanted after a two-week trial. Twelve technicians were on the project. "I was doing everything right on the job, but I didn't expect to get the job." Out of the 12, three were kept on long-term — and Chrystal was one of those three. She joined the Help Desk team at Strayer University.
"I'm great at my job! I take pride in what I do. Coming only with the basic skills Per Scholas gave me, it's up to me to take the initiative to build on that, and I've done that. I ask questions. Beyond tier 1, I want to know everything. I surprised myself by the drive I have. I constantly want to learn and I am so happy and blessed that I get to continue learning."
Chrystal is excited to be an ambassador for Per Scholas and encourage others like her bus driver Kia that you can change your life. She is naturally drawn to encourage people, no matter who, to never give up on themselves, to believe they can overcome and achieve whatever it may be so long as they are open to it and make the effort.
"I have a job. I have a nice apartment. My son is smart, and I get to nurture that. I have resources and a stable work schedule that allow me to be there for him and support his growth." Chrystal is beaming. "I was depressed and lost. And look at me now!"
Sign up for our Monthly Impact Report
More News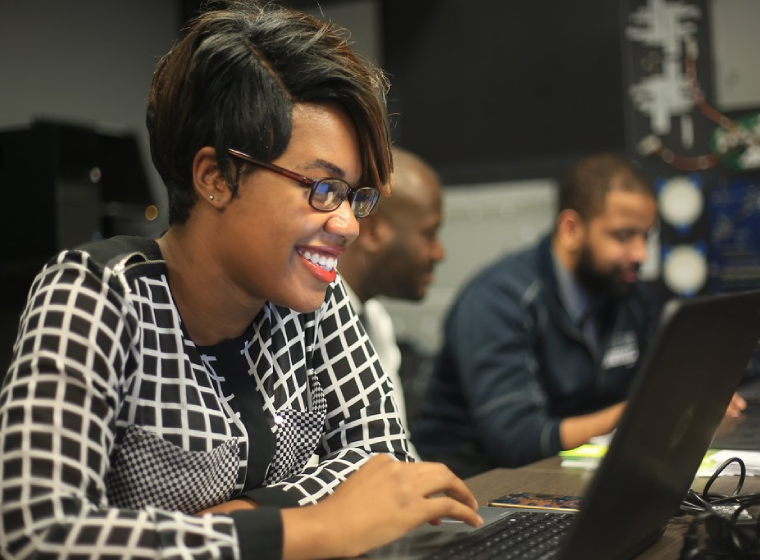 Donate Now
Your support makes a powerful difference in our ability to build a technology talent training solution that creates greater access and equity.