Per Scholas has helped change the lives of more than 6,000 people from across the country: Monthly Impact Report – Dec. 2016
A job can change everything. And, reports show there are plenty to go around: there are currently 5.5 million job openings the U.S. Bureau of Labor Statistics has reported that by 2020 employment in all computer occupations is expected to increase by 22 percent.
However, the large number of openings and the high growth projections signals that employers can't find the workers with the right skills for the open jobs that they have. And yet, so many people across the country are consistently overlooked for these open positions.
The people being overlooked have the desire to do more and be more, but are often stuck at a job that doesn't pay well, provide benefits or offer opportunities for growth. They do not know how to make a change and cannot afford to pay for lengthy schooling or high-cost training programs.
That's where Per Scholas comes in. Every single person who comes to Per Scholas is looking to make a change in their life. But, many don't expect it to change their entire life.
Take Taj for example. Taj has always been an ambitious person with an unwavering determination to be successful. However, due to financial constraints, Taj was forced to drop out of college after one year. His departure from school also began to cause a strain on the relationship between him and his parents, so he moved out and supported himself by working in restaurants. Each night he would come home and realize that the hospitality industry would not support his financial needs nor would it fulfill the ambitions he had for himself. "Emotionally it was challenging because I always had high aspirations for myself," he says. Now, since completing his training with Per Scholas, Taj is finding greater success than he thought possible: "I currently work for a company that cares about my success. They pay for my training and my boss sits right next to me!"
Our rigorous IT training and professional development enables graduates to acquire new skills, certifications, connections, a sense of purpose and self-worth and prepares them for a career. Eighty percent of the time, graduates find a career within one year – and that career comes with a steady paycheck, benefits and ultimately reduces – or removes – the need for public assistance.
Per Scholas works to ensure every graduate is confident in their skills, their training and themselves to reach for those open jobs and a better future. For our graduates, a job changes everything.
Sign up for our Monthly Impact Report
More News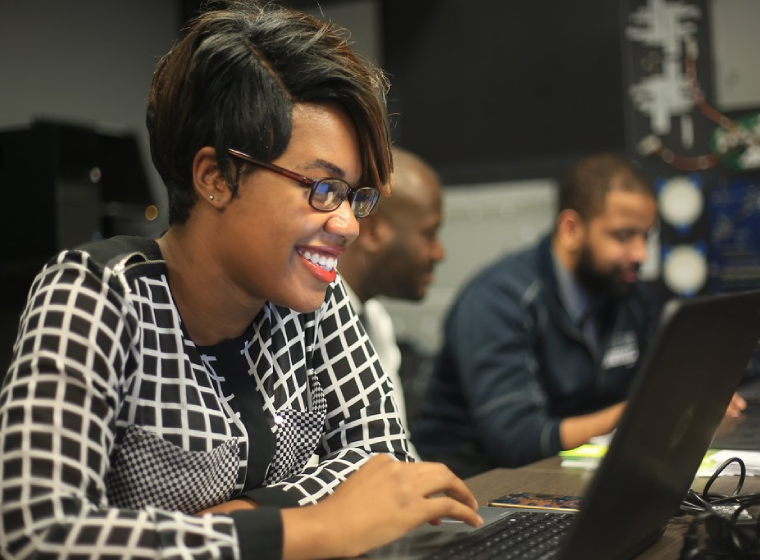 Donate Now
Your support makes a powerful difference in our ability to build a technology talent training solution that creates greater access and equity.