National Capital Region Managing Director Bridgette Gray Appointed to the Workforce Investment Board of Montgomery County, MD
Bridgette Gray, Managing Director of Per Scholas National Capital Region (NCR), is appointed to the Montgomery County Workforce Investment Board in the position of a Community-Based Organ
ization by the County Executive, Isiah Leggett. Bridgette will serve on two of 7 committees, Policy and Legislative Task Force and Program Planning Committee.
The Workforce Investment Board (WIB) aims to help businesses in Montgomery County succeed through increasing the awareness of workforce development issues and strengthening the County's workforce development system by developing partnerships with business, government and community-based organizations. These partnerships enable many diverse county groups to share a vision of progress and to work together in a focused and unified fashion. Montgomery County of Maryland is the largest county of the Greater Washington area with a large number of federal employers and employees. Montgomery County is home to 18 federal agencies and installations, such as NIH, FDA, NIST and NRC.
In her role on the Policy and Legislative Task Force, she will be responsible for using the adopted Policy Framework to make decisions on how to provide information and be an advocate on workforce development issues at the local, state, and national level. As a member of the Program Planning Committee, she will be focused on alignment of program development across the workforce system as well as strategic alliances between economic development and education.
"I am honored to be appointed to the WIB in Montgomery County. I've spent over twenty years working at the grassroots level of workforce development, something I absolutely love," Bridgette says. "It is a great responsibility to now be tasked with working on the policy side of workforce issues and opportunities, as well as determining effective and relevant training for Montgomery County residents and a strong talent pipeline for Montgomery County existing and new businesses."
Before coming to Per Scholas, Bridgette spent more than 20 years helping people meet and retain training and employment opportunities. She has led workforce development initiatives in the National Capital Region for several years, first as the Deputy Director for Year Up, an academic and professional development organization for young adults; and next as the Executive Director for Career Team, an organization that provides training, case management and job placement services for the District's most hard-to-serve residents.
With 65% of Per Scholas' training participants from the State of Maryland and 35% from Montgomery County, Per Scholas has, in less than a year, added to the economic development in Montgomery County as well as the State of Maryland.
Under Bridgette's leadership as Managing Director of Per Scholas National Capital Region, in eight months 66 people have been trained for entry-level careers in technology, 76% of whom are already employed with an average starting salary of $39,000/year. The average pre-training income for these individuals is $7,000/year. The site will train 80 more individuals this year. In the fall of 2014, Per Scholas NCR led and convened a regional taskforce to address talent pipeline for the 23,000+ cybersecurity jobs available in the region. The taskforce will help to develop the curriculum and network of resources for an advance career-track course in cybersecurity to be offered to Per Scholas alumni.
"Per Scholas aims to identify talented individuals to lead our organization through its expansion and beyond," says Plinio Ayala, President and CEO of Per Scholas. "The talent that Bridgette Gray brings to Per Scholas is incredible. She is an expert in her field, and we value her experience and knowledge. We congratulate her on this huge achievement."
Sign up for our Monthly Impact Report
More News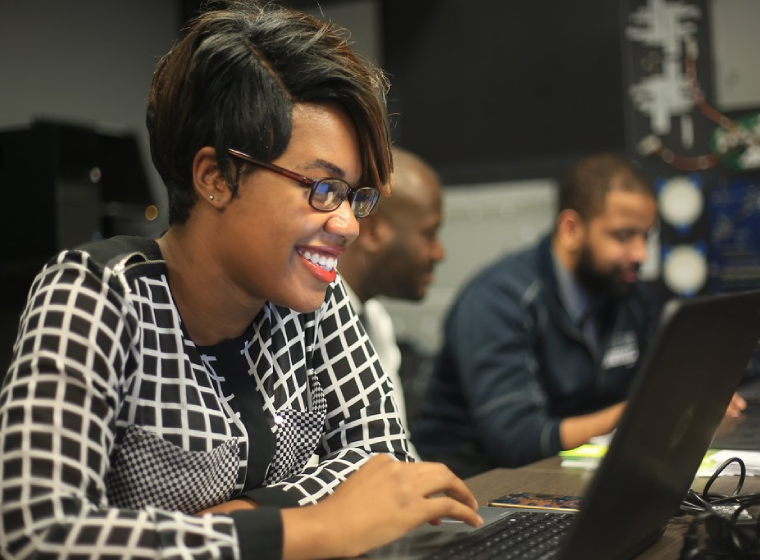 Donate Now
Your support makes a powerful difference in our ability to build a technology talent training solution that creates greater access and equity.