National Nonprofits Stand in Support of CEO Action for Diversity & Inclusion Pledge
National Nonprofits Stand in Support of CEO Action for Diversity & Inclusion Pledge
Plinio Ayala, Per Scholas president and CEO, and Viola Maxwell-Thompson, ITSMF president and CEO, join more than 170 business leaders who commit to advance diversity and inclusion in the workplace
CORRECTION…by Per Scholas
June 22, 2017 04:31 PM Eastern Daylight Time
NEW YORK–(BUSINESS WIRE)–In the About Information Technology Senior Management Forum (ITSMF)paragraph of release dated June 21, 2017, the embedded hyperlink at the end of the paragraph should read www.itsmfonline.org (instead of www.itsmfusa.org).
@PerScholas & @itsmfonline join 170+ leaders in signing #CEOAction for Diversity & Inclusion Pledge #DiverseByDesign
Tweet this
The corrected release reads:
NATIONAL NONPROFITS STAND IN SUPPORT OF CEO ACTION FOR DIVERSITY & INCLUSION PLEDGE
Plinio Ayala, Per Scholas president and CEO, and Viola Maxwell-Thompson, ITSMF president and CEO, join more than 170 business leaders who commit to advance diversity and inclusion in the workplace
Per Scholas and the Information Technology Senior Management Forum (ITSMF) together with Fortune 500 leaders in the Diverse by Design National Working Group offered the following statement in support of the recently announced CEO Action for Diversity & Inclusion™ business commitment:
"Per Scholas and ITSMF have long believed in the importance of fostering innovation in the workplace, by creating a strong, balanced and highly-skilled workforce comprised of individuals who represent the diversity of America. Achieving such diversity has been a challenge of the technology sector for years, though there's been no shortage of efforts to address it. As individuals, and on behalf of the corporations we represent, we applaud the commitment made by more than 170 CEOs to act on three initial goals to increase diversity and foster inclusive practices within the workplace. We wholeheartedly agree that addressing diversity and inclusion is not just a competitive issue, but a societal issue. We believe that for businesses across all sectors to thrive now and in years to come, we must embrace, engage and invest in more diverse and inclusive workplaces."
Together with the Diverse by Design National Working Group, Per Scholas and ITSMF are elevating effective workforce development solutions and policies that companies are implementing to advance diversity, inclusion and retention. The Working Group, which was launched in 2016 following the first Diverse by Design symposium, is also arming corporate leaders across sectors with tools to build more balanced workforces, which truly reflect the nation's diversity.
The Diverse by Design National Working Group is led by co-chairs Toacca Rutherford, Consumer Business Banking and Auto IT, JPMorgan Chase & Co. and Gene Waddy, Chief Executive Officer, DIVERSANT. Members include:
Daisy Auger-Dominguez, Senior Vice President of Talent Acquisition at Viacom
Plinio Ayala, President & CEO, Per Scholas
Harvey Butler, Global Head of Supplier Diversity, Barclays
Forest Harper, President & CEO, INROADS
Brian Johnson, Senior Director, Surgical Innovation, Johnson and Johnson
Viola Maxwell-Thompson, President, ITSMF
Earl Newsome, Global CIO & Vice President, Praxair
Marysharon Owens, Senior Vice President Global Marketing, Workspace, Bank of America
Yvette Wright, VP, Manager, Office of Program Governance, BNY Mellon
About Per Scholas
Per Scholas is a national nonprofit that drives positive and proven social change in communities across the country. Through rigorous and tuition-free technology training and professional development, we prepare motivated and curious adults who are un- or underemployed for life-changing careers as IT professionals, and we create onramps to businesses in need of their talents. Today we provide our solutions in six cities across the country: Atlanta, Georgia; Greater Cincinnati and Columbus, Ohio; Dallas, Texas; the National Capital Region, and New York, New York. To date, Per Scholas has trained over 6,000 individuals, helping them build lasting, life-changing careers in technology. To learn more, visit www.perscholas.org.
About Information Technology Senior Management Forum (ITSMF)
Since its inception in 1996, ITSMF remains the only national organization dedicated exclusively to cultivating executive-level talent among black technology professionals. ITSMF offers career-advancing, leadership development programs and holds quarterly Symposiums focused on preparing the next generation of diverse technology leaders to impact organizational innovation and growth in the global marketplace. To learn more, visit www.itsmfonline.org.
About Diverse By Design
Diverse by Design is a national conversation series focused on increasing diversity and inclusion in the technology workforce. The series brings together c-suite thought leaders to discuss best practices and collaboratively develop solutions to forge a more direct path for businesses to attract, develop, and retain a more diverse and inclusive workforce. For more information, visit www.diversebydesign.org.
Contacts
on behalf of Per Scholas
Arron Neal, 213-568-3334
[email protected]
Sign up for our Monthly Impact Report
More News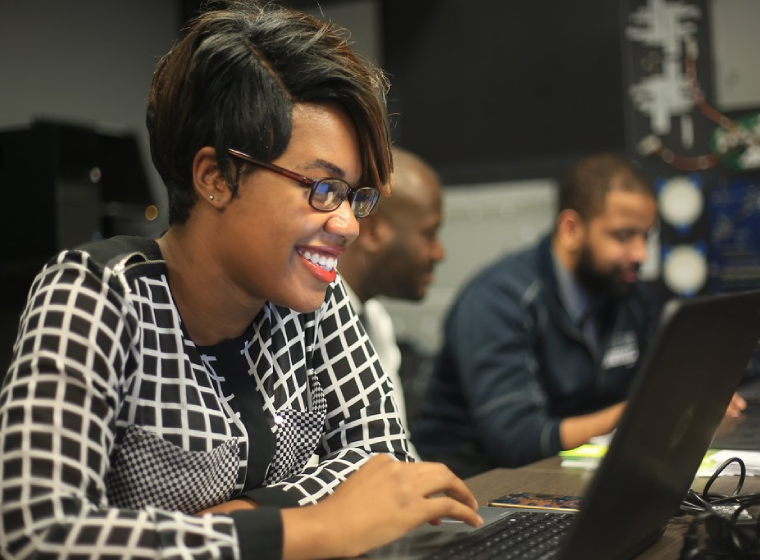 Donate Now
Your support makes a powerful difference in our ability to build a technology talent training solution that creates greater access and equity.