Go-getter Graduate Naya Embodies "Lean In" Spirit
Naya, Per Scholas graduate, embodies the go-getter spirit that will continue to revolutionize the tech industry for years to come. Just as many trailblazing technologists before her, Naya marches to the beat of her own drum. She built her first computer at age 8 and she's been hooked since.
Naya grew up in New York City and has been doing odd jobs to make her own money since the age of 14. In high school, she started her own tech support business fixing cell phones–a skill she learned from watching a YouTube video when her own device broke.
After high school, Naya continued on to college studying computer science at LaGuardia Community College. Here she had her first experience with programming, participating in the Hour of Code through Codeacademy. "I fell in love. It was really fun. I got to be creative while also doing tech. It was my first interaction with coding," she says.
After a year in college, Naya was having a hard time paying for tuition. Going to class and working odd jobs wasn't cutting it. "I needed to move out of my mom's house. I needed a stable job to pay for college and support myself."
A friend told her about Per Scholas and Naya realized that she could launch the career she's always wanted, with or without a degree.
She enrolled. The course was thorough, she says, and directly prepares an individual to become a tech professional. "I became well versed in my technical knowledge. I learned to speak the lingo and I learned the needed skills to get a job."
During her time at Per Scholas Naya had a full plate professionally and personally. She was still taking two college courses while going to Per Scholas full time. Money was extremely tight.
"There were a lot of times when I didn't have money to eat," she says. Struggling to find her own place upon graduation, the Per Scholas community rallied to help her find a roof over her head and resources to make ends meet. "If I didn't have Per Scholas, I would be homeless. If it wasn't for them, I would just be getting by," she says. "Per Scholas helped me get on my feet."
Shortly after graduation, she found somewhere to live and started working three jobs: interning at the Black Car Fund; doing contract work at Peak Systems; and working as a Technical Assistant at Per Scholas.
After a few months of juggling multiple jobs, Naya found a permanent position at the American Booksellers Association as an Office Tech Support Coordinator. Now she works at Agile Networks. She has her own condo, too, just 20 minutes from her job in Times Square. That is a lot to accomplish (and overcome) at such a young age.
"The most important thing right now is learning as much as I can in the technology field. As a woman in technology, one of the best things you can do for yourself is to make sure you are well versed and confident in what you're doing. I want to gain as much experience as I can to move ahead, and give back."
In the future, Naya hopes to work hard enough to be her own boss. "For the future, I know I want to have my own company. I want to do something that includes giving back and technology."
Talk about leaning in. Sheryl Sandberg would be impressed.
Sign up for our Monthly Impact Report
More News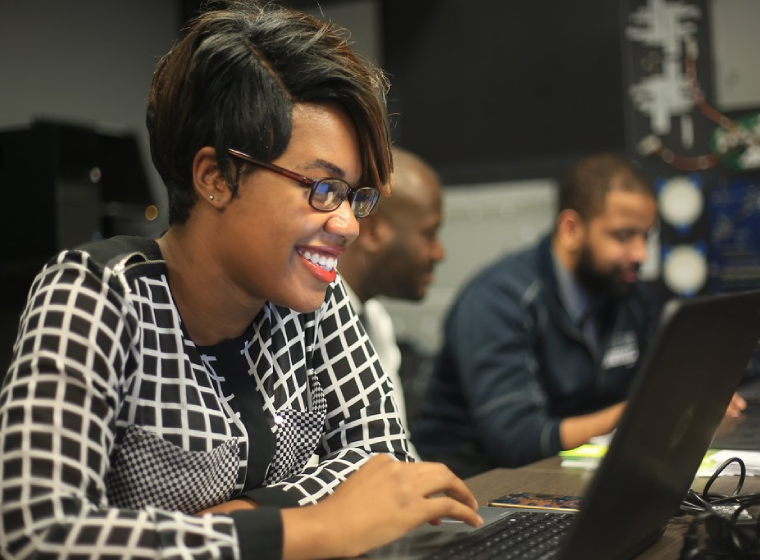 Donate Now
Your support makes a powerful difference in our ability to build a technology talent training solution that creates greater access and equity.