Per Scholas Announces Urban Development Center
The Urban Development Center is featured in WIRED Magazine "Urban Onshoring: The Movement to Bring Tech Jobs back to the U.S." stating "The Urban Development Center lends this whole urban on-shoring concept some serious street cred, primarily because of a man named Keith Klain."
Per Scholas
The Per Scholas philosophy is simple. We believe that one of the most effective solutions to poverty and long-term unemployment in the nation's lowest-income communities is access to good jobs, along with the ability to succeed in them. We know that many of today's most promising career opportunities are in the technology sector. Since 1998, Per Scholas has enrolled more than 4,500 unemployed and low-income adults in free IT job training courses. On average, more than 85% of Per Scholas students graduate and among graduates, every 3 out of 4 find jobs.
Doran Jones
Doran Jones, a technology services firm that specializes in software engineering and testing, is the private-sector partner on the software testing job creation initiative with Per Scholas. Founded in 2010 and based in New York, Doran Jones' clients include Fortune 100 banking and financial services firms. Managed by a world class executive team with extensive experience in all aspects of software development and testing, they are backed by a board with a strong track record in financial services and community investment. Doran Jones COO is Keith Klain, a longstanding Per Scholas supporter, the creator of STEP and the UDC concept, and Per Scholas' 2014 Person of the Year.
Software Testing course
In August 2013, Per Scholas launched the Software Testing course (formally known as STEP) —an 8-week training that prepares graduates to fill entry-level software testing roles. Per Scholas developed this program in response to the recent global trend of reshoring IT jobs that were initially established and developed overseas. Software testing is projected to expand to a $40 billion global industry by 2020, requiring thousands of new workers to meet the demand.
Delivered on-site in the Bronx, Software Testing is a lab-based training program that integrates field studies, industry experts, and the leading software testing tools. Software Testing was launched through partnerships with Barclays in addition to leaders from across the software testing industry, including Satisfice, QASymphony, UTest, Smartbear, Workroom Productions, DevelopSense, and the Association for Software Testing.
Urban Development Center (UDC)
During the early planning for the Software Testing course, Per Scholas was given the opportunity to bring hundreds of new IT jobs to its home in the South Bronx, one of the poorest Congressional District in the U.S., through the development of an Urban Development Center (UDC)—a software testing center modeled after the large successful testing firms located overseas. The UDC is an innovative partnership that brings together software consulting company Doran Jones, as operator of the center, and Per Scholas as the training provider. Doran Jones will provide software testing services for multiple clients, employing 150 Per Scholas Software Testing graduates within 18 months of opening the UDC doors. New hires will have a starting wage of at least $35,000 with benefits and have accelerated opportunities for advancement. To read more about this innovative project, see here.
Impact in the Bronx
Together, these initiatives will bring an estimated 150 new jobs and more than $5 million in additional wages to the Bronx, while at the same time meeting local business needs, creating domestic jobs, and developing access to middle class opportunities and community development in low income communities. We believe that the economic development impact of the UDC has the potential to spur additional growth in the Bronx, creating a Bronx Technology Corridor.
---
UDC Timeline
Fall 2014 construction begins; Per Scholas continues Software Testing course to ready individuals for operations to begin. Interested applicants can apply for the course here.
Summer 2015 UDC opens, Doran Jones begins operations with 50 testers
Over the next 12 months onward, operations will build to 150 jobs in all
Sign up for our Monthly Impact Report
More News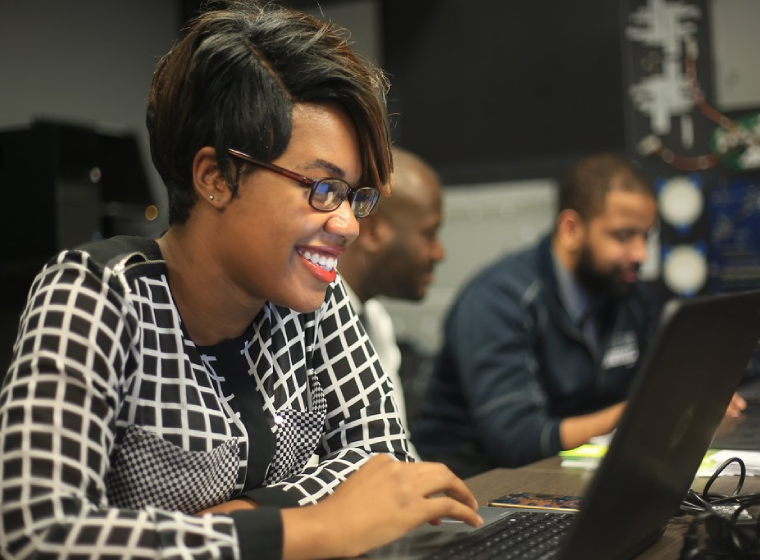 Donate Now
Your support makes a powerful difference in our ability to build a technology talent training solution that creates greater access and equity.