Per Scholas Documentary Impresses at Amazon Web Services and Salesforce Screenings in New York
To close out the month of April, Per Scholas was hosted by both Salesforce and Amazon Web Services to screen Solutions to America's Workforce Crisis, a documentary profiling evidence based programs including Per Scholas. Produced by the What Works Media Project, and directed by award-winning producer Mikaela Beardsley and filmmaker Kristi Jacobson, this documentary follows the lives of three young people, two of them Per Scholas graduates, as they navigate training, placement and career opportunities in an evolving market.
The week started off with a visit to the Salesforce Tower, where Per Scholas students engaged in a panel discussion about the value of mentorship, and how diversity strengthens change and growth within an organization. That conversation ultimately concluded that a diverse workforce can boost a company's effectiveness and ultimately strengthen an organization.
The Panel was moderated by Esther Nai, who heads up Corporate Responsibility and Sustainability Programs across America and Asia for Salesforce. The other panel chairs were occupied by Ashley Morris, who is a part of Salesforce's Workforce Development and Education committee; Giselle Jaquez, who Manages Corporate Engagement at Per Scholas; and Helena Hill, a current Network Engineering student at Per Scholas. Helena captured the audience's attention when she told a motivational story about persevering through difficult times, and deciding to change her career path despite knowing the financial strain it would put her under. Helena fought through those hard times while living in a housing shelter, and still managed to make it to her classes at Per Scholas, ultimately getting her Network+ certification. She is currently looking forward to kicking off a new career where she can use the skills she has learned at Per Scholas.
After the Panel, Per Scholas students were able to break into small groups for speed interview/networking sessions alongside Salesforce employees. The students learned what a typical day is like from a number of Salesforce employees, and also got some insight into what their new certifications mean on the job market.
At the end of the week, we made our way to the Amazon Loft in Soho where we also kicked off the night with the documentary. The beautiful Amazon space was filled with over a hundred people that included partner employers, Per Scholas board members, and the founder of Per Scholas, John Stookey.
The highlight of the night was the Panel discussion hosted by Ken Eisner, the global lead for AWS Educate, with panelists Alba Teta, who is a Per Scholas graduate and a current Amazon employee, and our own CEO Plinio Ayala. The panel covered a myriad of topics including the value of mentorship, continuing education after Per Scholas, and how local companies can contribute to their communities and partner with workforce development organizations. Panelist Alba Teta offered insight into how immigrants with higher education backgrounds and degrees can struggle when they change markets and move to America. Alba also spoke to the training, mentorship, and placement assistance that she got from Per Scholas, and her career launch with Amazon in New York.
As a special treat, Jonathan Silva, one of the students featured in the film, was in the crowd and had great questions about the future growth of Per Scholas. He praised the training program for completely changing his life and putting him on a new path.
Both screenings were huge successes, and Per Scholas students made great connections with Salesforce employees at both events. We would like to thank our hosts at Salesforce and Amazon Web Services for having us, and we look forward to our continued partnerships in the future.
Sign up for our Monthly Impact Report
More News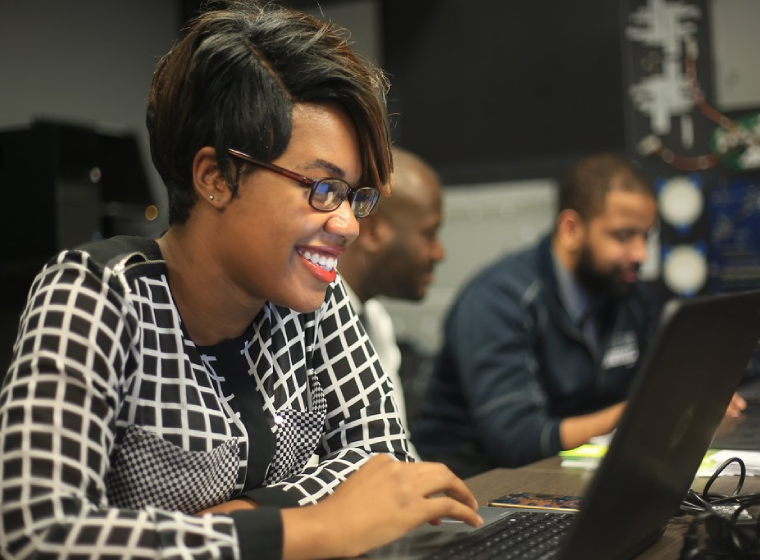 Donate Now
Your support makes a powerful difference in our ability to build a technology talent training solution that creates greater access and equity.