Per Scholas Greater Boston: Creating a Tech Talent Solution through Powerful Partnerships
Greater Boston's dominance in the tech world is ever-growing. It's on a roll. Boston continues to cement its reputation as one of the country's top tech hubs, consistently ranking among the top 10. In fact, Boston is the ninth likeliest city globally to become the "leading technology innovation hub outside of Silicon Valley over the next four years", according to a recent KPMG annual survey of the tech industry. With a steady flow of venture capital funds, a robust talent pipeline, a vibrant start-up scene and a who's who of major corporations and institutions with large technology departments, Greater Boston will continue to make a big impact across the tech world. Per Scholas could not be prouder to be a part of this tech hub.
We opened our doors here in Kendall Square, Cambridge this past spring, and our inaugural class recently graduated in June, with students ready to take their places in the professional world. Just three weeks post-graduation, certified students are employed at companies including Deloitte, Mass General Hospital, R.G. Vanderweil Engineers, and even our own organization Per Scholas Greater Boston (yes, we even hired one of our own grads!) earning an average of over $21/hour. Per Scholas is a 25-year-old nonprofit that started in the South Bronx. We offer tuition-free technology training to students, age 18+, who are unemployed and underemployed. We also collaborate with businesses to design industry and job-specific courses based on employers' IT needs, evolving and reshaping courses as required. Our first customized training partner in Greater Boston is TEKsystems, a leader in Full-Stack Technology Services, Talent Services and real-world application. Led by Managing Director, Alanna Hughes, the program graduated over 20 Full-Stack Java trained developers in August. Our next class with TEKsystems launches in October. The class will focus on building Network Support skill sets, culminating in achieving Net+ and A+ certifications.
Technology doesn't stand still, so neither do we.
10,000 Graduates and Counting
We have Per Scholas sites in 11 cities nationwide and just enrolled our 10,000th student! And we plan to go even bigger. Earlier this year, Per Scholas received funding so that by 2023, we'll be able to serve 4,000 technology career students a year.
Opportunities for Individuals, Communities & Companies
Per Scholas is committed to creating meaningful advantages for individuals. Our students are either unemployed or underemployed, meaning they may have been able to find work but have had a difficult time establishing a career. Our objective is to train our students and enable them to move into a career pathway.
Nationwide, Per Scholas has an 85% graduation rate and an 80% placement rate for graduates, with students increasing their wages by 400%, on average, in their first tech role.
We are also about building a more diverse technical workforce at companies and throughout the technology ecosystem. Women and people of color are staggeringly underrepresented in IT employment today. In a recent EEOC study of 75 Silicon Valley companies, just 2.2% of professional-level workers were African American, and 4.4% were Hispanic, while estimates of the percentage of technical roles filled by women are as low as 15%. Meanwhile, 86% of Per Scholas students nationally are people of color and a third are women. We create onramps for underrepresented groups so that a technology career is not only in reach but attainable.
Tackling the Tech Gap & the Power of Partnership
The U.S. DOL projects the creation of nearly 500,000 new IT jobs between 2014 and 2024, making the tech sector one of the largest and fastest growing employment sectors nationally. In the Greater Boston area, between job creation and turnover, there are more than 10,000 annual tech job openings that Per Scholas graduates are qualified for. Although we're talking about only a few hundred Per Scholas graduates per year, every little bit helps. We won't singlehandedly close the tech gap, but we can make a dent. Which brings me to my next topic: optimizing workforce and talent development.
Our expansion into Greater Boston was made possible with generous support provided by BlackRock, The Boston Foundation, the Commonwealth of Massachusetts Workforce Skills Cabinet, The Demond and Kia Martin Foundation, Salesforce.org, SkillWorks, TEKsystems and generous individual donors.
Most recently, Per Scholas Greater Boston was the latest organization selected by the GreenLight Fund Boston for a four-year $600,000 investment to expand our employment training to Boston residents and further contribute to the growing tech sector that has been witnessed within the region. This level of support from one of Boston's most innovative social impact leaders, to invest in our mission to closing to the local tech talent gap, is critical to our expansion and inclusion in the broader Boston tech network. We are thrilled to be their 12th portfolio organization and look forward to their partnership as a thought leader and network builder. (Listen here for the radio feature including Per Scholas Greater Boston alum, Hector Miranda Vaquer).
Workforce and talent development – and more specifically, preparing employees for a future constantly redefined by technology – is best accomplished with coordination, cooperation and collaboration among the public and private sectors, along with nonprofits. No one entity or group of entities can go it alone when it comes to truly making an impact. Tapping into our combined resources, knowledge, networks and expertise, we are far better equipped to make strides in reducing the tech gap and bring about true transformation in Greater Boston which also includes changing policy, practice and perception. As we do this as part of a system, we are far better positioned to match the right people, resources, training and available opportunities. In short, we are stronger together.
While Per Scholas is new to the Greater Boston area, our stellar team brings considerable experience to this work and a desire to innovate, collaborate and create meaningful change. We bring our expertise to work for employers and businesses by providing talent development and DEI solution. And we simultaneously partner with our students to assist them in achieving their goal to enter or advance in the ever-growing tech field in our region.
Robin Nadeau, Managing Director, Per Scholas Greater Boston
You can reach Robin Nadeau at [email protected].
Sign up for our Monthly Impact Report
More News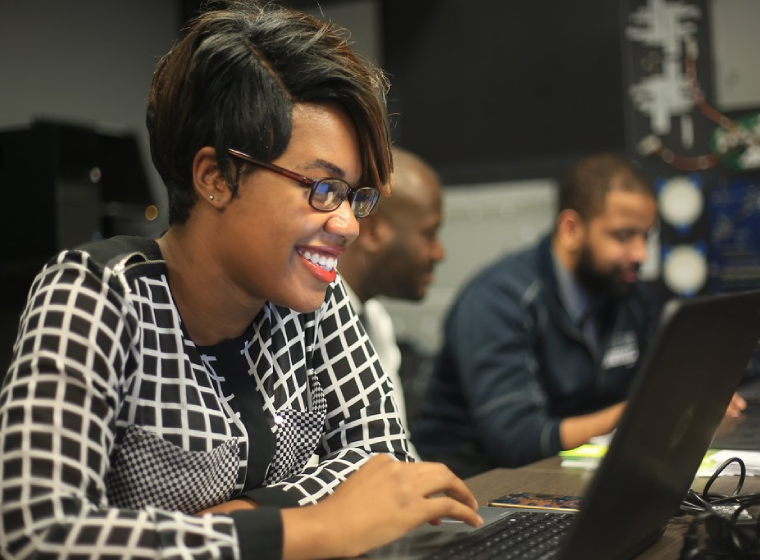 Donate Now
Your support makes a powerful difference in our ability to build a technology talent training solution that creates greater access and equity.